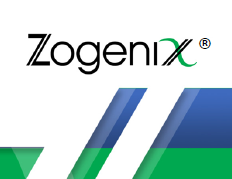 Zogenix, Inc. (ZGNX) is a pharmaceutical company commercializing and developing products for the treatment of central nervous system disorders and pain. Zogenix's lead product candidate, Zohydro (hydrocodone bitartrate, formerly ZX002) is a 12-hour extended-release formulation of hydrocodone without acetaminophen for the treatment of chronic pain requiring opioid therapy. It has completed its pivotal phase 3 clinical trials in 2011 and submitted its NDA with PDUFA date in March 2012. Zogenix also has approved Sumavel DosePro product which offers needle-free subcutaneous administration of sumatriptan for the treatment of migraine and cluster headache in a pre-filled, single-use delivery system. ZGNX is also developing its second DosePro investigational product candidate, Relday, which is an injectable formulation of risperidone for the treatment of schizophrenia.
Zohydro ER (Hydrocodone bitartrate ER)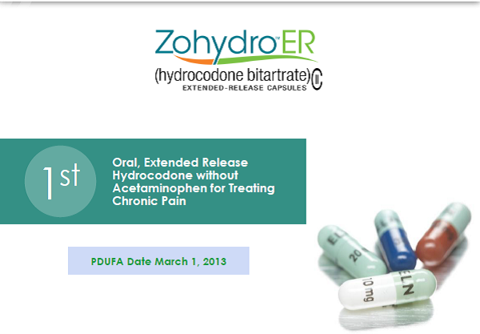 Zohydro ER is an oral agent without acetaminophen and extended-release formulation of various strengths of hydrocodone dosed every 12 hours for around-the-clock management of moderate-to-severe chronic pain. Zohydro ER could be the first hydrocodone product to offer the benefit of less frequent dosing and the ability to treat chronic pain patients without the risk of liver injury associated with the use of acetaminophen in high dosages or over long periods of time.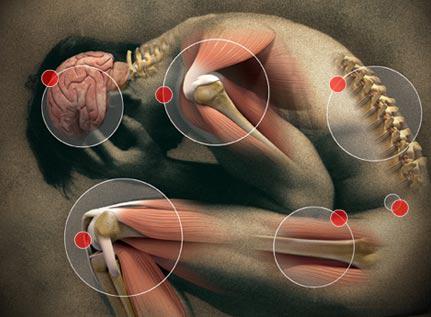 Chronic pain is ongoing or recurrent pain that adversely affects an individual's wellbeing. An estimated 116 million people in the United States are burdened with chronic pain, at a national economic cost of $560 to $635 billion annually. Currently, hydrocodone is only available in immediate-release, combination products, most commonly with the analgesic acetaminophen, and requires dosing every 4 to 6 hours. There is an established need for a single-entity (non-acetaminophen) hydrocodone medicine to provide people suffering from moderate-to-severe chronic pain with an effective option to manage their pain without the significant risk of liver injury associated with the use of acetaminophen in high dosages or over long periods of time. Research has shown that approximately 30-35% of hydrocodone combination products are taken on a chronic basis, for which there is ample evidence that this presents a health risk.
In 2012, there was a large study published by the University of Cincinnati Drug and Poison Information center that looked at the trends in hepatic injury associated with unintentional overdose of acetaminophen in products with and without opioids. There were a total of 119,731 cases that were identified in a which patient used acetaminophen with opioid containing product. The incidence of cases increased 70% from year 2000 to 2007. In this study, acetylcysteine treatment was used to treat hepatic injury caused by acetaminophen. Recommendations for acetylcysteine rose 252%, minor injuries rose 833%, severe injuries rose 280% and both together rose 500% (all trends p<0.01). This tells you that the hepatic injury is a serious issue when acetaminophen is used in excess. In this study, acetaminophen with opioid-related hepatic injuries rose much faster than acetaminophen without opioid-related injuries (500% versus 134% over year 2000-2007). Injuries rose even though an increasing percentage of patients are being treated with acetylcysteine.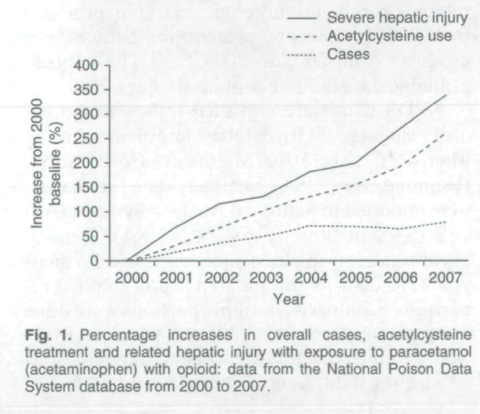 This study supports the FDA panel's recommendation to remove acetaminophen from opioid products but not to remove acetaminophen from non-prescription combination cough and cold products. While it has always been true that removing acetaminophen from opioid combination products would eliminate these products as a source of acetaminophen-related injury, this study provides additional motivation, demonstrating that these products represent a significant and growing portion of those unintentionally injured from overuse of acetaminophen. As you can see, FDA has a strong support for removal of acetaminophen from the opioid products. Currently, there are many opioids products that are in the market and personally I see 30-40% of Rx at the pharmacy being acetaminophen containing opioid products.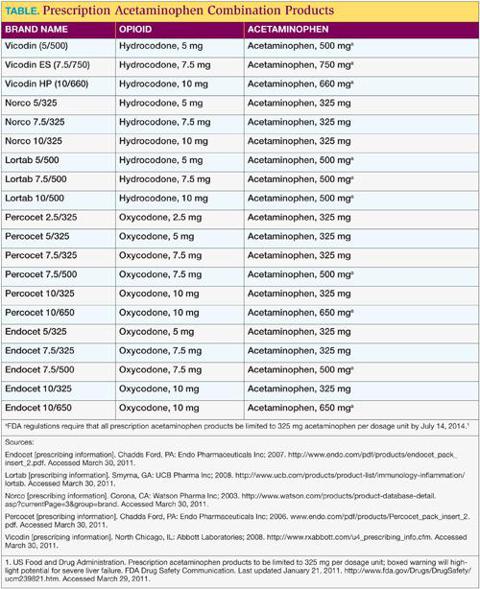 Hydrocodone is the only opioid not currently available in ER form and available only in combination with APAP/NSAID; FDA advisory committee noted single entity formulation of hydrocodone would be logical substitute. FDA has recently asked manufacturers to limit acetaminophen to 325mg in combination products and will require updated labeling information warning about the risk of severe liver injury
ZGNX has completed its pivotal Phase III trial in October 2011. This was a randomized Phase 3, placebo-controlled multi-center study to evaluate the safety, efficacy and tolerability of Hydrocodone Bitartrate controlled-release capsules in subjects with chronic low back pain. Subjects went through an open-label conversion and titration phase followed by a randomized double-blind treatment phase of HC-CR vs. Placebo. The trial also consisted of a Screening Phase (up to 14 days), an open-label Conversion and Titration Phase (up to 6 weeks), a 12-week placebo-controlled Treatment Phase, and a 2-week Follow-Up Phone Call.
Patients were included in this clinical trial if they met following criteria(s):
Subjects with a clinical diagnosis of moderate to severe chronic low back pain (CLBP)
Subjects classified as non-neuropathic, neuropathic, or symptomatic for more than 6 months after LBP surgery
Subjects in the Investigator's opinion qualified for around-the-clock opioid therapy for treatment of their CLBP.
Subjects taking opioids for at least 5 days/week for the past 4weeks
Subjects with an average Clinic Pain Score of ≥ 4 on the 11-point (0-10) NRS as an average for the last 24 hours of Screening
Subjects, in the opinion of the Investigator, considered to be in generally good health other then CLBP at Screening
Female subjects of childbearing potential with a negative urine pregnancy test at the Screening Visit, and consent to use a medically-acceptable method of contraception throughout the entire study period.
Subjects to also voluntarily provide written informed consent.
Patients were excluded from this clinical trial if they met following criteria(s):
Any clinically significant condition that would, in the opinion of the Investigator, preclude study participation or interfere with the assessment of pain and other symptoms of CLBP or increase the risk of opioid-related adverse events
A medical condition that, in the opinion of the Investigator, would compromise the subject's ability to swallow, absorb, metabolize, or excrete the study drug
A surgical procedure for back pain within 6 months
A nerve or plexus block, including epidural steroid injections or facet blocks
A history of chemotherapy or confirmed malignancy within past 2 years
Any other chronic pain condition other than CLBP that, in the Investigator's opinion, would interfere with the assessment of LBP e.g. fibromyalgia, osteoarthritis, rheumatoid arthritis, migraine headaches requiring opioid treatment
Uncontrolled blood pressure, i.e., subject has a sitting systolic blood pressure >180 mmHg or <90 mmHg, and/or a sitting diastolic blood pressure >120 mmHg or <50 mmHg at Screening
A Body Mass Index (NYSE:BMI) >45 kg/m2
A Hospital Anxiety and Depression Scale (HADS) Index score of >12 in either depression or anxiety subscales or an established history of major depressive disorder that is poorly controlled with medication
A clinically significant abnormality in clinical chemistry, hematology or urinalysis
It is important to note that the clinical trial was exclusively done in the United States.
Results: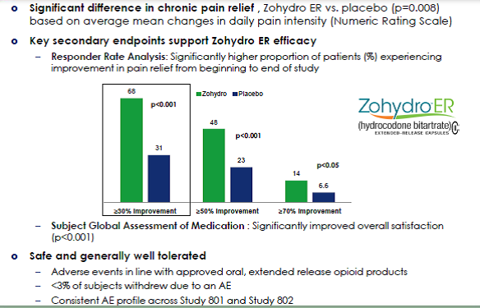 The pivotal phase 3 successfully met its primary efficacy endpoint, demonstrating that Zohydro ER resulted in significantly (p=0.008) improved chronic pain relief compared to placebo. The two key secondary endpoints in this study - the proportion of patients with at least 30% improvement in pain intensity and the improvement of overall satisfaction of medication - were also met.
Additional study endpoints were supportive of the efficacy of Zohydro ER compared to placebo. Overall, the most commonly reported adverse events (≥2%) in the placebo-controlled pivotal Phase 3 efficacy Study 801 in opioid-experienced patients were consistent with those typically seen with chronic opioid therapy and were constipation, nausea, somnolence, fatigue, headache, dizziness, dry mouth, vomiting and pruritus. Study 802, in which patients received Zohydro ER for up to 12 months, further investigated Zohydro ER's tolerability and safety profile and showed that the incidence of adverse events was consistent with that seen in the pivotal Phase 3 efficacy study.
The PDUFA for Zohydro is in March 01, 2013 with potential FDA advisory panel meeting. With these two strong catalyst, there is a strong possibility of ZGNX stock to make a run in anticipation of FDA results and Advisory Committee decision.
Financial Standings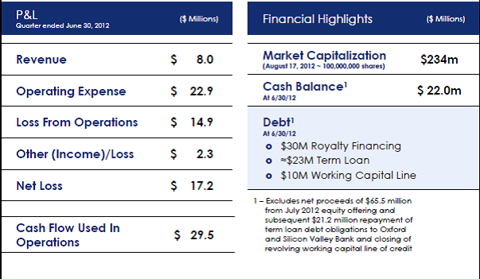 Zogenix currently has $22M in cash as of 06/30/2012 which excludes the net proceeds of $65.5M from July 2012 equity offering and $21.2M repayment of term loan debt obligations to Oxford and Silicon Valley bank. In my opinion, the company has enough cash position into the PDUFA date. Since they recently completed equity offering of ~$65M, the possibility of another dilution is very little. Once again, with the small cap Biotechnology Company there is always a risk of additional dilution and/or ATM. With these two strong upcoming catalysts we will see a dramatic appreciation in stock price as we get near Advisory committee meeting in December 2012.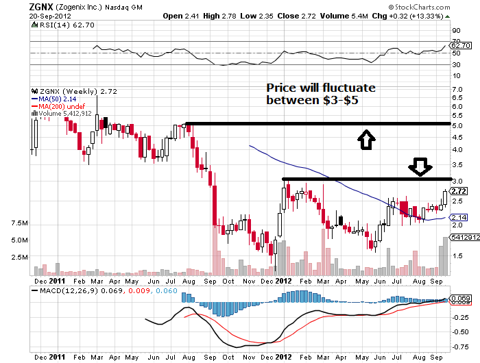 Price target: $4.00
References:
- Zogenix Corporate Presentation
- Bond GR et al. Drug Saf. 2012. Feb 1; 35 (2): 149-57
- Chronic Pain. American Chronic Pain Association. Accessed 12 April 2012.
Available at: theacpa.org/conditionDetail.aspx?id=74
- Institute of Medicine Report from the Committee on Advancing Pain Research, Care, and Education: Relieving Pain in America, A Blueprint for Transforming Prevention, Care, Education and Research. The National Academies Press, 2011.Accessed 12 April 2012. books.nap.edu/openbook.php?record_id=131...
- Farrell, SE. Acetaminophen Toxicity. Medscape. 6 February 2012. Accessed 12 April 2012.
Available at: emedicine.medscape.com/article/820200-ov...
- Micromedex. Thompson Reuters. 2012
- Reuters, Yahoo Finance
Disclosure: I am long ZGNX. I wrote this article myself, and it expresses my own opinions. I am not receiving compensation for it. I have no business relationship with any company whose stock is mentioned in this article.