The MLP Breitburn Energy Partners L.P. (BBEP) engages in the acquisition, exploitation, and development of oil and gas properties in the mainland United States. BBEP has a low-risk set of US-based onshore assets, a prudent production mix of gas and oil, effective hedges, is acquisition-oriented, and has outstanding distributions. These strengths offer investors attractive exposure to this upstream MLP.
Assets:
BBEP currently has zero assets offshore or overseas, offering a degree of security to investors by focusing on mainland American-based fields. BBEP's properties include natural gas, oil, and midstream assets in seven states: Michigan, Indiana Kentucky, Wyoming, California, and Florida. This diverse asset base has an estimated reserve life of 18 years at current production rates.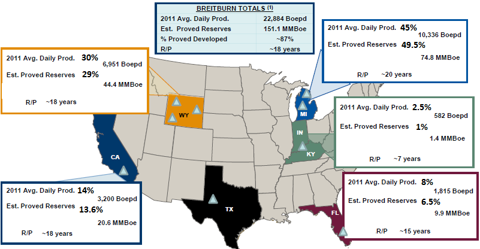 Click to enlarge
Production:
BBEP's production is roughly equal weighted with 50% oil and 50% gas. Management has stated that it is targeting 21% year over year production growth for 2012. It recently increased capital spending on oil-based assets, which will hopefully increase overall oil production as a percent of total production. Many companies have been gunning for a mostly oil-based production, for example Sandridge Energy (NYSE:SD), EOG Resources (NYSE:EOG), in response to low gas prices. However, if you feel oil is near the peak but gas has some rebound opportunity, BBEP is a solid play considering its collection of natural gas assets. In addition, BBEP has an average of 70% of total planned production hedged through 2015. This is less than some competitors, but still offers protection with some potential to harness increased prices in the future. In consideration of a recent bullish commodity forecast by Goldman Sachs (NYSE:GS), in which analysts estimated a 26% increase in energy prices over the next 12 months, BBEP's hedges could harness this upside possibility.
Acquisitions:
Management has stated continued acquisitions of attractive assets will be the main driver of distribution growth going forward. Targeting $300-$500 million in acquisitions for 2012, BBEP is very active in expanding in this manner. Over the past 14 months, BBEP has completed five different projects totaling $651 million. The company focuses on attractive deals, and seems very selective in its procedures. In 2011, 196 properties were screened. From there, 24 were fully evaluated. It selected the "best of the best", then placed attractive bids on 16 of those 24. Of those 16, only 2 were accepted. This process speaks to how management is only willing to pay cheap prices for the most attractive properties, almost guaranteeing accretive results.
Distributions:
As recently as September 2012, management has stated that it is targeting 5% annual distribution growth. With an effective acquisition process and clear goals of utilizing these targeted takeovers to increase distributions, I see no reason why it cannot achieve this target. Also, with a current payout ratio of 1.2 to 1.3, the present distribution of 9.5% is well-covered by free cash flow.
BBEP has consistently grown its distributions, boasting nine consecutive quarters of increases: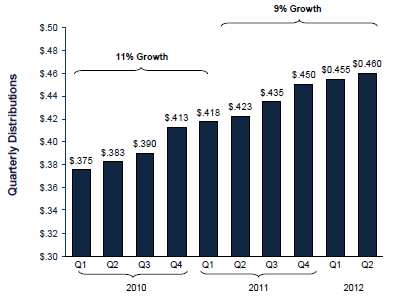 BBEP's payout has been very strong. In fact, BBEP's is higher than most comparable MLPs in the space: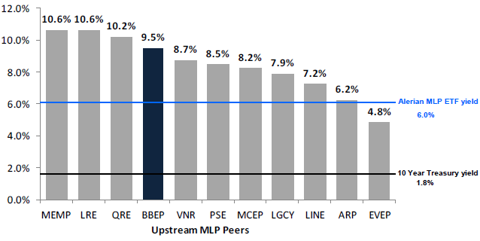 Click to enlarge
As the chart shows, BBEP's distribution yield of 9.5% is more attractive than its upstream competitors:
Vanguard Natural Resources (NYSE:VNR): 8.7%
Pioneer Southwest Energy Partners (PSE): 8.5%
Mid-Con Energy Partners (NASDAQ:MCEP): 8.2%
Legacy Reserves (NASDAQ:LGCY): 7.9%
Linn Energy (LINE): 7.2%
Atlas Resource Partners (NYSE:ARP): 6.2%
EV Energy Partners (NASDAQ:EVEP): 4.8%
In addition, this graph shows the seemingly nerfed yield of the popular Alerian MLP ETF (NYSEARCA:AMLP), which is 6%, a whopping 36% lower than BBEP's powerful 9.5%.
Summary:
BBEP is an attractive MLP offering exposure to lower risk U.S. assets based onshore. BBEP's 9.5% yield is higher than that of competing small market cap upstream MLPs. With a coverage ratio of 1.2 to 1.3, investors should enjoy this relatively safe income stream. Also, management's goal of accretive asset acquisitions offers opportunity for the yield to continue growing into the future. Its asset base composed of 50% gas 50% oil, offers opportunity for exposure in both markets, providing additional stability when prices of these volatile assets fluctuate going forward. With an average of 70% of planned production hedged through 2015, BBEP offers a balanced mix of safety and upside potential for investors. Overall, BBEP should be considered by investors looking for a well rounded, high yielding MLP with promising growth prospects.
Data was obtained from BBEP's 9/2012 Investor Presentation.
Disclosure: I am long QRE, SD. I wrote this article myself, and it expresses my own opinions. I am not receiving compensation for it (other than from Seeking Alpha). I have no business relationship with any company whose stock is mentioned in this article.
Additional disclosure: I may initiate long positions in any of the stocks mentioned over the next 72 hours.