Boston Scientific Corporation (NYSE:BSX) has won an approval from the FDA for its unique defibrillator, with wires implanted subcutaneously (under the skin) rather than being directly attached to the heart. The Cameron Health unit of Boston Scientific Corp, which won the approval, was bought by BSX for $150 million in June, in order to acquire its innovative defibrillator. According to the agreement, BSX is required to make another payment of $150 million following the approval, with further payments of $1.05 billion being contingent upon certain sales targets. At the current levels, we view the stock as fairly valued in the market and recommend a hold position. Investors willing to invest in the stock should wait for a dip.
The Subcutaneous Implantable Defibrillator (S-ICD) does not require an x-ray fluoroscopy since the device does not need to be connected to the heart. But the system has only been approved for patients who do not require pacemakers or pacing therapy, and the FDA has asked Cameron Health to conduct a five-year post-marketing study to evaluate the efficacy of the system in general and its applicability for both men and women. The launch will be a phased one that will gain momentum, once medical professionals become adept at using the device. As of now, 1400+ systems have been implanted worldwide. According to the filings, BSX expects material cash flows to commence in 2016.
According to a research report, the global cardiac defibrillator market is expected to reach $12.5 billion by 2017, of which the Implantable/Internal Cardiac Defibrillator market is the largest. ICDs are currently being used widely in Europe and their outlook looks bright owing to the largely under-penetrated market in India, China and other developing economies. In response to the huge market potential in the developing world, BSX has plans to spend $150 million over a stretch of five years to expand its commercial presence in China.
Valuations:
Graph 1: Gross Margins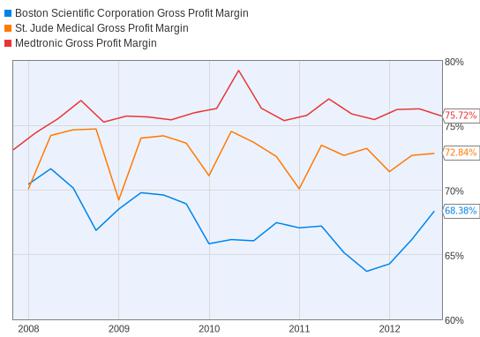 Click to enlarge
BSX's gross margins have been consistently lower than that of its peers. Recently, as seen from the graph given above, there has been an upward trend, primarily because of the positive impact of the launch of the PROMUS Element stent system in the U.S. and Japan. The Promus Element has higher margins than the Promus stent system. In addition to these developments, the restructuring and process improvement programs positively impacted gross margins. Its restructuring program is geared towards improving the efficiency and innovation within the organization, and will also help cut costs and improve margins.
BSX has also stated the estimated market opportunity for the device, which stands at $1 billion (roughly 15% of the global ICD market). ICDs account for 20% of total revenues for BSX. The stock currently trades at 12.5x to its forward (2013) earnings, as compared to St. Jude Medical Inc (NYSE:STJ)'s 12x and Medtronic Inc's (NYSE:MDT) 11x. The share price has been relatively constant over the year (Graph 2):
Graph 2: Price Chart

Click to enlarge
At its current levels, the stock seems fairly valued, and we recommend it as a hold. The analyst mean price target is $6.11 while the long-term EPS growth rate is 7%. Estimated 2012 EPS is $0.42, and that for the following year is $0.46. BSX spends a significant portion on R&D, which has helped it launch new devices in 2011. We expect further innovation by the company, which will improve its long-term prospects.
| | | | |
| --- | --- | --- | --- |
| | BSX | STJ | MDT |
| Forward P/E | 12.5x | 12x | 11x |
| P/S | 1x | 2x | 3x |
| EV/EBITDA | 7x | 9x | 10x |
| Gross Margins | 65% | 74% | 76% |
Disclosure: I have no positions in any stocks mentioned, and no plans to initiate any positions within the next 72 hours.
Business relationship disclosure: The article has been written by Qineqt's Healthcare Analyst. Qineqt is not receiving compensation for it (other than from Seeking Alpha). Qineqt has no business relationship with any company whose stock is mentioned in this article.