In our research, we looked at how oil typically does in the month of October. We looked at the average gains of oil companies, their max drawdowns and gains as well as the number of times that their average gains increased or decreased. The companies we investigated in the report were Baker Hughes (NYSE:BHI), BP (NYSE:BP), Transocean (NYSE:RIG), ExxonMobil (NYSE:XOM), ConocoPhillips (NYSE:COP), Halliburton (NYSE:HAL), and Schlumberger (NYSE:SLB).
Here are the average gains in October for the last 16 years: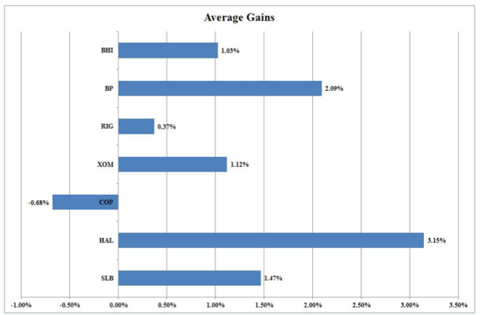 Click to enlarge
As we can see from the chart above, October has typically been a good month for oil and oil companies with only one out of the seven companies showing negative average gains. This company is ConocoPhilips, which showed negative average gains of -0.68%. Of all the other companies that showed positive average gains, special mention should go to Halliburton and BP, which have the largest average gains of 3.15% and 2.09% respectively.
So why would oil companies tend to increase in October as temperatures cool, people drive less, use AC less, and demand diminishes?
For one, oil supplies decrease in the winter to keep prices higher. Additionally, October is the month when many of these companies report earnings for the summer months, which are their strongest months. So, they tend to see a nice rise after Q3 reports are typically very strong for these companies.
Will this year be the same?
With QE3 having been released and the ECB working to bond buying, there is going to be a lot of "free money" helping to keep bond prices down and increasing investments in commodities and equities to gain yield. Additionally, we believe that there is more risk of conflict between Israel and Iran than there is chance of resolution at this time, which should keep a floor on prices. Finally, oil companies are set to release earnings, which should help them.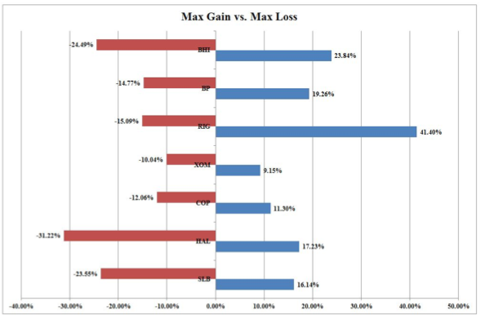 Click to enlarge
We continued our research by finding the max drawdowns or max gains that these companies usually have during the month of October. ExxonMobil as with the month of September still seems to be the least volatile of the companies with less than 10.05% movement in the month between max gains and losses. That information is helpful for potential bull put spreads. Most of the other stocks have extreme volatility and could be used for reverse iron condors and iron butterflies
With Halliburton giving us the highest average gains of all companies we continue to pay close attention to it in this chart. Here it has a very high Max Loss therefore we went back to our results and saw that this -38.22% was an outlier that occurred during the economic crash of 2008 giving us a reason to continue to be positive about HAL.
Finally, we want to look at these companies' overall movement (increase vs. decrease):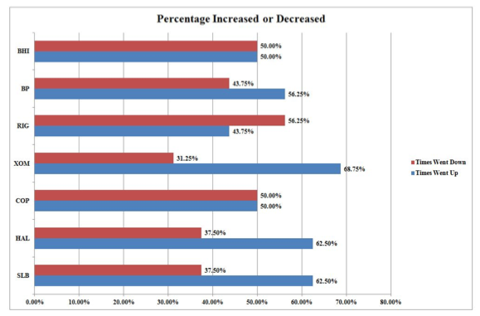 Click to enlarge
Trade #1: ExxonMobil Bull Put Spread, Nov17, 82.50/80 Max Gain
Max Gain: 5%
Trade #2: Halliburton , Long and HAL, Oct20, 31/30 Bull Put Spread
Max Gain: 15% on BPS
Disclosure: I have no positions in any stocks mentioned, and no plans to initiate any positions within the next 72 hours.
Business relationship disclosure: The Oxen Group is a team of analysts. This article was written by David Ristau, one of our writers. We did not receive compensation for this article (other than from Seeking Alpha), and we have no business relationship with any company whose stock is mentioned in this article.