As I write this article, U.S. markets are trading in green and at multi-year highs. One can make a bullish or a bearish case for equities, depending on how economic growth will be in the near-term and on how policymakers will react to different scenarios.
Unfortunately (or fortunately), I have a bearish case for equities with a three- to six-month time horizon. This article discusses four primary reasons to be bearish on equities for the near term.
Before I discuss my case, I wish to emphasize here that I am bullish on equities over the long term. I have discussed several reasons for my long-term bullish view in a couple of my earlier articles. Therefore, I will view any correction as a good buying opportunity for the long term.
Coming to the main topic of discussion, I believe equity markets will crash by 10-15% over the next three to six months.
I mentioned crash, as a 15% correction is a crash for policymakers who are keen to support asset markets under all circumstances. I discussed the reason why policymakers are so keen to support asset markets in one of my earlier articles.
What Are Equity Markets Discounting?
In the last three months, the S&P 500 index has surged by 12.7%:
(click images to enlarge)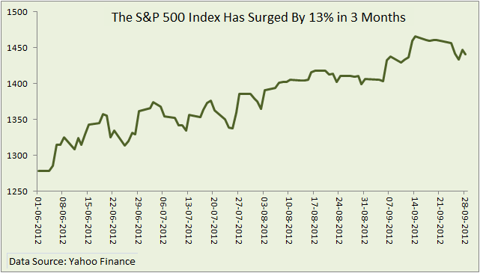 Click to enlarge
During the same period, economic data has been worsening globally, with the world entering into a manufacturing recession and the official PMI for China dipping below 50: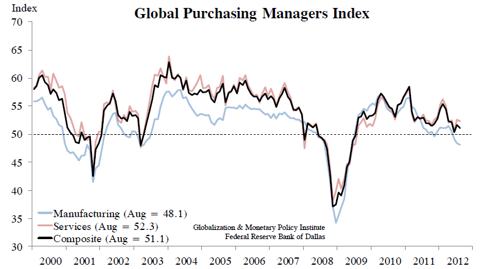 Click to enlarge
Further, U.S. economic growth remains relatively sluggish and uncertain, with the real unemployment rate (U6) remaining at elevated levels: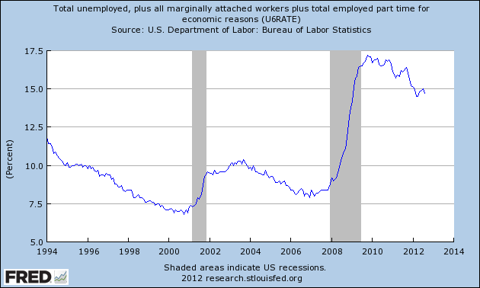 Click to enlarge
One might suggest that markets are discounting something better in the foreseeable future. I would argue that things look bleak for the global economy, and also for corporate profits in the near term.
It will be difficult to build a bullish case for the global economy for the next two to three quarters.
So what exactly is the equity market discounting?
I am of the opinion that the current rally has been a function of liquidity more than any economic factor.
Of course, corporate profits have been good in the past, with U.S. corporate profit after taxes being at record levels. However, profits will decline going forward in line with sluggish global economic activity.
In the second quarter of 2012, 64.5% of S&P 500 companies beat estimates, while 24.7% of the S&P 500 companies missed estimates. In the third quarter, more companies are likely to miss estimates due to a global slowdown, and this will dampen market sentiments.
The problem with liquidity driven markets is that it does not take much time for liquidity to move from one asset class to another. One item of bad news can result in flow of liquidity towards relatively safer assets. This is very likely in the future as a result of the next three factors.
QE3 Is Doing Nothing Great For the Real Economy
This realization will be damaging for the markets in the foreseeable future. QE3 will be injecting significant liquidity into the financial and economic system.
As mentioned above, markets have run up due to the liquidity factor, and gold prices have been discounting the excess liquidity generation.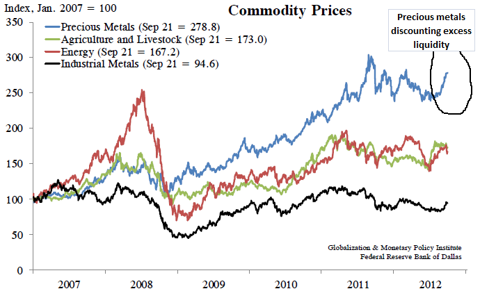 Click to enlarge
However, market participants are equally focused on the impact of QE3 on the real economy. I am of the opinion that QE3 is best for the banking system as the Fed continues to pile on toxic assets in its books.
For the real economy, QE3 does no real good as consumers refrain from leveraging. The deleveraging cycle for consumers is still underway, and is expected to continue in the near term.
Further, the private banks have also tightened lending standards, and credit growth might not pick up meaningfully, even if consumers are willing to leverage.
Over the next two to three months, market participants will realize that QE3 has been just a liquidity exercise, and that it will do nothing substantial for job creation or for boosting consumer spending. This is likely to negatively impact equity markets and act as a near-term downside trigger.
Fiscal Cliff Fear Will Grow
Equity markets have not really started to feel concerned about the fiscal cliff. It does not mean that the fiscal cliff event needs to be taken lightly. According to the Congressional Budget Office ((CBO)), fiscal tightening can lead to a 0.5% GDP contraction in 2013, with the unemployment rate surging to 9.1%.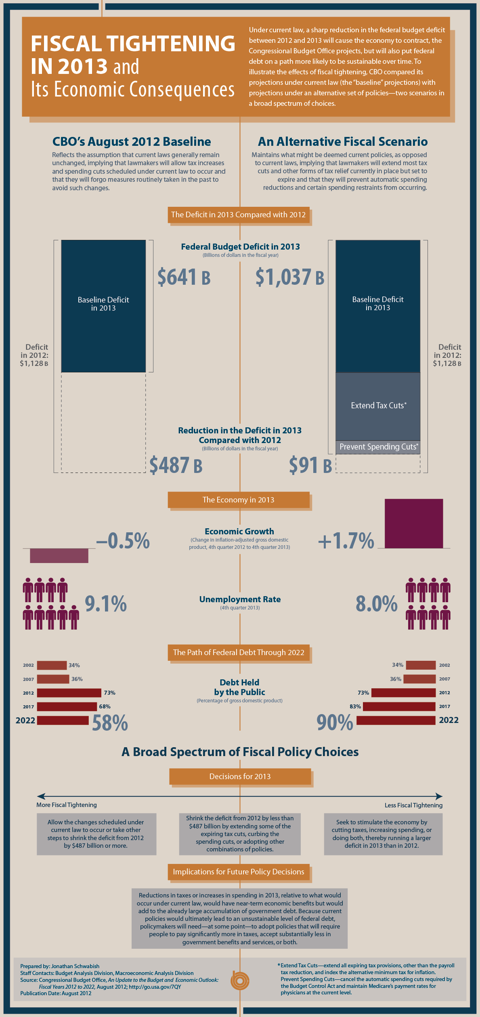 Click to enlarge
As the fiscal cliff event nears, market participants will be increasingly concerned about its impact on growth and consumer spending. I am relatively sure that the tax cuts will be extended, and spending cuts also will not be enforced.
But markets will pass through an extremely nervous phase before the outcome is known. During this phase, I expect markets to witness meaningful correction.
Debt Ceiling Debate Will Escalate Again
The debt ceiling debate in August 2011 pushed consumer confidence to its lowest non-recessionary reading in history: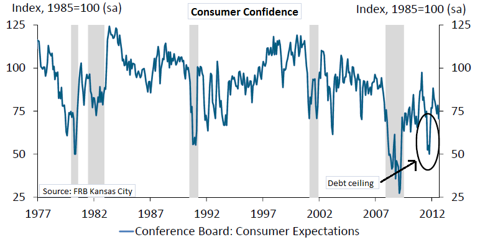 Click to enlarge
A slump in consumer confidence can spell disaster for a consumption-driven economy already burdened with several other concerns.
As of August 31, 2012, the total public debt in the U.S. amounted to USD15.9 trillion. This is not far away from the USD16.4 trillion debt ceiling. The United States can face another potential debt ceiling issue and debate by early 2013.
Again, the outcome is certain, and the debt limit will be increased with promises of spending cuts in the foreseeable future.
However, markets will be edgy, and consumer confidence will slip again. Equity market nervousness might not impact the real economy. However, a dip in consumer confidence can stall already sluggish growth.
Conclusion
Considering these four big factors, one needs to remain cautious and avoid fresh equity positions. At the same time, investors will need to make full use of the correction to consider fresh exposure to equities.
Policymakers will do whatever it takes to prevent a collapse in equity markets and a slowdown in the economy. In the end, the fiscal cliff and debt ceiling will turn out to be academic events.
From an investment perspective, investors can consider exposure to the S&P index on corrections. Index investing is always a good idea, and can yield superior returns. For index investing, investors can consider exposure to the SPDR S&P 500 Trust ETF (NYSEARCA:SPY).
Disclosure: I have no positions in any stocks mentioned, and no plans to initiate any positions within the next 72 hours. I wrote this article myself, and it expresses my own opinions. I am not receiving compensation for it (other than from Seeking Alpha). I have no business relationship with any company whose stock is mentioned in this article.