The catalyst behind the recent run up in risk assets is widely known to be central bank driven. As the economic environment continues to deteriorate, many speculators are calling for the next correction. The term 'Climbing a Wall of Worry" has been thrown around numerous times throughout the past few months, which brings along with it considerable implications. If capital has been in flight merely because it is on the search for the least worse off market, then what happens when that market further weakens? When the wall becomes some unforeseen detractor, what effect does that bring? Speculation aside, the charts below highlight the waning confidence in the current rally.
The initial chart is that of Spanish equities (NYSEARCA:EWP). This asset compared to world equities (NYSEARCA:VT) has shown considerable weakness lately. The ECB promised it would protect its union at all costs, but the promise has only proven useful within its rhetorical framework. Spanish yields have contracted, but many look towards a more cohesive effort amongst the Union and Spain to sustain confidence. With downgrades looming, it may take ratings agencies to push Spain towards conceding into a bailout. The chart below shows the waning effect of ECB dialogue from weeks past. The price action has broken its trend, and the custom MACD has shown divergence throughout September. Further declines in the ratio bodes poorly for financial market sentiment.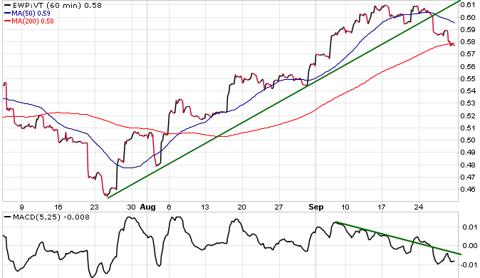 Click to enlarge
Many market participants have enjoyed the massive bull market in High Yield Corporates (NYSEARCA:JNK), but the enthusiasm has encountered increased criticism lately. QE3 ignited a search for yield amongst all asset classes, and Junk became an early favorite. It had a strong run up relative to 10 year treasuries (NYSEARCA:IEF), prior to central bank announcements. The two month rally of this indicator is a testament to record low yields and the influx of debt issuance by lenders that would otherwise be paying much higher premiums. The ratio recently broke its trend. Due to its predictive abilities, further weakness would signal transitioning into more defensive positioning.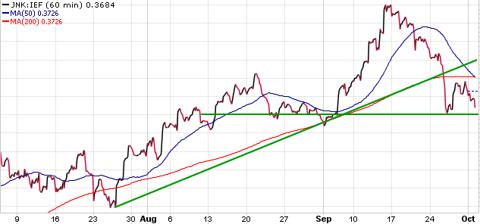 Click to enlarge
The last two charts below delve into the picture of domestic equity markets. The first chart is that of S&P 500 equal weight index (NYSEARCA:RSP) over the S&P 500 ETF (NYSEARCA:SPY). The ratio has a strong and positive correlation to risk assets. The rallies that exude confidence are usually broad and all encompassing of the stocks within the index. This supports the intuition that you would prefer to see an equal weight index lead a weighted index that is influenced more by particular companies. Google (NASDAQ:GOOG) and Apple (NASDAQ:AAPL) have had massive run ups, and have led indexes higher. Although that is great for particular shareholders, we would prefer to see the tide lifting all boats. The indicator was in a strong downtrend for much of the year, highlighting overarching investor doubt. However, the indicator got a boost leading up to and during the easing process. Now the indicator is in a consolidation, and looks for direction alongside other risk assets.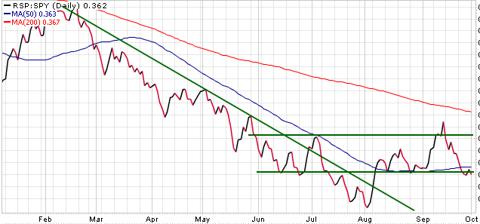 Click to enlarge
The other indicator of choice is the utility sector (NYSEARCA:XLU) over the broader market. This indicator trades inversely to markets and is thus highly correlated with volatility (NYSEARCA:VXX). In recent weeks it has broken its trend. This is not to say it is all over for risk, but it is another stone turned over that confirms the idea of waning confidence.
Overall, extended moves in the indicators listed above, over the next few weeks, will determine broader market sentiment.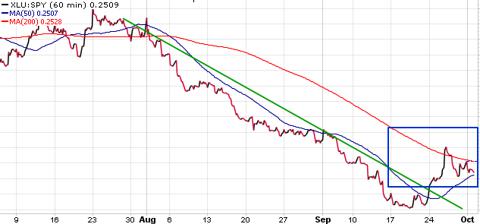 Click to enlarge
Below are the charts of both Apple and Google. They were discussed earlier in relation to their strength over broader equity markets. They have been leaders, but this is not necessarily a positive for equity strength going forward.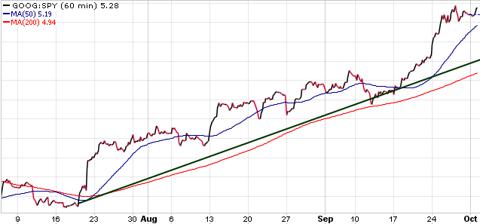 Click to enlarge
As a note, Apple did show strength, but has recently been showing considerable weakness. I am looking into a short option position based on the potential downturn.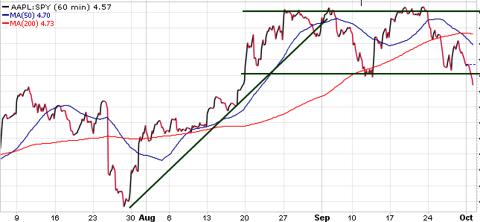 Click to enlarge
Disclosure: I have no positions in any stocks mentioned, and no plans to initiate any positions within the next 72 hours. I wrote this article myself, and it expresses my own opinions. I am not receiving compensation for it (other than from Seeking Alpha). I have no business relationship with any company whose stock is mentioned in this article.