Procter & Gamble Co. (NYSE:PG) is one of the most well recognized companies in the world. The company, headquartered in Cincinnati, Ohio, was founded in 1837, and has a strong history of earnings and dividend growth many a company would envy.
The $191-billion-dollar company has raised dividend payouts by an average of 7% a year over the last decade, and management has doubled the dividend every seven years since 1975. Procter & Gamble has raised the dividend for 55 straight years. The company's earnings have grown at 11% a year over the last decade, and the company has raised the dividend at a similar rate.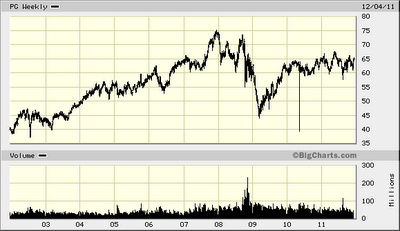 The problem is that Procter & Gamble's earnings growth has been very weak over the last five years, and the company has continued to raise the dividend at almost 11% a year. Procter & Gamble's earnings per share have increased at less than 2% a year since 2007, and analyst projections for 8% organic growth over the next five years are very optimistic.
Procter & Gamble has returned less than 8% a year over the last decade, despite consistently showing a strong commitment to its dividend, and the picture for future dividend growth is not pretty. Procter & Gamble currently is expected to earn $4.22 a share next year, which breaks down to approximately $1.05 a quarter. The company's current quarterly dividend payout is approximately $.56 a share, and the company's $2 billion buyback costs approximately $.10 a share in quarterly earnings, adjusted for pre-tax cost of capital. The company's free cash flow is also only approximately 10% of quarterly revenues, which means just 10-15% of quarterly revenues is reinvested in the business.
If Procter & Gamble continues to lose market share to competitors such as Clorox (NYSE:CLX), Kimberly-Clark (NYSE:KMB), management will face tough choices. The company lost market share in part because of poor pricing and product development over the last five years, and Procter & Gamble likely won't simply be able to raise prices if the company's market share continues to erode. The company's current dividend policy gives management minimal ability to increase capital expenditures, and if new management takes over the company, the new leadership will focus more on product development. The company also has $29 billion in long-term debt, and will likely face rising borrowing costs in future years.
Procter & Gamble trades at 3x book value, 19x trailing earnings, and 16x forward earnings. The stock is not cheap and recent growth has not been impressive. Procter & Gamble has also benefited from a weak dollar and low interest rates in previous years, but these trends may reverse with Europe facing significant fiscal problems, and oil and food prices high. As Caterpillar's (NYSE:CAT) recent earnings revision showed, long-term earnings are very hard to project, and Procter & Gamble has not lived up to expectations over the last five years.
Disclosure: I have no positions in any stocks mentioned, and no plans to initiate any positions within the next 72 hours. I wrote this article myself, and it expresses my own opinions. I am not receiving compensation for it (other than from Seeking Alpha). I have no business relationship with any company whose stock is mentioned in this article.