US stocks continue to consolidate recent gains as we enter October which is the month for stock market crashes and the "Halloween Indicator."
October is the scariest month of the year as it's famous for major stock market crashes like those of 1909, 1929, 1987, 1989 and 1997.
So the ghouls can definitely be out in October, however, October also marks the start of the "best six months of the year," in which the "Halloween Indicator" is triggered and bull markets oftentimes begin.
October is the end of the "sell in May and go away" period, the "worst six months of the year" that stretch from May to October. On a historical basis, most stock market gains have been made from October to May and so we could be standing on the cusp of another uptrend that could begin later this month.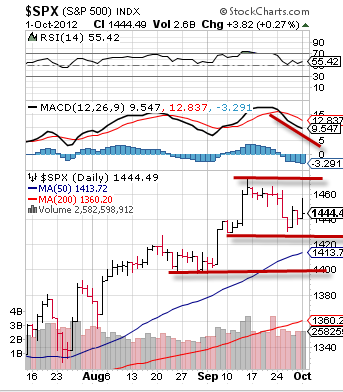 chart courtesy of StockCharts.com
On a technical basis, we see that the S&P 500 (NYSEARCA:SPY) is in a consolidation phase after the sharp rally that started in early August.
For the short term, momentum, as represented by MACD is declining, and the S&P 500 is tracking in a sideways channel between approximately 1440-1460. However, it remains well above both its 50 and 200 day moving averages which indicates that a medium to long term uptrend is still in place.
So, while October can be scary, it oftentimes sets the stage for a 4th Quarter rally that can extend into the New Year. With an election cycle in progress and other not inconsequential events like the "fiscal cliff," ongoing problems in Europe and "QE3 to Infinity" on the horizon, we live in turbulent times, indeed.
Still, seasonality as represented by the Halloween Indicator, along with solid mid to long term technical indicators, point to the probability that a new uptrend could emerge after the ghouls of October have left the stage.
Disclosure: I have no positions in any stocks mentioned, and no plans to initiate any positions within the next 72 hours. I wrote this article myself, and it expresses my own opinions. I am not receiving compensation for it (other than from Seeking Alpha). I have no business relationship with any company whose stock is mentioned in this article.