The RBA has joined the monetary stimulus party, cutting the benchmark rate by 25bps from 3.5% to 3.25%. This caused a drop of over 50bps in the AUDUSD exchange rate, with it falling from 1.0367 to sub 1.0317. This breaks the floor that the AUDUSD was bouncing off of during the month of September: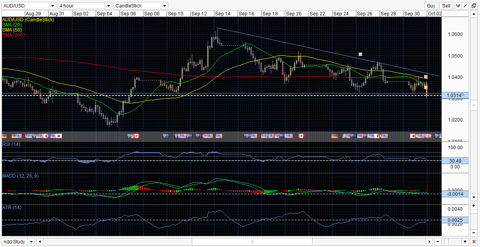 This caught a lot of retail FOREX traders by surprise, with OANDA's order book showing a net long position leading up to the announcement: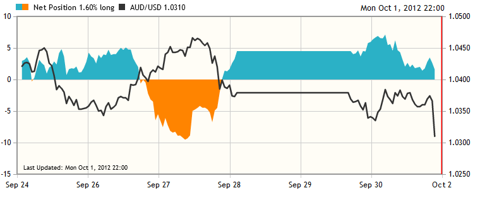 In the minutes, the most noteworthy rhetoric was the change in outlook for China. From the August 7th statement:
China's growth has moderated to a more sustainable pace, but does not appear to be slowing further.
Fast forward to October 4th:
Growth in China has also slowed, and uncertainty about near-term prospects is greater than it was some months ago. Around Asia generally, growth is being dampened by the more moderate Chinese expansion and the weakness in Europe.
Keep in mind, the RBA has much more sophisticated instruments to monitor the happenings of the Australian economy and their exports to China. The rate cut confirms that there are serious economic concerns with one of their largest trading partners. This is consistent with the data showing the slowdown in world trade, as well as lackluster industrial profits and lower PMIs in China.
With the USA, Europe, Japan and now Australia all engaging in monetary stimulus, the stage has been set for China's policy makers. There is little doubt of if there will be intervention, the question is how and when. With China's PMI coming in at 49.8 at the beginning of this month, below the expansionary 50, the manufacturing sector continues to contract. In a one party system, there is only one way for voters to express their discontent, making the stimulus measures that much more urgent.
The AUDUSD has now fallen to the big figure mark of 1.03. With Chinese stimulus on the horizon, there may be an upside move left in the AUDUSD, but with this rate cut confirming a negative outlook for the Asia region, I'd expect the AUDUSD to continue to fall towards parity in the near term.
Disclosure: I am short FXA. I wrote this article myself, and it expresses my own opinions. I am not receiving compensation for it (other than from Seeking Alpha). I have no business relationship with any company whose stock is mentioned in this article.
Additional disclosure: I close a short AUDUSD position just prior to writing this article and have short orders in at a number of price levels.