For dividend investors, the ONEOK story should hold tremendous appeal. The two closely interrelated companies offer attractive dividend growth potential matched with competitive current dividend yields. The published expectations for 2013 provide some data for a side-by-side comparison.
ONEOK Partners L.P. (NYSE:OKS) is primarily a natural gas and natural gas liquids - NGL - midstream master limited partnership (MLP). The company gathers, processes and transports natural gas products through the central and Rocky Mountain region of the U.S. ONEOK Partners is one of just six MLP companies with a greater than $10 billion market cap. The current market value is $13.1 billion.
Note: MLP companies such as ONEOK Partners have units and pay distributions. The words stock, shares and dividends may be used here with the understanding that the rules of MLP units apply, including the tax consequences of investing in MLP units.
ONEOK Inc. (NYSE:OKE) is the holding company for three natural gas utility companies in Kansas, Oklahoma and Texas. ONEOK also owns the general partner interests and about 43% of the L.P. units of ONEOK Partners. The corporate side receives about 75% of its total operating earnings from the Partners interests. ONEOK has a market cap of $9.9 billion.
Dividend Expectations
Both ONEOK and ONEOK Partners have aggressively increased dividend rates over the last few years. Recently, the companies released EBIDTA guidance and dividend expectations for 2013. As an interesting exercise, here are the two companies' current dividend rates and yields, the projected end of 2012 dividend rate and what the yield would be based on the current share price.
OKE: Current dividend: 33 cents / 2.75% yield. End of 2013 dividend: 39 cents / 3.25% projected yield.
OKS: Current dividend: 66 cents / 4.43% yield. End of 2013: 76.5 cents / 5.13% projected yield.
The projected yields is what an investor would earn on shares/units purchased at today's prices and assuming ONEOK makes good on the future dividend forecasts. It is very probably that share values will increase with the rising distributions.
For the longer term, ONEOK Partners projects distributions to increase at a 10% to 15% per year rate through 2015. The Partners aims for a 1.05 to 1.10 coverage of the distribution rate. ONEOK, Inc. forecasts annual net income growth of 20% to 25% through 2015. The company targets paying out 60% to 70% of net income as dividends.
Growth Potential
ONEOK Partners currently has about $6 billion of growth projects underway including a $1.2 billion crude oil pipeline running alongside the company's existing pipelines from the growing Bakken play to Cushing, OK. ONEOK Partners will be a major player in the Bakken for both the gathering and processing of natural gas and the transport of crude oil.
ONEOK Inc. takes the cash flow from the Partners and uses the money for acquisitions, the purchase of additional L.P. units, share buybacks, or dividend payments. The flexibility of choices allows management to select what it believes will be most advantageous for shareholders.
The choice between OKE and OKS is almost a flip of the coin. Look at the chart below for the comparative returns. Income investors who are OK with the MLP tax issues can go with ONEOK Partners. Investors who want to participate in the growth without the K-1 tax hassles should take a look at ONEOK, Inc.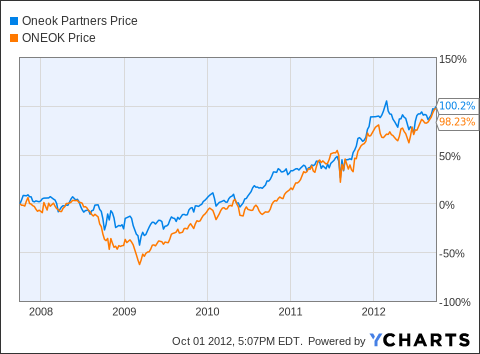 Recommended Additional Reading: ONEOK Partners Shooting For 20% Dividend Growth Per Year
Disclosure: I have no positions in any stocks mentioned, and no plans to initiate any positions within the next 72 hours. I wrote this article myself, and it expresses my own opinions. I am not receiving compensation for it (other than from Seeking Alpha). I have no business relationship with any company whose stock is mentioned in this article.