It's a gloomy time for the retail sector. A sluggish recovery and high unemployment, combined with a consumer still deleveraging from the credit bubble of the last decade, have forced retailers to increase their use of promotions, hurting top-line growth. Increasing commodity prices -- including a 2011 surge in cotton prices and a constant and steady increase in fuel costs -- have added to expenses and further compressed margins.
Meanwhile, in every segment of retail, sea changes are occurring, and long-time market leaders are under attack. Companies like Best Buy (NYSE:BBY) and RadioShack (NYSE:RSH) are falling victim to the "showroom effect," as online retailer Amazon.com (NASDAQ:AMZN) undercuts their prices. Former "category killer" Staples (NASDAQ:SPLS) is cutting its square footage by 15%, while rivals OfficeMax Incorporated (NYSE:OMX) and Office Depot (NYSE:ODP) see their share prices languish in the single digits. Long-time apparel giants like Abercrombie & Fitch (NYSE:ANF), Aeropostale (NYSE:ARO), and JC Penney (NYSE:JCP) have seen significant short-term drops in their stock prices this year, beset by failed strategies and heightened competition. Grocery stores like Supervalu (NYSE:SVU) and Safeway (NYSE:SWY), already threatened by behemoth Wal-Mart (NYSE:WMT), have been unable to pass price increases along to cost-conscious customers. In Supervalu's case, the struggles led to a 50% post-earnings collapse in July and a suspension of its dividend.
So it's no surprise that, as a group, retail stocks are badly lagging. Indeed, investors need only look at the chart of the SPDR S&P Retail ETF (NYSEARCA:XRT) and compare its performance to the S&P 500 since the market bottom in March 2009 [click to enlarge]: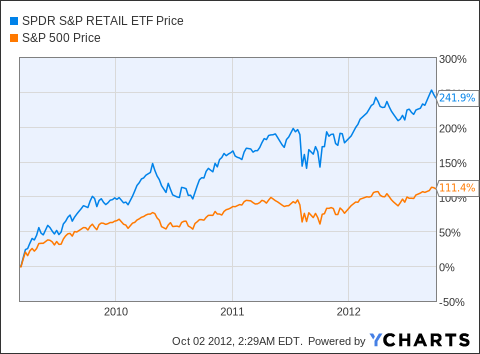 Whoops. In a surprising turn, retailers are actually dominating the broad market. Even more surprising, every one of the aforementioned companies -- with the exception of RadioShack, who was removed on Monday -- is a holding of XRT. Granted, the ETF holds 94 different retailers on a roughly even-weighted basis, so the struggles at a handful of components are not enough to drag the entire index down. But still, given the general sentiment toward retailers, the relative outperformance of the sector over the past 31 months is simply staggering.
It is true that many retail stocks were badly damaged during the 2008-09 stock market collapse; Pier 1 Imports (NYSE:PIR), for instance, fell to 11 cents per share in March 2009 (it has risen by 16,800% since then, though it is not part of the XRT.) But heading into the March 6, 2009 bottom of the S&P 500, retail stocks underperformed modestly over a two-year period and actually lost less than the broad market between March 2008 and March 2009. So retail stocks were not necessarily growing off a lower base than their peers coming out of the market lows.
Of course, retail profits have grown -- or simply returned -- since the dark days of 2009, but the key driver in the growth of retail stock share prices has been multiple expansion. Looking at several of the retail stocks I've covered here on Seeking Alpha shows that even struggling retailers have gotten a boost:
P/E Expansion In The Retail Sector

| | | | |
| --- | --- | --- | --- |
| Company | Date | Forward P/E | Current FP/E |
| American Eagle Outfitters (NYSE:AEO) | August 2011 | 11.0x | 15.9x |
| Cato Corporation (NYSE:CATO) | October 2011 | 10.5x | 13.6x |
| Conn's (NASDAQ:CONN) | September 2011 | 11x | 16.3x |
| GameStop (NYSE:GME) | March 2012 | 7.0x | 6.7x |
| Gap Inc. (NYSE:GPS) | September 2011 | 11x | 18.3x |
| Guess? Inc. (NYSE:GES) | June 2012 | 9.5x | 11.4x |
| Pier 1 Imports | September 2011 | 13.3x | 15.7x |
P/E based on midpoint of company guidance for current fiscal year, except PIR's 2011 data, which used analyst estimates
Granted, multiples have expanded throughout the market; it has taken more than just earnings growth to drive the S&P 500 up some 30% over the past twelve months (the broad market hit its 2011 lows in October). But the multiple expansion in retail has been relatively aggressive; and, as of late, even struggling companies have seen major bull runs. JC Penney's strategy under new CEO Ron Johnson was widely denounced, even by former company executives; but after cratering, the stock gained nearly 50% between mid-July and mid-September before crashing again over the last two weeks. GameStop hit multi-year lows in early August, beset by worries about digital downloads and the lack of new consoles; it then gained some 40% in just six weeks before pulling back as of late. Sears Holdings Corporation (NASDAQ:SHLD) nearly tripled in the year's first ten weeks, despite sales weakness, before pulling back and settling into a trading range in May. There have been strong bull runs across the retail sector that don't seem to match the overall sentiment toward, and the challenges facing, the business at large.
It seems unlikely that this stunning outperformance -- 130%, or over 4 percentage points per month since March 2009 -- can continue much longer. Indeed, it has already begun to stall out, as the XRT has (very modestly) underperformed the S&P 500 over the past six months. There are simply aren't many catalysts to growth left in retail. Certainly, international expansion can boost some US retailers, though that option is obviously closed off to grocers, sporting goods stores, and smaller chains. Even so, outside of Asia, international business hasn't necessarily been a boon to a company's stock price; just ask laggard Guess?, whose European exposure is a key reason its earnings and share price remain depressed.
But it seems likely that US economic growth will remain relatively muted, unemployment will stay at levels well above those of the last decade, and commodity costs will continue to rise (barring a double-dip recession, which would then attack the top line). Meanwhile, the focus on efficiency and the move to online sales will continue to affect margins. Wal-Mart and Amazon increased revenue by $39 billion combined in 2011 (fiscal 2012 for Wal-Mart, ending in January); many of those dollars came from sales taken from competitors -- sales made at lower margins. Their growth may be good for consumers; but for the segment as a whole, revenue increases at the sector's largest players mean lower profits for the entire group. That's not a formula for long-term, industry-wide growth.
For investors with a bearish view of the recent run-up in the broad market, retail stocks should receive consideration as a target area for short plays. The XRT -- which has strongly outperformed its rival, the more focused PowerShares Dynamic Retail Portfolio (NYSEARCA:PMR) -- would be the best choice among ETFs. Stocks thriving amid newly discovered optimism -- such as Gap Inc. -- or holding on despite severe struggles -- such as JCP and Sears -- should also be considered. The XRT ETF can also be used in a pairs trade against another sector fund or an index fund, allowing more cautious investors to bet simply on relative underperformance of retailers as opposed to attempting to time the market.
For investors still bullish on US stocks, caution in the retail sector is definitely advised. No matter which way stocks move going forward, it seems unlikely that the retail sector can continue its recent outperformance. After a 130% relative gain over two and a half years, it certainly looks like much of the sector's potential growth is already priced in. If economic sentiment turns downward, retailers should be quick to follow.
Disclosure: I have no positions in any stocks mentioned, and no plans to initiate any positions within the next 72 hours. I wrote this article myself, and it expresses my own opinions. I am not receiving compensation for it (other than from Seeking Alpha). I have no business relationship with any company whose stock is mentioned in this article.