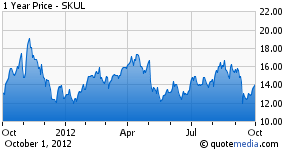 On September 19th, 2012, I wrote a piece on Skullcandy (SKUL) that was pointing towards oversold conditions that were bound to reverse in the near future. Since the recommendation, SKUL has moved up over 12%.
At $12.30/share (the closing price on the day the article was released), it made a lot of sense to pick up some shares. Not only was the short interest around 78%, but the overreaction to the downgrade from Morgan Stanley's Jay Sole made it too obvious that the SKUL bears had way too much going in their favor.
Now that we've seen SKUL shares move about 12% higher, I figured that it had a lot to do with short-squeezing. Logging into my brokerage account, I confirm that short interest has dropped to 68% of float.
Other than the announcement of a new line of computer gaming headsets, Skullcandy has released no news since then and S&P 500 and NASDAQ Composite declined 1% and 2% respectively. With this, we can confirm the short covering that caused the rally in SKUL since September 19. The holders of the remaining 11 million shares short are now collectively worth $18.81 million less.
Despite what the remaining short ratio of 14 implies about the confidence of SKUL bears, remember that the actual company is highly profitable and sees "deep-double-digit" revenue growth (38% last quarter!). The PEG ratio is now .57. If analysts are anywhere in the ballpark of SKUL's future earnings, this is one of the cheapest stocks out there.
While a lot of the easy money has been made already at this point, there's three things I've now learned about SKUL:
The psychological price floor of roughly $12/share is very strong.

Certain analyst recommendations can be used as strong contrarian indicators (hence, they can't just be ignored).

Short interest is very stubborn, and seems to be based on the notion that Skullcandy is a fad.
The idea of a $12 price floor is particularly applicable to SKUL shareholders now. If it's correct, it means that you can probably sell some short-term $11.00 call options with confidence. You've got a short-squeeze to buoy SKUL for the time being, and lots of leeway between the $11 strike price and the $12 psychological level that brings back buyers every time.
If you don't dabble with options, keep your focus on the SKUL shorts and the upcoming earnings release.
Disclosure: I have no positions in any stocks mentioned, and no plans to initiate any positions within the next 72 hours. I wrote this article myself, and it expresses my own opinions. I am not receiving compensation for it (other than from Seeking Alpha). I have no business relationship with any company whose stock is mentioned in this article.