Jim Cramer, former hedge fund manager and the host of the popular investment television show, "Mad Money," came out on his show recently and made the following remark about Intel (NASDAQ:INTC):
"I have no bull case for it, none."
While I know that it's fashionable to hate on Intel, along with the entirety of the PC space, I think that Mr. Cramer is absolutely, positively, without-a-doubt dead wrong. There's absolutely a bull case for Intel, and in this article, I intend to outline it.
The PC Is Dying - A Lot Of Media Hype
The centerpiece to any anti-Intel argument is that the traditional PC is going the way of the dodo bird and that tablets and smartphones will become the computing devices of the future. Make no mistake: smartphones are here to stay and tablets are likely to find their places in the computing spectrum, but to say that traditional PCs are going to be supplanted by tablets is ignorant at best and fear-mongering at worst.
First off, I think that there's a large media misconception when it comes to the notion of the "PC". We're not talking big, bulky desktop computers for home use. Instead, the PC refers to a whole gamut of computing devices including ultra-thin and sleek notebooks, traditional-sized notebooks, home theater PCs, gaming desktops, and high-performance workstations for professional content creation.
While tablets are wonderful for watching YouTube videos or surfing the web, it is ludicrous to believe that programmers, digital artists, journalists/writers, engineers, college students, and musicians will find that tablets will provide the level of flexibility, performance, customization, and value for the dollar that more traditional PC form factors offer.
Further, despite the media hype over the last several months, a recently released piece from DigiTimes noted the following:
"Notebook shipments to Hewlett-Packard (NYSE:HPQ) in September are estimated to increase on month by 70%, and those to Asustek Computer and Acer to go up by 50% and 30% respectively"
The piece further goes on to state that the weakness in sales during July and August were primarily due to the ODMs looking to clear out inventories of Windows 7-based laptops, and that Windows 7-based models stopped shipping in mid-September.
So, wait? PC sales slumped because the entire world plus dog knew about the arrival of Windows 8 PCs? What a shocker! The PC isn't dying, the iPad isn't going to take over the computing world, and Intel isn't going to go bankrupt tomorrow.
But let's assume that tablet sales also pick up, and that these tablets serve as replacements for traditional notebooks for some people. Is this necessarily a bad thing for Intel?
Intel's Atom Z2760 For Tablets - Looks Rockin' To Me
Intel's tablet strategy is very closely tied to Windows 8. In particular, the goal of Intel-based Windows tablets is to bring the traditional notebook/Windows PC experience to the tablet form factor in order to make sure that any customers that do want to trade their notebooks for tablets have a painless transition. The most attractive option to move to the new form factor is to keep the familiar, useful parts of the old whilst adding the necessary "new" parts. That's the motivation behind Windows 8.
Intel recently released its Atom Z2760 code-named "Clover Trail" for the tablet form factor. Now, despite all of the doom-and-gloom from the naysayer crowd that Intel's chips don't have a prayer against ARM (NASDAQ:ARMH) based tablets in terms of battery life and power consumption, Intel was kind enough to release some performance and battery life data against the Nvidia (NASDAQ:NVDA) Tegra 3, Qualcomm (NASDAQ:QCOM) Snapdragon S4, and ARM Cortex A9 clocked at 1.8GHz.
A quick summary of the results:
The Atom Z2760 was faster in the industry-standard SPECint benchmark than any of the ARM based solutions.
The Intel-based tablet was more power efficient than the ASUS Transformer Pad Infinity (Nvidia Tegra

3-

based) and the 2012 Apple (NASDAQ:AAPL) iPad whilst coming in slightly less efficient than the iPad 2.
While the individual data points don't matter all that much, the point here is that Intel, with its 4-year-old Atom core, built on its 32nm process, is able to hang with any of the ARM-based solutions available. It's officially in the game.
The Main Concern - Pricing
With all the nonsense about "X86 vs. ARM" out of the way (expect a full piece on this within the next week) with Intel's product offering strong performance and power consumption characteristics, it's time to talk about my real concern with tablets based on these products - pricing.
While the ability of Intel-based tablets to run Windows 8 versus the more gimped Windows RT, it seems that these devices will go for $650 to $1,000 - putting them into iPad territory. Granted, these designs will have a faster processor, more RAM, and compatibility with all existing Windows applications, but it is still unclear whether the "tablet" form factor itself will be worth the premium to most users. Android tablet sales have only really happened at the low end with the higher end tablets going exclusively to Apple.
In short - are tablets an Apple-fad, or do they represent a fundamental paradigm shift in personal-computing much as the shift from the desktop to the laptop was for the mainstream? The answer to this question will become clearer over the next several years.
But wait: there's a lot more to Intel's tablet story than "Clover Trail." I'm going to dig deeper into the official road map as well as the leaked road maps to give investors an even clearer picture of just where Intel is going on tablets.
The Atom Tablet Road map - ValleyView
The current Atom Z2760 is essentially a recycling of very old Atom technology built on a more modern manufacturing process. Despite this, the product is still likely to be very competitive with the very best ARM-based chips available this year - and it'll run full Windows 8, not the more limited Windows RT.
But make no mistake: the current Atom isn't exactly several leagues above the solutions from the ARM-based vendors in terms of performance, functionality, or power consumption. Further, as the competition in the space heats up, margins will come under pressure, meaning that all the competitors in the space will need to look for ways to stay differentiated and improve margins. That brings us to "ValleyView" - the next generation Intel Atom.
Thanks to our friends, EXPreview, a wealth of information was leaked about the next generation Atom via a number of PowerPoint slides that I will interpret from the investor's perspective:
Slide 1 - The Highlights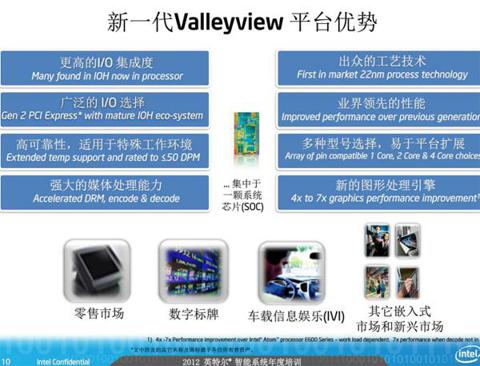 Click to enlarge
The first thing we notice is that the 2013 Atom line-up will have one, two, and four-core models rather than simply 1-2 dual-threaded cores. Another fact that stands out is that the graphics performance will improve by a factor of 4-7 times. Impressive! The next slide gets into some more technical details, but don't worry, I'll guide you through them.
Slide 2 - More Nitty-Gritty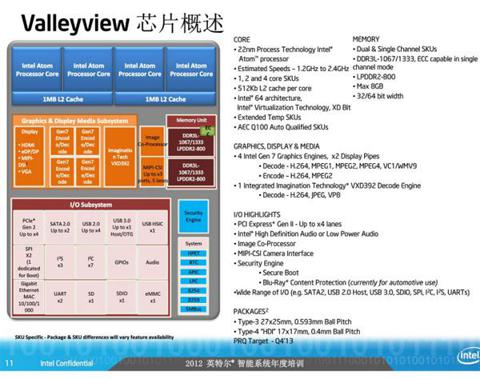 Click to enlarge
All right, so there are a number of things we note here:
Chip is built on the 22nm tri-gate process (well-known)
64 bit support
Support for up to 8GB of DDR3
Intel is moving to its own "Gen 7" graphics - the same graphics cores found in the mainstream "Ivy Bridge" and "Haswell" processors rather than technology licensed from Imagination Technologies
Memory Controller is integrated on-die
The support for 64 bit is crucial as this will allow the Atom lineup to compete head-to-head with any potential threats from the ARM-licensee camp in the low power server space.
More importantly, we see a move from licensed graphics technology from Imagination Technologies to Intel's internally designed graphics architecture. This is advantageous for a number of compelling reasons. First and foremost, this will improve the gross margin profile of the Atom chips relative to the current lineup as well as compared to peers. In fact, for the sake of constructing a tighter bull case, let's dig a little deeper into Intel's gross margin advantage with its Atom chips over the Snapdragon or Tegra:
Intel owns its own, leading edge fabs that are also used to build PC and server chips - leveraging existing infrastructure while keeping things in-house. Qualcomm and Nvidia both rely on Taiwan Semiconductor (NYSE:TSM) and margins take a hit here.
Intel is now in control of both the CPU design, CPU instruction set, and the graphics architecture. Qualcomm designs its own ARM-compatible CPUs as well as its own graphics, but still has to pay ARM for the instruction set license. Nvidia uses ARM's off-the-shelf CPU designs coupled with its own graphics, so its gross margin profile likely looks worse than Qualcomm's.
This now leads us to the next slide:
Slide 3 - Market Segment Targets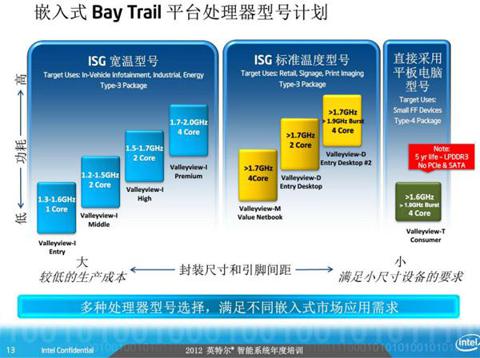 Click to enlarge
For the "Bay Trail" platform, it seems that there are three major segments: embedded, netbook/PC, and tablet.
The interesting thing is that Intel is pursuing the car infotainment and industrial segments. While these won't push the volume or have the average selling prices of notebook/desktop chips, it is good to see Intel aggressively expand the Intel architecture everywhere.
Further, the PC versions of ValleyView will give the lower end notebook and desktop spaces a kick-in-the-pants, likely in response to the threat of ARM chips trickling upwards into these segments.
Finally, the tablet model seems to be the "cream-of-the-crop" with 4 cores running at 1.6GHz+. While it is still as-of-yet unknown what kinds of architectural changes that Intel has implemented in the latest "Silvermont" core, it is clear that with a clean-slate micro-architecture coupled with the very real threat from the ARM-licensees as well as Advanced Micro Devices (NYSE:AMD), Intel will be very aggressive on the performance per watt metric.
In short, Intel seems to be bringing its "A-Game" to the tablet space. This is all too reminiscent of the PC space back in 2003-2006, when AMD had a firm lead against an aging, lazy Intel micro-architecture. When Intel decided to start coming at it in full force, however, AMD lost its lead and has struggled to compete on a performance/watt basis since.
Now, no bull case for Intel would be complete without a discussion of its high margin bread-and-butter: servers.
The Server Space - An Aggressive Push Against Itself
Unlike the PC and tablet spaces, Intel runs essentially alone in the server/datacenter space. Sure, it competes with AMD (which has a roughly 5.5% market share in the space) or the dregs of the former "RISC-era" such as IBM's (NYSE:IBM) Power and Oracle's (NASDAQ:ORCL) SPARC, but at this point, Intel isn't suffering from any significant pressure from these competitors.
The company expects its datacenter division (server processors) to grow at a 15% CAGR, and even in the company's recent warning, the datacenter guidance was reaffirmed.
Now, there are some threats here. Some companies such as Nvidia and Applied Micro (NASDAQ:AMCC) are looking to get in on the server action with custom ARMv8 (64 bit ARM) based processors. While the technologies that these companies have talked about seem promising enough in PowerPoint slides, it is unclear how these products will fare on a performance-per-watt basis, so until products from these companies hit the market, it will be unclear as to how potent the threat is. The fact that Oracle's SPARC and IBM's Power, both excellent processors, have failed to gain share is telling about the prospects of server chips from lesser competitors.
In any case, as more smartphones and tablets go into use, they will need to be backed by a strong cloud backbone. Right now, Intel owns that high margin backbone, and until a credible threat arises, this will continue to be a very strong source of revenue and profits for the company.
A Note About ARM - Wake Up, Wall-Street
The final point that I have been meaning to clarify is that the ARM instruction set isn't "magic." It seems to be that a good portion of the press has got it into their heads that ARM-based processors are inherently more efficient than an x86 processor. To a very, very small degree this is true - the need for X86 processors to decode X86 instructions into RISC-like micro-operations does introduce a small overhead. But this is not enough to make an X86 tablet or phone chip impossible - see Medfield and Clover Trail. The micro-architecture, the circuit design and layout, and the process technology are the real determinants of performance here - not the differences between ARMv7 and the latest iteration of X86-64.
More importantly, the phrase "free and open ecosystem" is tossed around quite a bit with respect to the ARM processors. Yes, it's true. Anybody can go to ARM holdings, promise to pay a royalty fee per chip, and be allowed to develop an ARM-compatible chip. That's nice, but this doesn't automatically mean that ARM-based processors will take over.
Did you know that back in the early 90's, there were countless players in the X86-compatible space? Intel, AMD, IBM, TI (NYSE:TXN), Intersil (NASDAQ:ISIL), ST-Micro (NYSE:STM), Fujitsu, OKI, Siemens (SI), NexGen, NEC, Cyrix, and Via all developed X86 compatible processors.
Eventually, the strongest players survived, and the weaker ones either exited the business, went bankrupt, or were acquired.
The same thing will happen to the ARM application processor space. TI's exit from the smartphone/tablet space is a testament to the fact that there's not really room in the space for too many competitors.
Right now, the serious smartphone and tablet chip players are Samsung, Apple, Intel, Qualcomm, and Nvidia. Samsung is a device maker and owns its own chip fabs, so it will very likely stay in the game. Apple, too, will continue to develop its own chips for its iPhone line. So that leaves three major players left for the less vertically integrated device makers: Qualcomm, Nvidia, and Intel.
Qualcomm has the advantage of having scored the design wins in the latest Nokia (NYSE:NOK) phones, the next RIM (RIMM) BlackBerry, and essentially all of the high end phones. It also designs its own CPU, GPU, and baseband, giving it a high level of vertical integration. Windows RT will enable Qualcomm to compete in the Windows tablet space as well with its Snapdragon S4 processors, which are currently the fastest mobile system-on-chip solutions available.
Intel has the advantage of being highly vertically integrated as well as having years of high performance CPU design. With its full control over the instruction set, CPU architecture, GPU design, baseband courtesy of its purchase of assets from Infineon (OTCQX:IFNNY), and its ownership of chip manufacturing plants, it is likely to be able to win on pricing at any given feature set, hurting margins for competitors and quickly taking the lead. Further, Intel Labs does awesome things like developing a digital Wi-Fi radio that can be integrated on-die (nobody else has this technology).
Nvidia is the longer-shot here and is likely destined to be the #3 player in this space. It's not as big as Qualcomm or Intel and it will have a hard time keeping margins acceptable, but its graphics expertise is quite valuable. If Intel is unable to produce competitive graphics against the Imagination Technologies "PowerVR" or the Qualcomm "Adreno," then I could see Intel gunning to acquire Nvidia to bolster its graphics portfolio. That being said, the rapid clip at which Intel has improved its graphics processors on the PC side could make such an acquisition less attractive.
Conclusion
There is most certainly a bull case for Intel, even if the majority of Wall Street doesn't see it quite yet. Intel's product pipeline is impressive, and with the added bonus of near-full vertical integration, it is in the best position to profit from the non-Apple, non-Samsung tablet and smartphone devices if it plays its cards right. Remember: Qualcomm is still in the lead, so Intel cannot afford to blink.
Oh, and that 4% dividend yield, the aggressive share buybacks, and the 9.75 price-to-earnings ratio make the stock a pretty attractive play here.
Disclosure: I am long INTC, AMD, QCOM, NVDA, NOK. I wrote this article myself, and it expresses my own opinions. I am not receiving compensation for it (other than from Seeking Alpha). I have no business relationship with any company whose stock is mentioned in this article.