The reports of the demise of offshore oil drilling seem to be greatly exaggerated if you take a look at Noble Energy's (NYSE:NBL) performance. The exploration company has been producing some impressive numbers lately that have been reflected in its share price.
Noble currently offers a net profit margin of 16.87% and earnings per share of $3.89. If that wasn't juicy enough, it also boasts a P/E ratio of 24.01 and a forward P/E ratio of 14.40. Those are not bad numbers by any estimation, and they definitely justify Noble's strategy of concentrating on offshore drilling and dumping onshore oil and gas assets.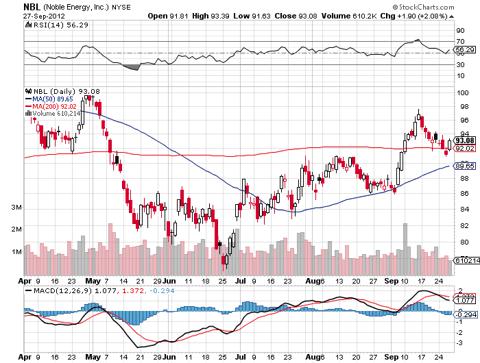 Noble has been able to bring $1.1 billion from the sale of such assets in the last quarter. The company's president and CEO, David L. Stover, has said that the money from the sales will be spent on deepwater exploration. The deep water appears to be where the future of the energy business and the money is.
Opportunity in the Eastern Mediterranean
The most impressive thing about Noble is its portfolio of deepwater projects around the world. This includes Tamar, off the coast of Israel, which contains an estimated 9 trillion cubic feet of natural gas. Noble hopes to begin production at Tamar in April 2013. Noble has several other promising discoveries in the same area, including the Leviathan, which might contain up to 17 trillion cubic feet of natural gas. The company's natural gas discoveries in the Eastern Mediterranean now total an estimated 35 trillion cubic feet of natural gas.
Noble will lease Atwood Oceanics' (NYSE:ATW) new drillship, the Atwood Advantage, to drill at Leviathan starting in the fourth quarter of 2013. The Atwood Advantage is currently under construction in South Korea, according to press releases. Noble's partners in Leviathan include Delek Group (NYSE:DK) and Ratio Oil Exploration LLP (OTC:RTEXF).
The Eastern Mediterranean fields produce liquefied natural gas (or LNG). The demand and price for LNG has been increasing because Japan is replacing its nuclear power plants with gas burners in the aftermath of the Fukushima debacle. Increased LNG demand in Japan will obviously drive up prices all over the world, including the Mediterranean.
Active Around the World
The other jewel in Noble's portfolio is its natural gas and oil fields surrounding Bioko Island off the West Coast of Africa. The Aseng oil project, which began production last year, is producing 17 million barrels of oil a day for Noble. When it goes into full production, Aseng will add 80 million barrels of oil to Noble's production. The Alen field, which is supposed to come online in 2013, is supposed to give Noble 35,000 barrels a day in liquid production.
Noble has eight producing projects in the Gulf of Mexico from which it extracts the equivalent of 15 million barrels of oil a day. The company also received the first permit to return to drilling there after the drilling moratorium was lifted. The company is developing at least one new prospect in the Gulf at the Gunflint, which might contain up to 500 million barrels of oil.
Other Noble operations around the world include the Cheng Dao XI field off China and the Dumbarton and Lorchranza fields in the North Sea. Noble has also been buying large offshore positions elsewhere in the world. It has a 100% interest in two million acres in the Caribbean off the coast of Nicaragua and a 72% interest in three million gross acres off the coast of Southern France in the Mediterranean.
Noble currently has a debt-to-equity ratio of .57 times, which is fairly high for an energy producer. Noble has a reasonable net profit margin of 17.50%. Exxon Mobil (NYSE:XOM), on the other hand, has a debt-to-equity ratio of just .09 times, yet the energy giant's net profit margin was just 9.6%. While Noble is more aggressive in financing its growth with debt, it is also more profitable.
If you are looking for an expanding energy company that is actually generating cash, check out Noble Energy. The company is increasing its sales and expanding its exploration capabilities while shedding itself of questionable assets here in the United States. By concentrating on what it does best, Noble has shown that you can still make money in deep water.
Disclosure: I have no positions in any stocks mentioned, and no plans to initiate any positions within the next 72 hours. I wrote this article myself, and it expresses my own opinions. I am not receiving compensation for it (other than from Seeking Alpha). I have no business relationship with any company whose stock is mentioned in this article.