Being a good investor is like being a good poker player. In order to thrive, you have to have a solid overall game. Just about anybody can play aces, but the individual who can play a marginal hand like King Jack Suited is the one that will leave the table a winner. A successful investor should be able to take a variety of situations and make them profitable using different tools and strategies.
A good demonstration of this philosophy is what to do with Intel (NASDAQ:INTC) right now. The stock has been a poor performer recently on a slowdown in PC sales and as it transitions to providing products for a more mobile future. However, the stock has several positives going for it (high dividend yield, cheap valuations, solid balance sheet, etc.). So, can an investor make a profit on a stock that some would consider "dead money" for the next six months? I have chosen to play it with an April slightly out-of-the-money bull market put spread. I sold the April 22 puts and bought the April 18 puts for a positive spread of $1.10.
If Intel stays above $22 when the option expires on April 20, the play will have an effective return of over 50% on my collateral posted (365/200 days until expiration * $1.10/$4 collateral required).
Anything under $22, I get the shares at a cost-adjusted $20.90 a share.
My maximum loss is $2.90 if the stock craters, but that loss is likely to be temporary as this strategy would allow me to acquire the shares at a much lower entry point than the current price while providing a hedge until expiration. I also have every confidence that Intel would bounce back after that worst-case scenario.
Here are four reasons Intel is likely to be over $22 a share when my options expire in April:
INTC's 4% yield provides a nice floor on this stock. Intel has also grown its dividend payouts by over 13% annually over the past five years.
The stock is selling at the very bottom of its five-year valuation range based on P/E, P/S, P/CF, and P/B.
INTC is cheap at less than six times operating cash flow, a five-year projected PEG of under 1 (0.91) and just over 10 times forward earnings.
The stock has solid long-term technical support at $20 (see chart).
Click to enlarge image.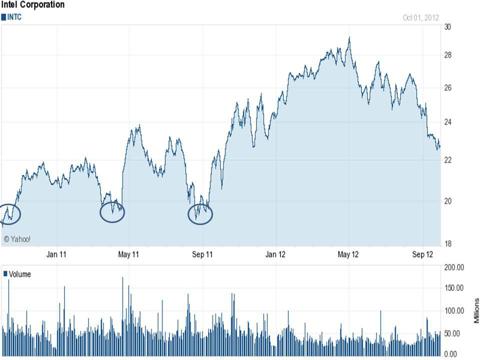 Click to enlarge
Disclosure: I am long INTC. I wrote this article myself, and it expresses my own opinions. I am not receiving compensation for it (other than from Seeking Alpha). I have no business relationship with any company whose stock is mentioned in this article.