July 2008 marks the start of a bear market after all major market indices have fallen more than 20% from their most recently peaks. This article is part two of my three-part research on bear markets. In part one, I researched how long a bear market lasts. In this installment I ask this question:
Which style fared the best in a one-year time frame after stocks have entered a bear market?
There are four primary styles of stock investing: Small Cap Value [SV], Small Cap Growth [SG], Large Cap Value [LV], and Large Cap Growth [LG]. Typically, before stocks enter into a bear market, Small Cap stocks, regardless of value or growth, get hit the hardest.
Using data provided by Fama/French benchmark style portfolios, I calculated one-year returns of the four investment styles from the month stocks entered a bear market. The results are tabulated below.
click to enlarge
Table: One-year returns after start of bear markets and related crises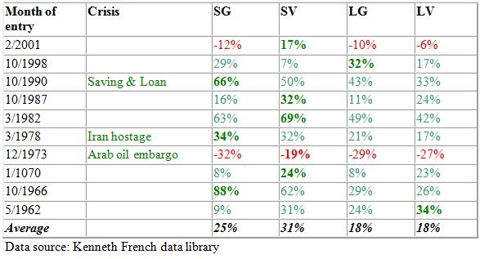 You can see that all investment styles have their moment of glory. However, Small Cap styles won the return races more often than not. In particular, the Small Cap Value style delivered the best returns in five out of ten bear markets.
Is this bear market different?
You might argue that this bear market is different, and that history may not provide much guidance.
I disagree. This is not the first time we have had a credit crisis. Remember the S&L debacle in 1990? Neither is it the first time we have had an energy crisis. The situation during Arab oil embargo in 1973 was a lot worse. Certainly it is not the first time we butted heads with Iran. Not one of those crises caused lasting damages to stock market investing: except if you got out of the market entirely.
In the last installment of my bear market research, I will study which sector performs the best after a bear market starts