On August 30th 2012, cloud-based HR and Finance enterprise software provider Workday (NYSE:WDAY) issued its S-1. The company has now announced that shares will begin trading on October 12th and will be priced between $21 and $24. While we wait for the exact valuation to be determined, it is helpful to examine Workday's performance relative to two other cloud based SaaS companies, Salesforce.com (NYSE:CRM) and NetSuite (NYSE:N).
Why compare Workday to Salesforce.com and NetSuite?
While neither Salesforce.com nor NetSuite are direct competitors to Workday, it is reasonable to compare the companies due to similarities in technology and business model. All provide a cloud-based SaaS solution and all were founded within the last fifteen years. In comparison, established players like Oracle (NASDAQ:ORCL) and SAP (NYSE:SAP), which will serve as primary competitors to Workday, provide on-premise solutions and were established in the 70s. Both Oracle and SAP are developing their own cloud based services, but cloud is still a very small part of their businesses.
While Salesforce.com could become a competitor to Workday in the future, today it is a Workday customer and strategic partner. Salesforce.com is a provider of CRM applications, which are not part of Workday's product suite. On the other hand, NetSuite does overlap with Workday in terms of product offerings but serves middle market companies, while Workday focuses on global enterprises.
The following table provides a comparison of the three organizations:
| | | | |
| --- | --- | --- | --- |
| | Workday | Salesforce.com | NetSuite |
| Founded | 2005 | 1999 | 1998 |
| Applications | HCM, ERP | CRM | ERP, CRM, Ecommerce |
| Cloud-based | Yes | Yes | Yes |
| SaaS | Yes | Yes | Yes |
| Customers | Global Enterprises | All | Middle Market |
This article will analyze the growth of Workday, Salesforce.com, and NetSuite since 2008, 2001, 2003, respectively. At that time, revenues for these three companies were at $6.4M, $5.4M, and $8.3M, respectively. The data and company information that follows has all been collected from the Workday S-1 as well as the Salesforce.com annual reports and NetSuite annual reports.
Comparing the speed of growth
Workday's growth has been comparable to that of Salesforce.com. If you believe that Workday will follow the same path as Salesforce.com, its business is just about to explode and its revenue curve is about to get much steeper. In fact, Workday has signed several very impressive clients, including giants like AIG. At the same time, Workday has been rapidly improving and expanding its suite. The company states that only 10% of clients are currently using the financial management product, creating a major cross selling opportunity.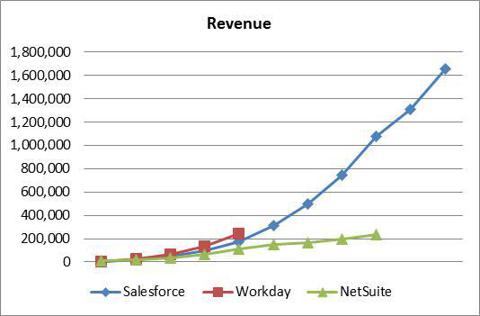 But the cost side looks more worrisome
While neither Salesforce.com nor NetSuite were profitable just a couple of years into their operations, both were showing a positive trajectory. Workday's losses, on the other hand, are getting bigger and bigger. The S-1 filing states, "We have a history of cumulative losses and we do not expect to be profitable for the foreseeable future."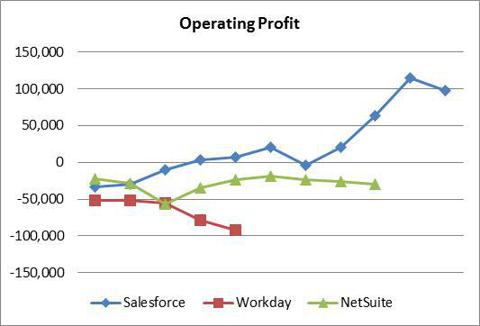 Workday's costs of revenue are driving losses
Compared to Salesforce.com and NetSuite, Workday's cost of revenue is incredibly high.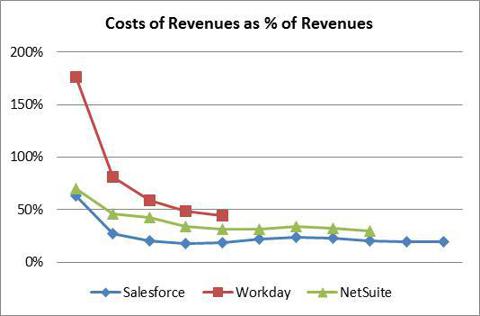 Workday segments its revenues into subscription services and professional services. Costs for the subscription services include employee related expenses as well as hosting, data center, computer equipment, and software. Costs for the professional services segment include employee related expenses, subcontractors, and travel.
The professional services business has a significantly smaller gross margin compared to subscription services. Workday states in its filing, "We are intensely focused on our customers' success and have invested in our professional services ecosystem in order to promote seamless deployments and robust customer adoption." Essentially, Workday is subsidizing professional services to ensure that customers experience a smooth transition to Workday. The open question is, how long will it take Workday to build up its partner ecosystem with integrators like Accenture and Deloitte so that these costs can start to come down?
Six Months Ended July 31, 2012

Subscription Services

Professional Services

Total

Revenue

79,122

40,398

119,520

Cost of Revenue

16,588

36,767

53,355

Gross Profit

62,534

3,631

66,165

Margin

79%

9%

55%
Why are Workday's R&D costs high?
Though Workday's R&D costs have been coming down as a percent of revenue, they are still exceptionally high. Workday boasts the following innovations over competitors:
Enhanced visibility into operations with real time analytics
Consumer internet experience with an intuitive user interface
Rapid innovation cycle with three updates per year
Cloud-based service subscription with no installation and maintenance of on-premise IT
However, it is not clear why R&D costs for Workday have been significantly higher than those of Salesforce.com and NetSuite.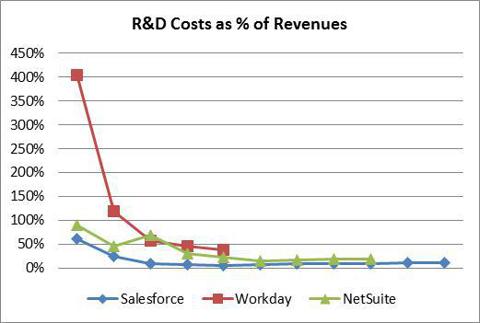 Workday has maintained discipline with selling as well as administrative expenses
As can be seen from the following charts, Workday has kept both sales & marketing as well as general & administrative expenses below competitor levels. In particular, the low sales & marketing expenses are impressive, since the company has grown rapidly and has amassed a portfolio of clients spanning multiple industries, education, and government.
This is reflective of the deep relationships that the company's leadership has brought to the table. In particular, prior to co-founding Workday, David Duffield founded PeopleSoft, which was later taken over by Oracle and is currently one of Workday's primary competitors. Furthermore, Workday's co-founder Aneel Bhusri, COO Michael Stankey, general counsel James Shaughnessy, VP of Development Petros Dermetzis, and CTO Stan Swete all come from the ranks of senior management at PeopleSoft.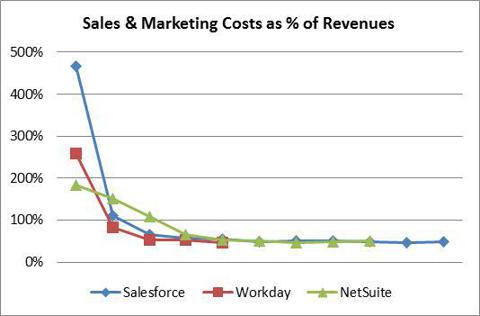 General and administrative costs include costs related to back office operations. Although Workday has grown its staff to over 1,450 employees, back office spend looks low relative to Salesforce.com and NetSuite.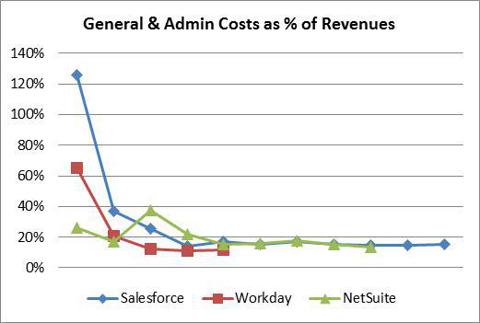 A look at Workday, Salesforce.com, and NetSuite cost structures
The following charts show the cost structures of Workday, Salesforce.com, and NetSuite. Cost of revenues, R&D, and Sales & Marketing each contribute about a third to Workday's total costs.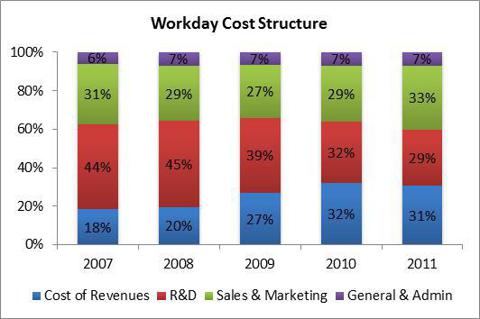 In contrast, Salesforce.com's cost structure is heavily skewed towards sales & marketing expenditures, with very little spend on R&D.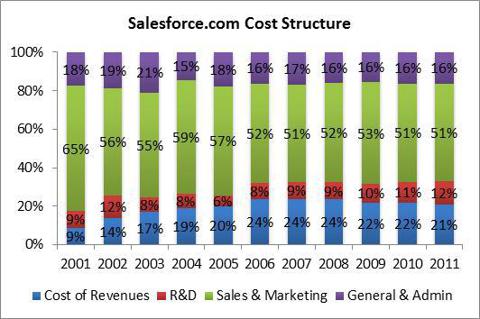 NetSuite is also highly skewed towards sales & marketing, with a bit more emphasis on R&D relative to Salesforce.com.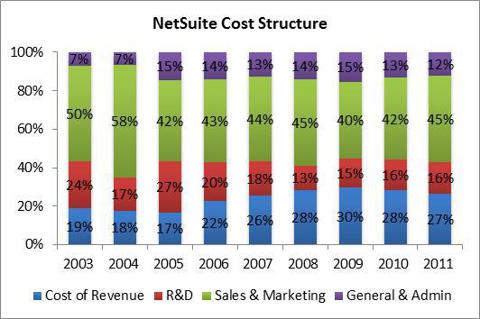 Conclusion
Thus far Workday's growth has been impressive, but it has come at a high cost. Expenses associated with creating a partner ecosystem and bringing new clients on board have led to low margins in the professional services business segment. R&D costs have also been extremely high relative to other cloud-based peers. Salesforce.com, for example, was able to develop a popular software with much lower R&D spend. To reach the success of Salesforce.com, Workday will need to bring its costs in line, while continuing to drive revenue at an increasingly rapid pace.
Disclosure: I have no positions in any stocks mentioned, and no plans to initiate any positions within the next 72 hours. I wrote this article myself, and it expresses my own opinions. I am not receiving compensation for it (other than from Seeking Alpha). I have no business relationship with any company whose stock is mentioned in this article.