The following tables show the top market price and NAV performers Year-To-Date (YTD) of the vast majority of the high yielding (generally 6%+) equity based (50%+ stocks) Closed-End funds (CEFs) available to investors. The perfomance numbers include all distributions added back but not reinvested to give total return performances. For comparison, I have included the total return performances of four of the most popular and most heavily traded index ETFs.
In the tables, green represents funds which have outperformed the S&P 500, as represented by the SPDR S&P 500 Trust (NYSEARCA:SPY) ETF and red represents funds which have underperformed. Though many of these funds would not necessarily correlate directly with the S&P 500 because of their global stock portfolios, sector specific stock portfolios or fixed-income included in their portfolios, I wanted to use a common and recognizable index for comparison. NOTE: The total return performance of SPY (as well as the other ETFs) includes all dividends and is actually superior to most quoted S&P 500 index returns because the actual indexes do NOT include dividends.
SPDR S&P 500 Trust 16.4%
Powershares NASDAQ 100 (NASDAQ:QQQ) 23.6%
SPDR Dow Jones 30 (NYSEARCA:DIA) 12.0%
iShares MSCI EAFE Intl (NYSEARCA:EFA) 9.3%
Funds are further identified by their income strategies. Blue represents funds that utilize an option strategy, orange represents funds that utilize a leveraged strategy and olive represents funds that use a dividend harvest strategy. Some funds may use a combination of strategies. In addition, I have "red flagged" funds in other columns which may have excessive premium market prices, NAV yields or expense ratios. NOTE: Leveraged funds tend to have higher expense ratios because of their cost of borrowing.
Equity CEFs Sorted By Total Return Market Price Performance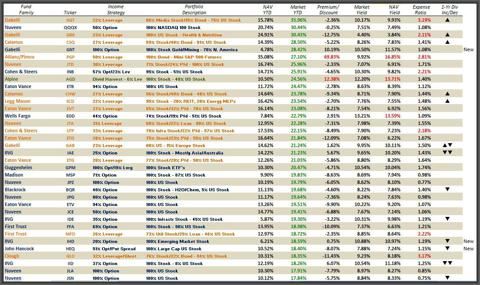 Equity CEFs Sorted By Total Return NAV Performance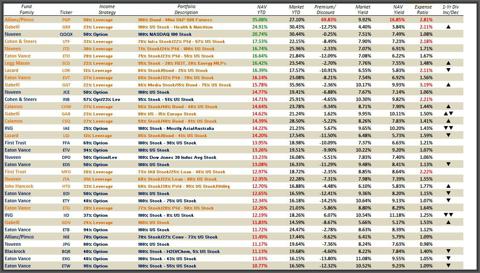 Notes And Observations
2012 continues to be very strong for equity CEFs and most have seen their market price performances (1st table) far outperform their NAV performances (2nd table). For many funds which ended 2011 at some of their widest discounts since the market lows back in early 2009 due to tax loss selling, the bounce in market prices was overdue, particularly in a strong overall stock and bond market.
However, some funds have seen overly optimistic market price moves in my opinion without necessarily supporting NAV performances and this has created a bit of a bubble for some funds. This can be seen in the following table which sorts the funds by the difference in their market price performance vs. their NAV performance. Funds with the largest differences are shown in red and any fund over a 10% difference in their market price performance over their NAV performance could be getting excessive. Offsetting factors could be funds which are at large discounts, funds which have recently raised their distributions or funds which have sector specific portfolios that investors are speculating on. Nonetheless, investors need to be aware of funds which may be getting ahead of themselves.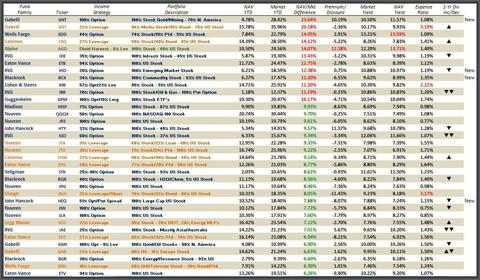 For those who are interested in seeing the entire list of funds, you can email me by clicking on the Capital Income Management logo along the upper left column of this article and subscribing to my 2012 Equity CEF Performance Spreadsheet and Analysis. You will need to have Excel 2007 or later to open the spreadsheet.
Disclosure: I have no positions in any stocks mentioned, and no plans to initiate any positions within the next 72 hours. I wrote this article myself, and it expresses my own opinions. I am not receiving compensation for it (other than from Seeking Alpha). I have no business relationship with any company whose stock is mentioned in this article.