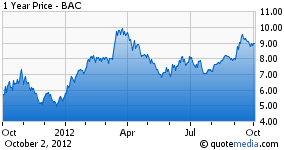 Investment banks' earnings from advice on mergers and acquisitions (M&A), and capital raising via the debt and equity markets is currently in the doldrums. According to Thomson Reuters, fees from these business lines through year-to-date September 2012 were $50.1 billion, down 14% from the first nine months of 2011. It was also the lowest earnings from M&A and debt and equity capital markets since the collapse of Lehman in 2008. Within those business lines, fees from M&A advisory, equity, and loans were down 21%, 29%, and 19%, respectively. However, fees from bond offerings increased 15% in comparison to the previous period, as companies rushed to take advantage of the lowest fixed income rates in our lifetime. The results were as expected as core investment banking business tends to track the U.S. economy, which by all measures remains anemic. According to the article, Long-Term Unemployment And 'The Pain Ahead,"
Big ticket items like housing and autos drive the economy. The Fed initiated its Quantitative Easing program in the fourth quarter of 2008. Yet housing starts have been flat since that period; starts were 906 thousand in 2008 and ranged from 554 thousand to 609 thousand from 2009 to 2011. Auto sales were 13.5 million in 2008, reached a trough of 10.6 million in 2009 and rebounded to 13 million in 2011. But they still pale in comparison to the roughly 17 million just prior to the financial crisis.
Moreover, M&A advisory may face even stiffer headwinds; when business leaders are struggling with their own companies, they are hesitant to take on the additional risks that acquisitions present.
The Pain Ahead For Bank of America
From 2009 to 2011, Bank of America's (NYSE:BAC) net revenue declined from $119.6 billion to $93.5 billion. Meanwhile, net income declined from $6.3 billion to $1.4 billion over that same period. After recently announcing mass lay offs of 16,000 employees, Bank of America CEO, Brian Moynihan, outlined the company's evolving strategy:
The reductions for the final six months of the year, outlined in a document given to top management, are part of a larger effort to retool Bank of America into a leaner and more focused enterprise. The plan is designed to make the company take less risk, generate more revenue out of existing customers and use an investment banking operation inherited from Merrill Lynch & Co. to become a major deal maker around the world. On Main Street, the refocused company will have fewer branches and a smaller mortgage operation, the document shows.
And just as the economy's vital signs are also in the doldrums, Bank of America has further aligned itself with Merrill Lynch, whose earnings are cyclical in nature. Through year-to-date September 2012, Bank of America earned investment banking fees of $3.0 billion, down approximately 22% from the same period in 2011. Despite earning the top spot of all investment banks in terms of loan fees ($746 million), results were still down 30% in comparison to nine months ended 2011. Coupled with the unending call for a return to Glass Steagall and a separation of commercial banking and investment banking, all signs point to "pain ahead" for Bank of America.
For the avoidance of doubt, I am bearish on the U.S. economy and I am bearish on investment banks whose earnings are tied to the vagaries of the economy. Furthermore, I do not expect the decline in investment banking earnings to abate any time soon. I would advise investors to avoid Bank of America, and investment banking stocks in general, until their revenue and earnings show signs of a rebound.
Disclosure: I have no positions in any stocks mentioned, and no plans to initiate any positions within the next 72 hours. I wrote this article myself, and it expresses my own opinions. I am not receiving compensation for it (other than from Seeking Alpha). I have no business relationship with any company whose stock is mentioned in this article.