Introduction
When I discuss Starbucks (NASDAQ:SBUX) with other investors, a lot of them quickly point that Starbucks has a P/E-ratio of 28.3, and that it is way too expensive for them. But I think they forget that Starbucks is a high-growth company with the potential to double earnings over a five-year period.
I have previously analyzed the American segment and EMEA, and I estimated that both segments had decent growth opportunities. But in this article I will look at a segment with fantastic growth opportunities: The China Asia Pacific segment.
China Asia Pacific - The numbers
As you can see in the below table, China Asia Pacific ("CAP") has grown revenues on an annual basis of at least 20% since 2009. Income has increased at a higher rate than revenues as margins have improved as well. The equity income is the income that can be attributed to its joint-ventures in Japan and South Korea. Unfortunately, Starbucks hasn't published equity income for the region prior to 2012.

Analysis of China Asia Pacific
I divide the analysis of China Asia Pacific into three parts:
China
Japan
Other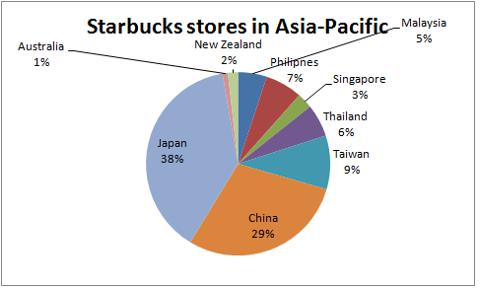 Main Source: Quezi.com
China
Starbucks began its expansion into China in the late 90s and currently has around 700 stores in the country. Through its expansion, Starbucks didn't just copy the US formula, but they studied and adapted to the Chinese culture. E.g. they developed green tea-flavored coffee drinks which appealed to local tastes. They also promoted dine-in service instead of pushing for take-out orders, which are more in line with the preferences of Chinese consumers.
Sales per store are generally lower in China, though prices are similar (roughly same USD price for coffee in China and US). Given the lower income in China, Starbucks is even more expensive in China than in the US. But since there is a lot of status involved in drinking coffee from Starbucks, Chinese consumers are willing to buy it. However, this also means that Starbucks historically has been more of a niche product in China than in the US. Therefore, Starbucks has probably done the right thing by making the expansion relatively slow. But today, management believes that the Chinese economy is strong enough to have more Starbucks stores, and therefore they are targeting 1,500 stores within 2015.
Until last quarter, same-store sales (also known as "comp" sales) grew at an annualized rate 20% or higher, eight quarters in a row. That's a very impressive rate compared to the European and American comp rate which hasn't accomplished a double digit comp rate at any quarter over the same period. What about last quarter? Since Starbucks doesn't break the result out for China separately there is no easy answer to that question. But John Culver, president of Starbucks Coffee China and Asia Pacific, tried to spin it nicely on the most recent quarterly earnings conference. Here is what he had to say:
In China, despite headlines centering around an economic slowdown, our same-store sales continued to grow by double-digits yet again in the third quarter. This was against the backdrop of a very difficult comparative last year.
Notice he used the phrase, "double-digit" rather than "exceeding 20%," which is the phrase Starbucks prior to the latest quarterly earnings used to describe the comp growth rate in China. This makes me convinced that the same-store growth rate is between 10-19%, and could be a warning signal that China is slowing down.
This brings us to the next question: Why is Starbucks China slowing down?
As you may recall, I compared consumer confidence with comp growth in my latest articles on Starbucks America and Starbucks Europe, and found a decent correlation. And as you can see in the below graph, the consumer confidence of China has declined from 108 in mid 2011 to 98 in August 2012. If the trend continues, I am not convinced that China can even maintain a double digit comp growth. Since China accounts for roughly 30% of total stores in CAP, and the share is expected to increase, it is important that the Chinese economy get back on track for CAP segment to maintain its growth rate.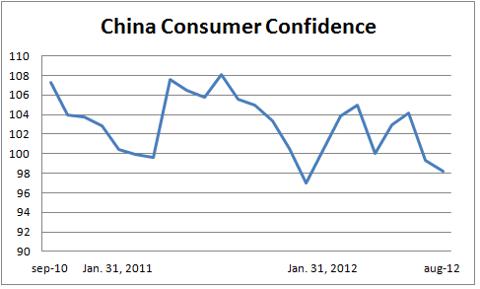 Source: Tradingeconomics.com
Nevertheless, Starbucks China will grow a lot over the coming years. To accomplish the goal of 1500 stores by 2015, Starbucks will need to increase its store count by roughly 30% a year. Adding an expected 12% in same store sales this is equal to an increase of 42% each year.
Japan
Back in October 1995, Starbucks signed a joint venture agreement with SAZABY (a Japanese retailer and restaurateur) to develop Starbucks retail stores in Japan. Since then Japan has become the second largest market for Starbucks with around 950 stores (only surpassed by US).
The CEO of Starbucks, Howard Schulz, still isn't completely satisfied with the amount of stores in Japan, as he back in 2010 made the following comment (there were around 870 stores at that time):
We are nowhere close to saturation in terms of the number of stores we are going to have in Japan. We are going to start growing the company again, being aggressive
However, compared to the growth rate of Starbucks China, Starbucks isn't expanding operations in Japan very fast with around 30 stores a year.
Starbucks doesn't publish comp sales for Japan, so I will instead look at consumer confidence to get an idea of what it is. As you can see the tsunami in 2011 had a significant negative impact on consumer confidence in 2011, which means that comp sales probably declined in 2011. However, this also means that the growth rate that is so far obtained in 2012 is artificially high, as the recovery in consumer-confidence inflates the growth rate.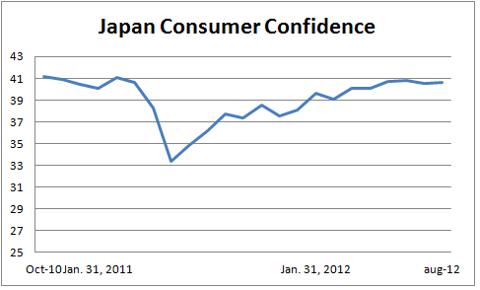 Source: Tradingeconomics.com
Looking forward, my expectations for Japan are a comp growth rate of 4% a year, and an increase of new stores of 4% a year until 2022. This means that I expect revenues to increase by 8% y/y.
Other markets in CAP
I assume that "other markets" represent roughly 30% of revenues for CAP, which is equal to revenues of $210 million in 2012. This was what John Culver had to say about the other markets at the most recent conference:
Beyond China and Japan, we are profitable in every other single country in which we operate. I'm particularly encouraged by our strong results and aggressive growth plans in key geographies like Korea, Thailand, Singapore and Indonesia. India also represents a significant growth opportunity in the future for the company. Our plans to open our first store in India this year with our business partner Tata remains on track.
John Culvers' comment about India is the most interesting and decisive part of "Other markets", as it presents a huge growth opportunity. Markets like New Zealand, Philippines, Taiwan and Singapore are relatively stable, and I expect a decent growth rate in those countries, but India has almost unlimited growth opportunities, and Starbucks is expected to open their first stores in late 2012. But they are not going to sell coffee. Instead they will sell tea, and they plan to open 3 stores in Mumbai through its joint-venture Tata Global Beverages. The Mumbai launch will be closely followed by an entry into New Delhi, before they expand to Bangalore.
While the expansion into India will be slow, I think the growth could accelerate in a couple of years after Starbucks has improved its brand and adapted to the cultural tendencies. As you can see in the below diagram, the GDP of India has grown from roughly $500 billion to $1,800 billion from 2002 to 2012. In 2013, India is expected grow at 7.7%, and in a couple of years India could be the "2nd China" for Starbucks.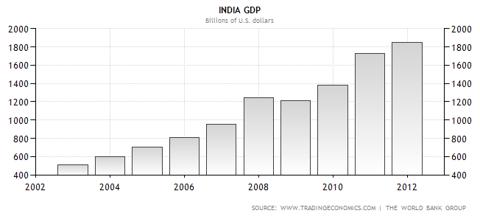 I estimate that "other markets" will grow revenues at an average annualized rate of 15% until 2022, but most of that growth will come through equity income, which complicates the calculations. Anyway, I have tried to separate my expectations for China Asia Pacific in the below table (click to enlarge):

As you can see, I expect that revenues will be six times larger by 2022, and China will surpass Japan during 2014. Equity income will increase from $83 million in 2012 to $394 million in 2022, primarily due my expectations of increased penetration of the Indian tea market.
In my next article I will analyze another high-growing segment, the Global Consumer Product group, which I think could obtain income of $2 billion in 2022 (from $400 million today). The growth opportunities of these two segments more than justifies the current P/E-ratio.
Disclosure: I am long SBUX. I wrote this article myself, and it expresses my own opinions. I am not receiving compensation for it (other than from Seeking Alpha). I have no business relationship with any company whose stock is mentioned in this article.