Hewlett-Packard (NYSE:HPQ) is bumping along in the neighborhood of a 52 week low, with an Analyst Day scheduled for October 3rd. Ahead of this event, I conducted a review of valuation and strategy. HP is undervalued when compared to a realistic recovery scenario. If CEO Meg Whitman is able to present a convincing case for recovery over the next several years, shares may move from a recent price of $17.21 to $24, relatively rapidly. For those who use options, bullish strategies offer substantial opportunities.
Large Loss Lesson
I wrote a favorable HP write up in July last year, with the stock at $37, making a case for mean reversion. Investing on that basis proved unprofitable, leading to a review of the original decision.
The thinking was that Leo Apotheker, CEO at the time, had correctly identified the problems and developed a plan of corrective action. The company had ample resources to implement the plan. The unspoken assumption was that Apotheker was suitable for the job, and that he was subject to adequate supervision by a capable board. The analysis touched on the EDS acquisition, made while Mark Hurd was CEO, and noted that it was a sinking ship when acquired, and that subsequent revenue for the combined entity reflected substantial loss of business. Hurd's departure was messy, and reflected poorly on board supervision.
Apotheker's acquisition of Autonomy was not fully thought out, and the board's approval of the move reflected questionable judgment.
For the future, I plan to assess management (to include the board) with greater care, before proceeding with mean reversion investments. The presence of Ralph Whitworth on the board and Meg Whitman as CEO suggests that the situation has been stabilized and will be developed with shareholder interests firmly in mind going forward.
Whitworth is a co-founder of Relational Investors, an activist asset management firm serving some of the largest pension funds in the world. On its website, Relational Investors describes its approach as follows:
Relational invests in and strives to create long-term growth in publicly traded, underperforming companies that it believes are undervalued in the marketplace. Through intense and focused research, Relational develops an engagement plan to unlock value in its portfolio companies. The Firm seeks to engage the management, board of directors, and shareholders of a portfolio company in a productive dialogue designed to build a consensus for positive change to improve shareholder value.
As a shareholder of Illinois Toolworks (NYSE:ITW), I've seen Whitworth work with management in a constructive way, resulting in changes that will be increasing shareholder value. The share price has responded well to his presence.
Meg Whitman had a 10 year tenure as CEO of eBay, She resigned to seek new challenges, in line with her own precept that CEO's should step down after 10 years and open the way for fresh management direction. Scott Devitt, an analyst at Stifel Nicolaus summarized her achievements at the time:
Meg Whitman was a phenomenal success running eBay for a decade. She has overseen an 88-times increase in revenue and a more than 1300% return in [the] stock since the IPO... What's happened is purely maturity and not necessarily bad business.
Valuation
A valuation of HP starts with the observation that the company has multiple segments, and is not exclusively a PC business. A common sense projection of the individual segments leads to the conclusion that revenues will decline 4.5% per year for two years. A generic recovery would entail growth of 4.5% (real GDP plus inflation), after the two year decline.
To develop normalized earnings, the substantial unfunded pension liabilities are expensed over the current and 4 preceding years. On that basis, normalized earnings are $3.19. Here's a snippet from my spreadsheet: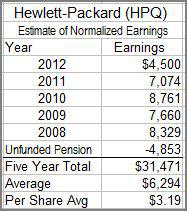 The $3.5 billion of restructuring costs, to be incurred over a two year period, reduce earnings by an additional 89 cents per year. The cost reductions arising from restructuring are assumed to be reinvested in the business, generating a 17% return. That adds 29 cents to earnings, starting in 2015, when earnings are estimated at $3.21.
Plugging the above assumptions into a DCF calculator, and discounting at 15%, Hewlett-Packard is worth $24 per share today. Here's the output:
Click to enlarge
Opposing Views
Jeffries has a $14 per share target on HP, and sees 2013 earnings at a Street low $3.58. That results in a P/E of 3.91.
To reach that result using DCF, it's necessary to assume a 10% decrease in earnings for ten years, discounted at 15%, with no residual value.
Cisco (NASDAQ:CSCO) CEO John Chambers, mentions the challenge Whitman faces in a wide-ranging interview with Reuters: "There's not been a company ever turned around by the fifth CEO on the job," Chambers said, referring to HP's management history.
Strategy and Tactics
There is enough uncertainty here to label this situation as a speculative value investment. That having been said, the risk reward is favorable. The company is earning money, and is a leading player in a number of businesses. HPQ bonds maturing in March 2018 are trading to yield 2.71%: Bond investors are generally savvy and risk averse, and they are not looking for disaster here.
If HPQ hits the $24 target within 2 years, buy and hold will return 20% annually, including the dividend. If by the end of 2015 the company earns $3.21 and resumes growth, a P/E of 15 would lead to a share price of $48, and a return of 29% annualized from today's price.
The stock is optionable, to include LEAPS. There is adequate open interest, and spreads are reasonable for popular strikes. Implied volatility is 33.5%, with a 52 week range of 23.5% to 64.5%, according to the CBOE.
I was long HPQ January 2014 13.0 calls, and short an equal number of February 2013 20.0 calls. This morning I bought back the 20 calls (at a profit), since I see a possibility of a relatively rapid upward movement before they expire.
I also bought 10 HPQ February 14/17 vertical call spreads, for a net debit of $2.10. The new spread returns 114% annualized, if the shares are above $17 at expiration.
Disclosure: I am long HPQ, CSCO. I wrote this article myself, and it expresses my own opinions. I am not receiving compensation for it (other than from Seeking Alpha). I have no business relationship with any company whose stock is mentioned in this article.