Wednesday morning, Bloomberg Television reported that Telecommunications had overtaken Financials for the current year to date "weakness" prize. This does not mean, however, that the crisis in the financials is over, particularly from a fundamental standpoint, and this is especially true for those companies that target individual consumers. In particular, automobile finance companies face a number of continued fundamental challenges.
First, the consumer spending crunch is far from over. This is due to a number of factors including increased unemployment and an increased reticence by many consumers to purchase discretionary items. The unemployment side of the equation was highlighted most recently by Wednesday's jobless claims data, which indicated that the number of US workers filing new claims for unemployment benefits unexpectedly rose last week to a 6 year high. Unemployed workers are not going to be lining up in droves for car loans.
The slide in consumer spending was highlighted most recently by Wednesday's news that a number of major United States retailers including Wal-Mart (NYSE: WMT) reported disappointing July sales citing consumer caution regarding discretionary purchases. On an industry-specific level, the just-released July edition of the Manheim Used Vehicle Value Index indicated that used car inventory levels had increased 3.3% month-to-month in June to 67 days, which was 14.5% higher than a year ago. In other words, more cars are staying on the lots and fewer cars are being sold. Moreover, consumers have continued to default on loans.
When faced with a choice between purchasing groceries and paying loans in a timely manner, most consumers will default. According to a recent report by Javelin Strategy & Research cited at MarketWatch on August 1, credit card issuers face increasing profitability pressures due to, among other factors, a rising default risk among their card holders. Car loan companies face similar pressures, particularly those that rely on a business strategy of granting loans to individuals with poor credit histories. The companies on this list engage primarily in the granting of automobile loans. From a technical standpoint, although they have already been beaten down significantly, this does not necessarily mean that their weakness is over, particularly given the fundamental backdrop. The continued weaknesses in employment and consumer spending do not create an encouraging outlook for companies that are primarily engaged in the business of granting car loans.
1. Credit Acceptance Corporation (Nasdaq: CACC)
Credit Acceptance Corporation provides auto loans to consumers who otherwise can not obtain financing.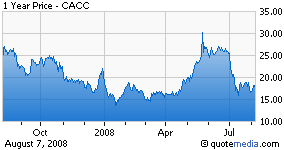 Wednesday, CACC reported a decline in second quarter net income of $10.3 million or 33 cents a share on revenue of $75 million, compared with income of $12.3 million or 39 cents on revenue of $58.3 million for the same quarter last year. It is particularly notable that CACC also had provisions for credit losses of $20.8 million in the quarter, up from $3.8 million in the second quarter last year. From a purely technical standpoint, based on the daily charts, CACC is on a clear downtrend, and, although the 10 and 20 day moving averages appear to be potentially flattening out, the 50 day moving average is still in the midst of a pronounced downtrend.
2. AmeriCredit Corp. (NYSE: ACF)
Americredit purchases auto finance contracts from franchised and independent automobile dealerships, makes loans directly to customers buying new and used vehicles and provides lease financing through its dealership network. On Tuesday, ACF reported a net loss of $150 million, or $1.30 a share, compared with a profit $87 million, or 66 cents, a year earlier.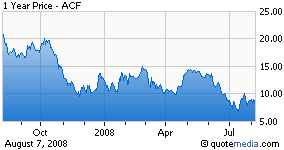 In addition, revenue fell 4 percent to $598.4 million. According to Reuters Estimates, analysts expected the company to earn 23 cents a share, excluding special items, on revenue of $599.8 million. According to a note published by Friedman, Billings, Ramsey following the earnings release, ACF's management indicated that they expect that fiscal year 2009 originations may fall short of the $3 billion guidance, resulting in the year-end portfolio below $12 billion. Moreover, ACF has suspended prime originations and has scaled-back near-prime production in an effort to focus on its more profitable core subprime business, and has closed 21 loan origination offices during the June quarter.
Further adding insult to injury, Wednesday, Fitch Ratings downgraded ACF and signaled a further possible downgrade, after Financial Security Assurance announced that it would no longer provide insurance for structured products Hardly the signs of a healthy company. From a technical standpoint, I would wait and see what happens once the stock hits the $8.00 support level. If the stock continues downward, the next plausible level of support is at approximately $6.50.
3. United PanAm Financial Corp. (NYSE: UPFC)
United PanAm Financial Corp. is a specialty finance company engaged in automobile finance, including the purchase, warehousing, securitization and servicing of automobile installment sales contracts, or automobile contracts, originated by independent and franchised dealers of used automobiles. In an earnings release dated July 24, UPFC reported, for the quarter ended June 30, 2008, net income of $4.1 million, compared to net income of $4.6 million for the same period a year ago.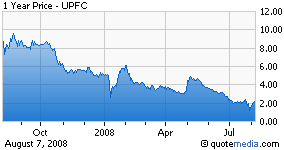 However, during the quarter ended June 30, 2008, UPFC closed 22 branches bringing the total number of closures to 36 branches in 2008. The company noted that much of its savings was derived from layoffs and branch closures.
In a note issued on June 6, Friedman, Billings, Ramsey noted that although, from a profit perspective, UPFC is in the best relative position vis a vis its competitors, it is still facing significant headwinds, or in other words, a default-prone customer base. Like Credit Acceptance Corporation, UPFC's primary business is to provide financing assistance to borrowers who have limited or impaired credit histories that restrict their ability to obtain loans through traditional sources, and who are particularly sensitive to increasing unemployment and higher fuel prices. While oil may be on a potential downtrend, unemployment clearly is not. From a technical perspective, UPFC's stock is trading very close to a $2.20 resistance level. If it fails, there are several potential downward levels of support, including approximately $2.00, $1.75, $1.60, $1.40 and $1.20.
Disclosure/Disclaimer: The author does not yet hold any positions in the above securities as of the publication of this article and the contents of this article do not constitute investment advice and comprise solely the author's personal opinions.