Molson Coors Brewing Company (NYSE:TAP) is one of the largest brewers in the world. Molson Coors owns an impressive, diversified portfolio of owned and partner brands, including brands Coors Light, Molson Canadian, Carling, Miller lite, Keystone, Blue Moon, and Leinenkugel's. TAP's largest markets include Canada (40% market share), U.S. (29% market share, via its MillerCoors joint venture with SABMiller), and U.K. (19% market share).
On Monday, the Company announced that it intends to combine its operations in the U.K. and Ireland with a recently acquired Central European business into a single new unit next year, as reported by MarketWatch. Furthermore, as reported by Mark Lawson from Wall St. Cheat Sheet, the new entity, Molson Coors Europe, will represent almost 38 percent of the company's total beer volume. However, the share price for TAP had been hit on Monday's trading with 4.95% loss, closing at $42.82, after the analyst's downgrade. The analysts at Morgan Stanley downgraded the stock from an equal weight rating to an underweight rating, as posted from Jags Report.
For Monday's trading, TAP opened lower and traded lower within the range of $42.65 to $44.84. The volume of 3.62M is 3.45x of the 30 day average volume of 1.05M. From Sep 14's 52-week high of $46.35, TAP had been declining 7. 2% at today's closing of $42.82. In the short term, technically, both RSI and MACD (12, 26) are showing oversold situation. A more detailed RSI analysis is published by Forbes and can be reviewed here.
From fundamental perspective, TAP had built a solid reputation for successfully cutting costs in order to improve margins and had been consistently increasing and distributing dividend in the last 5 years, with solid dividend history dated back 1986, where the current $0.32 quarterly dividend is yielding 2.99% annual return based on today's closing of $42.82. Nonetheless, the Company also has some concerns. TAP's major markets, including Canada, the U.S., and the U.K. have been experiencing declining lager demand for several years, its operating margin had been plateauing and the profit margin had been declining from 2009 - 2011, as seen below.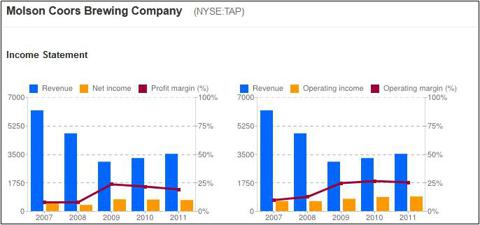 Source: Google Finance
While the potential further declining of profit margin remains as our primary concern, we believe the Company has the ability to continue lowering the cost through its reputable management and has sufficient resources to weather through further market decline in the long term. In the short term, for option trading, we are looking for the opportunity to profit from this oversold situation. One thing to note is that there is a big difference between Call and Put volume on today's trade for Jan, 2013 options with a huge volume for $45 strike price Call, as seen below.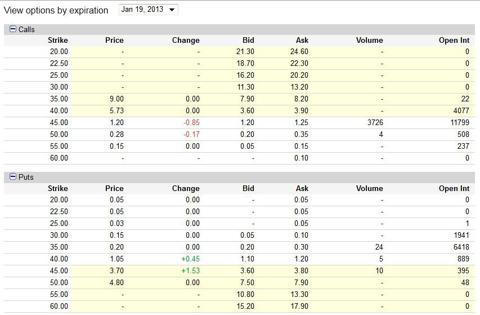 Source: Google Finance
If TAP price drops further, the following credit spread option play can be setup to capture price recovery while enjoys a margin of safety.
Here, we use Monday's closing price for profit/risk analysis.
Short April 20, 2013 Put with the strike price of $40.00 for $2.05 credit
Buy April 20, 2013 Put with the strike price of $35.00 for the cost of $0.54
Maximum profit potential = $2.05 - $0.54 = $1.51
Maximum Risk and Margin Requirement = $40 - $35 - $1.51 premium received = $3.49
Max Return Rate = 43.27%, if TAP closes above $40 at April 20, 2013 closing.
The return rate will be increased if this option play is setup after further price declines. This strategy is for more conservative option traders and could also be setup for long-term investors who want to acquire more TAP shares at further discounted price.
Disclosure: I have no positions in any stocks mentioned, but may initiate a long position in TAP over the next 72 hours. I wrote this article myself, and it expresses my own opinions. I am not receiving compensation for it (other than from Seeking Alpha). I have no business relationship with any company whose stock is mentioned in this article.