Not long ago, Cheniere (NYSEMKT:LNG) was building import terminals out of fear that US natural gas production would not meet its needs. Now they're scrambling to build export terminals to take advantage of foreign demand for America's cheap natural gas.
An overabundance of natural gas in the US has prompted two developments that will drive future demand. In part one of this two-part series, I will focus on America's future as a natural gas exporting nation. Part two will deal with the rapid shift from gasoline and diesel to natural gas as the fuel of choice for transportation.
Click to enlarge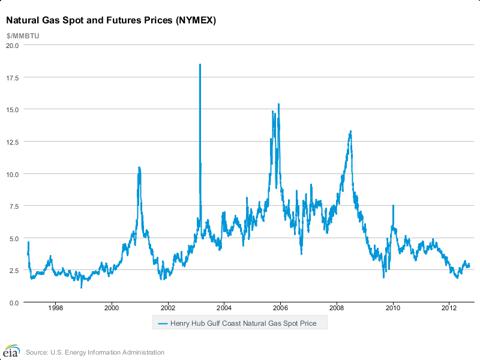 Click to enlarge
Henry Hub spot prices have been steadily increasing since overproduction in April saw them sink to below $2/MMBtu. Those low prices have led to a sharp decrease in dry gas rigs as drilling companies switch production to more lucrative liquids and oil. Fears of a storage overflow have also prompted a decrease in new natural gas rigs in the US.
Despite a massive reduction in rigs, the amount of natural gas produced in the US has steadily risen. The huge drop in rig counts over the winter of 2009-2010 and the latest reduction in rig counts barely makes a dent in overall dry gas production. That's what you call an increase in productivity.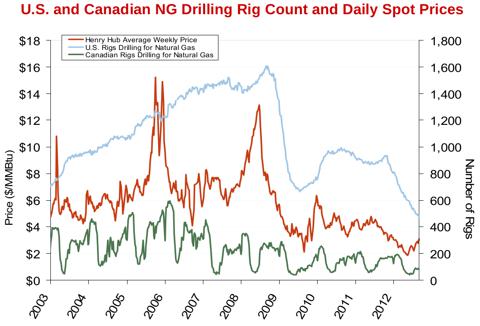 Click to enlarge
I want to point out the graphs above and below this paragraph to illustrate just how large an impact horizontal drilling and hydraulic fracturing have had on the productivity of natural gas rigs. Advanced extraction techniques in the US are so productive that if the natural gas rig count were allowed to rise to the levels that existed 4-5 years ago, we would be floating in the stuff. Despite the currently low rig counts, storage overflows of natural gas are still a legitimate concern. As you read on bear in mind that the amount of natural gas produced in the US is only a small fraction of what is possible.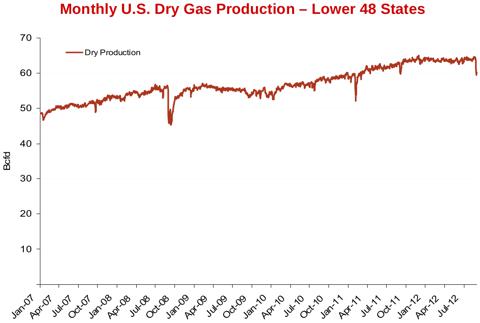 Click to enlarge
Henry Hub spot prices are up more than 50% from the lows this April that sent share prices of natural gas producers like Chesapeake Energy Corporation (NYSE:CHK) plummeting. Even though US natural gas prices are up significantly from April lows, they are still 4 to 5 times higher than in China, Japan, South Korea, Brazil and Argentina.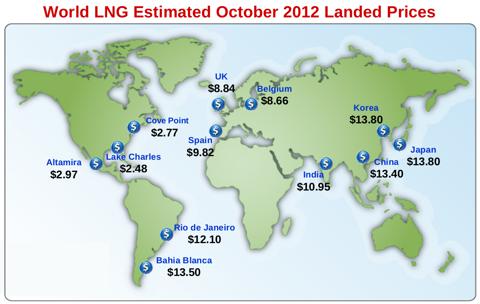 Click to enlarge
The decision to export is an easy one for the natural gas industry, implementing it however is more difficult than you might think. The United States is set up to be a net importer of natural gas and currently has only one modern export terminal run by Cheniere Energy. Unlike oil, natural gas doesn't like to stay put. Before being pumped onto special tankers, it must be cooled to its condensation point to change from a gas to a liquid. Natural gas condensation requires the type of cooling well beyond temperatures your household freezer can reach. The gas needs to be cooled to about −162 °C (−260 °F) to become a liquid at atmospheric pressure.
Just a glance at the map of world estimated LNG prices and it's hard to imagine why there aren't more export terminals being constructed around the clock. Unfortunately for natural gas producers in the US, there are regulatory hurdles in place that limit exports of natural gas, especially to non free trade agreement (Non-FTA) countries.
Currently, Cheniere Energy is running what the Department of Energy calls a pilot study to test the effect that exporting natural gas has on domestic prices. That sounds like a load of nonsense. Exporting natural gas to China might make perfect sense to an educated investor, but to general voters it could be twisted to sound like treason. My guess is that the DOE will bow to pressure from state lawmakers to allow producers like Exxon Mobil (NYSE:XOM) and Chesapeake Energy export their gas to areas with wildly higher demand soon after the November elections. I'm confident that Cheniere will get their chance to profit from exporting cheap US gas.
Cheniere is currently building a second export terminal near Corpus Christi and the export permit applications are piling up on Steven Chu's desk. Hopefully they will allow exports to rise slowly enough that production can meet rising demand, but quickly enough to take advantage of the currently wide pricing gap before foreign shale deposits are developed.
The US isn't the only country with untapped reserves of natural gas trapped in shale beds. Recently, China's Ministry of Land and Resources has allowed foreign companies like ConocoPhillips (NYSE:COP) to engage in joint ventures with Chinese companies like Sinopec (NYSE:SHI) to develop their shale gas fields.
Fortunately for US natural gas producers, China lacks three things necessary to boost its natural gas production to levels attainable in the US. First, it lacks the know-how, which explains why it is eager to allow foreign firms to profit from developing its fields instead of doing it all itself. Second, it needs to get water to those shale beds in central China, and that could be a problem. Finally, it doesn't have the massive network of pipelines in place that the US enjoys.
Natural gas from China, Russia, Australia and others will increasingly limit the ability of operations in the US to earn wild profits from exporting natural gas. I believe that the next few years present an excellent opportunity for producers based in the US, like Devon Energy Corporation (NYSE:DVN), Apache Corp. (NYSE:APA) and SandRidge Energy (NYSE:SD), to exploit their advantages in infrastructure and extraction technology.
Natural Gas, like most commodities, is subject to price swings that make nervous investors like me sweat. Despite its ups and downs, I'm confident that the current pricing gap presents a wealth of opportunities for US natural gas producers. A faster increase in exports will mean higher profits in the intermediate term. In the long term, I expect that exporting natural gas will remain a source of relatively steady profits for producers, midstream pipeline operators like Kinder Morgan (NYSE:KMI) and export specialists like Cheniere.
Please tune in tomorrow as I continue the discussion of what I expect to drive demand for US shale gas. Part two of this two-part series will concern the Pickens Plan and rapidly growing domestic use of natural gas for transportation.
Disclosure: I have no positions in any stocks mentioned, but may initiate a long position in CHK, LNG over the next 72 hours. I wrote this article myself, and it expresses my own opinions. I am not receiving compensation for it (other than from Seeking Alpha). I have no business relationship with any company whose stock is mentioned in this article.