Introduction
As the 'big four' of banking sector strive to pass the Fed's stringent stress tests, investors have an opportunity to tap into a profitable stock - Citigroup (NYSE:C) - for the coming years. The company's quote currently stands at 32.75; a bargain price, considering next year's projected EPS increase and allowance of a healthy dividend payment. In this article, I take a look at Citigroup's economic and stock performance over the last two years as it churns out profits and builds up capital to have the financial cushion it lacked in 2008.
Company profile
Citigroup is a global financial services holding company that provides a broad range of products and services. As a part of the 'big four' of the American banking sector, Citigroup has a total of 200 million accounts, operating in 160 countries. The company owns the third largest bank in the U.S. by assets, Citibank. Between 2008 and 2009, the U.S. government provided $45 billion in bailout funds to the struggling bank during the financial crisis.
In 2012, the company made significant decisions impacting the direction that it will take in the future. Since Moody's downgraded the New York based bank from A3 to Baa2, Citigroup has already taken important steps to boost its capital, as following:
The company sold its $1.15 billion stake in Turkey's Akbank, $158 million worth of mortgages to Oaktree Capital Group LLC and Carrington Holding Co.,
The company sold its entire stake in Indian Housing Development Finance Corp for $1.9 billion,
The company sold its stake in Shanghai Pudong Development Bank, worth $668 million, and a portion of its Smith Barney unit was bought by Morgan Stanley for $2.7 billion.
Since the EU has approved new rigorous rules for banks in order to make them safer, the above-mentioned sell-offs are also allowing the banking giant to better comply with the stricter banking laws passed by the EU and Basel III. While Citigroup has experienced financial troubles due to the banking sector collapse, it remains one of the largest companies in the world. It is ranked 48th in market value and 14th in sales worldwide.
Tracking Financials
Citigroup recorded revenues of $20.8 billion in Q2 2012, compared to $18.6 billion in Q2 2011, a year-on-year growth of 11.8%. The three-year average of the company's revenue growth has been 14.9%. As the banking sector continues to recover from 2008's global downturn, Citigroup is faced with increasing uncertainty about its financial stability. This is compounded by the CEO Vikram Pandit's ambitions of expanding into developing markets, at a time when C might not have enough to capital to sustain these goals in the long term.
At the time of this writing, data from Morningstar indicate Citigroup's price-to-earnings ratio is 9.3, compared to the industry average of 14. Its 52-week range is from $21.40 to $38.40. The ttm ROE is 5.9 against an industry average of 5.6. Its beta of 2.59 demonstrates just how volatile the financial services sector is. The company's EPS for the last three years has been stable and currently stands at $3.53. C is still struggling with its debt load. It has a debt/equity ratio of 1.6, which is high enough to be a cause for concern. Additionally, the company is pulling back from various sectors and selling assets.
Citigroup currently provides a dividend yield of 0.12% and a quarterly token dividend of $.01. However, the company aims to increase this amount, as it believes that it has adequate capital. The bank has not officially asked the Fed to approve an increase in the dividends to the shareholders. However, the Fed reported that Citigroup's capital stock and value was not high enough to raise the dividend.
Stock Performance
With market capitalization of about $97 billion, Citigroup is one of the four largest banks in U.S, along with Wells Fargo (NYSE:WFC), Bank of America (NYSE:BAC), and JPMorgan Chase (NYSE:JPM). However, its closest competitors remain JP Morgan Chase and Bank of America.
The chart below illustrates that Citigroup is substantially below two major global indices - the S&P 500 and the Dow Jones Industrial Average.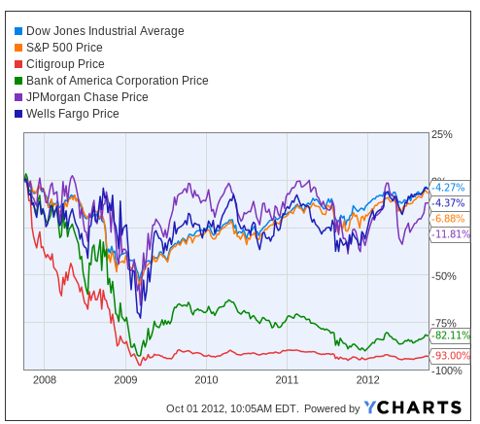 Click to enlarge
While the banking sector as a whole is under a great deal of pressure after the financial problems of 2008-2009, Citigroup seems to be faring worse than its rivals as the chart above indicates.
JPMorgan Chase, in particular, is performing much better than Citigroup. This is primarily because at the time of the financial crisis, JPM was in a considerably better financial position and was able to withstand the demand shock. Citibank did not have the financial strength to weather the financial meltdown. However, the company created that situation as a result of the substantial amount of subprime loans on its books.
Citigroup currently has the third lowest price per share among the 'big four' banks, followed by Bank of America. However, Citigroup's $3.45 EPS is higher than BAC's $0.92. Its price-to-earnings of 9.3, price-to-sales of 1.3 and price-to-book of 0.5 ratios are lower than BAC's. Even though Citigroup has been revamped and managed to pay off all of its TARPs, it still suffers from the remnants of past difficulties. The company has had two years of solid growth and profits, but continued progress at the same rate will be required to overcome the current problems.
What Does the Future Hold?
Approximately two-thirds of Citigroup's revenue is generated from outside of U.S. It has been ramping up lending in Latin America and Asia. Exposure to faster-growing international markets has been one of Citigroup's selling points among investors. It is because most of investors have been eagerly seeking alternatives at a time when U.S. growth has been slow at best, and European countries are facing a third year of debt default worries.
The biggest advantage Citi has at the moment is its highly liquid financial situation, as a result of selling off various assets. This is further underscored by the announcement that the company is initiating debt repurchases. The company has decreased its outstanding long term debt by about $11.9 billion. For fiscal year 2013, Citigroup's EPS is expected to grow to $4.55; analysts also predict a 1.2% increase in revenue. While the stock has a four-star S&P rating, the company's financial situation has improved. As soon as the Fed allows Citigroup to provide a meaningful dividend to its shareholders, its stock will become a very attractive option for investors.
Make or Break For Investors?
Out of eight Wall Street analysts estimating the company, four indicate a "Buy" rating and one - "Outperform;" however, two recommend a "Hold" and the last one - "Sell" rating. Thus, Wall Street's diverse positions on Citigroup's future make it hard for investors to generate sensible investment decisions.
Making my position, I keep in my mind that the idea of buying cheap while the stock value rises is a straightforward concept that applies to Citigroup's stock. The pivotal aspect in this regard is timing the buy just before the stock begins its upturn. A discounted earnings plus equity model, developed by Efsinvestment and applied to Citigroup, allow suggesting that these days the company is trading at a considerable discount. EFS's fair stock price valuation indicates that the company's stock currently has at least 81% upside potential to reach its fair value. In addition, Citigroup is expected to gain approval to increase dividends the next time the request is made to the Fed.
Thus, I currently consider Citigroup to be a buy. With an increased EPS and an anticipated dividend increase - at a considerably undervalued price - this might be a right option for investors in the long run.
Disclosure: I have no positions in any stocks mentioned, and no plans to initiate any positions within the next 72 hours. I wrote this article myself, and it expresses my own opinions. I am not receiving compensation for it (other than from Seeking Alpha). I have no business relationship with any company whose stock is mentioned in this article.