An investor usually sells a put because their outlook on the underlying security is bullish. The security in this case is United Steel Corp (NYSE:X). When you sell a put it's the equivalent of getting paid to put in a limit order. If the shares are not assigned to your account, you get to keep the premium for your troubles. The best time to sell a put is when the stock is trading in the oversold ranges as the chances of the stock dropping significantly lower are limited. After dropping to a new 52-week low on the 12 of June, it has progressively put in a series of higher lows. This is usually a bullish development as it is an indication that the worst news is already priced into the stock. The steel sector has taken a drubbing over the past two years, and most of the stocks are trading in the extremely overbought ranges. While the markets are focusing on the oversupply of steel, we believe this news is already priced in. Markets are forward looking beasts. The stock has been putting in a series of higher lows since the 12th of June. Despite the short term concerns of the markets being flooded with steel, there are trillions of dollars in projects that need to be completed in Asia alone. We feel that while the short and-mid-term outlook might not be all that bright, the long-term outlook for this sector is still bullish.
According to the Asian development bank's estimate, Asian economies need to invest about $8 trillion in infrastructure in the next 10 years. Despite the somewhat sour outlook for the steel sector, investors willing to take a bit of a risk now could be well rewarded in the years to come.
Some other reasons to consider United States Steel Corp:
A positive levered cash flow of $471 million
The Percentage short of float stands at an astounding 25%. This makes it an ideal candidate for a short squeeze.
The steel sector is hated and so from a contrarian perspective could make for a good long term investment. The best time to establish a position in a stock is when the masses are not paying attention to it.
Zacks

has

projected EPS of $2.73 for 2013, which represents a significant increase over its estimate of $1.58 for 2012
A good current ratio of 1.70. This ratio enables you to see if a company can pay its current debts without jeopardizing future earnings. A company should have a ratio of 1 or higher. US Steel has a ratio of 1.7, so it should have no problems in meeting its debt obligations.
A projected growth rate of 67% for 2013, according to dailyfinance.com
Strong institutional

presence

- percentage Held by Institutions is 78.2%
Net income has improved from -$1.4 billion in 2009 to -$53 million in 2011
Cash flow per share has increased from -$5.27 in 2009 to $3.62 in 2011
A 3-5 year estimated EPS growth of 8%
Technical outlook
Long term view
Click to enlarge
From a long term perspective, the stock is extremely oversold and appears to have found support in the $16.90-$17.500 ranges. It has tested this zone on multiple occasions without breaching it. This is a sign that the stock is attempting to put in a long term bottom formation. As long as it does not close below $16.00 on a weekly basis the long term outlook will remain neutral to slightly bullish. A weekly close above $22.50 will turn the outlook to bullish.
Short to midterm view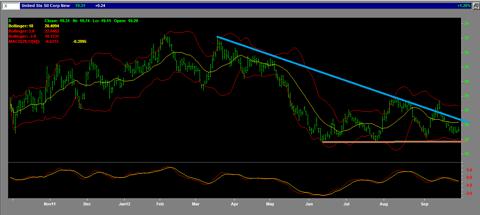 Click to enlarge
The stock has very strong support in the $17.60-$18.30 ranges. It tested this zone three times and on each occasion it mounted a rally within a few days of testing this zone. The stock could potentially trade down to the $18.30-$18.50 ranges again. As long as it does not close below $18.29, it would continue to put in a bullish pattern of higher lows. A close above $22 should easily lead to a test of the $24.50-$25.50 ranges. The stock has the potential to trade as high as $30 before experiencing another strong correction.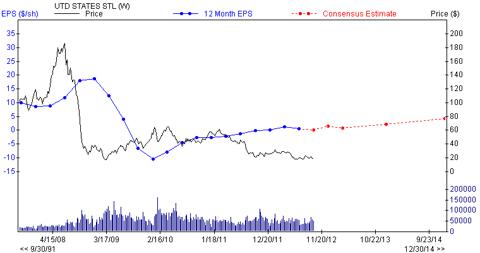 Click to enlarge
A strong sign of a trend change is when the price starts to trade above the consensus EPS line. However, this usually means that an investor will miss the chance to get in close to the bottom. A suggestion would be to deploy some money into the stock when it is trading in the extremely oversold ranges. Deploy the second half after the price starts to trend above the consensus EPS line.
A look at how US Steel stacks up against the competition
US Steel vs. ArcelorMittal (NYSE:MT) and Nucor Corp (NYSE:NUE). From a technical perspective Nucor Corp has the strongest and most bullish pattern out of the three. For those who might be interested in ArcelorMittal, we recently reviewed it in an article titled ArcelorMittal: A Smart And Simple Strategy To Significantly Boost Your Potential Return.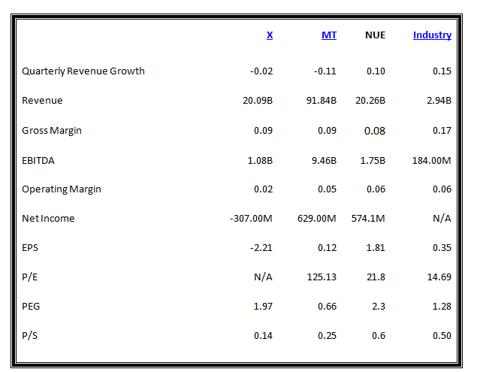 Click to enlarge
Suggested Strategy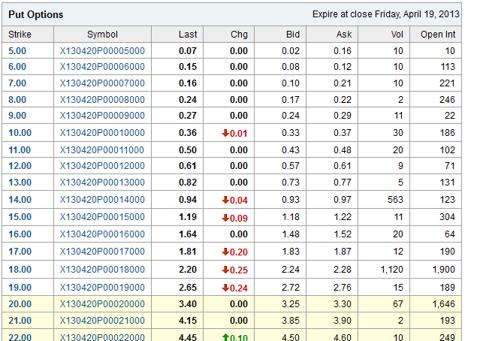 Click to enlarge
The April 2013, 17 puts are trading in the $1.83-$1.87 ranges. It should be relatively easy to sell these puts at $1.83 or better. We will assume that the puts can be sold for $1.83. For each put sold, $183 will be deposited into your account.
If the stock trades below the strike price, the shares could be put to your account. If the shares are assigned to your account, your final cost per share would be $15.17 per share. In our opinion, this would represent a great long term entry point. If on the other hand, the shares are not assigned to your account, you get to walk away with a very healthy 12.1% gain in roughly seven months. In this low-rate environment, this is a great yield.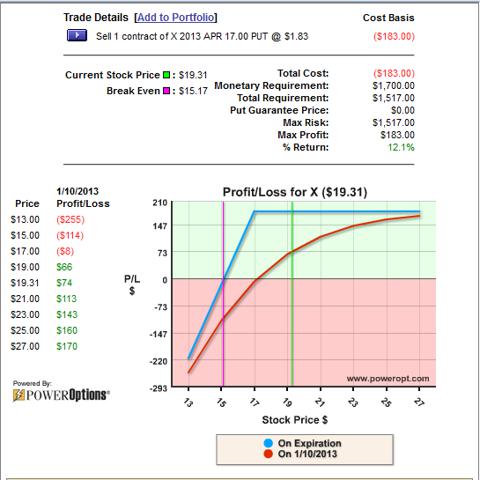 Click to enlarge
Conclusion
Only implement this strategy if your outlook on the stock is bullish as the shares could be assigned to your account. It is not often that investors are provided with the opportunity to get into a stock at such a great price or the chance to earn such a hefty rate of return from selling puts in such a short period of time. The percentage short of float stands at a striking 25%. This makes this stock a great candidate for a short squeeze.
Options tables sourced from yahoofinance.com. Profit loss graph sourced from poweropt.com. EPS charts obtained from zacks.com. Competitor's data sourced from yahoofinance.com.
Disclaimer
It is imperative that you do your due diligence and then determine if the above strategy meets with your risk tolerance levels. The Latin maxim caveat emptor applies-let the buyer beware.
Disclosure: I have no positions in any stocks mentioned, and no plans to initiate any positions within the next 72 hours.
Business relationship disclosure: This article was prepared for Tactical Investor by one of our analysts. We have not received any compensation for expressing the recommendations in this article. We have no business relationships with any of the companies mentioned in this article.