I continue to grow more cautious on the health of the overall market. The uncertainty triggered by concerns about the fiscal cliff, resolution of the European sovereign debt crisis and the upcoming elections are starting to bite. Investors seem to be overlooking dismal economic reports partly as a result of the media's bias of putting rose colored glasses on until after the election, the Fed's continued push to put even more liquidity into the market and managers trying desperately to catch up to their benchmarks which they embarrassingly have underperformed all year. I strongly feel that investor sentiment will grow more disenchanted as we get to the end of the year and next major move of the market is down. Investors should be conservative here. Raising some more cash makes sense as does selling cover calls on established positions. There should be better entry points over the next 3 to 6 months.
10 Things investors should be concerned about right now:
The whole world is slowing down. Chinese PMI just came in at 49.8, under the 50 level that portends contraction and below expectations of 50.1.
U.K. PMI had it fifth straight monthly report in contraction territory. Purchase prices also rose to a six month high. This combination is a dangerous sign of possible stagflation which is likely to be a core theme in 2013 as central banks print money and growth remains dismal. Speaking of dismal, French PMI just came in at 42.7,

about

the same as that manufacturing juggernaut, Greece.
Trade is also slowing throughout the world dimming prospects for U.S. Exporters. Imports to Europe are contracting at an accelerating rate.
European governments are unable to hit deficit targets. Spain just had to revise its budget deficit for 2012 to 7.4% of GDP from its target of 6.3%. Greece and Portugal are in similar boats and likely to trigger more tax increases and spending cuts.
Euro zone unemployment just hit 11.4%, a record. Look for more protests in the streets as austerity continues to bite.
The third quarter is likely to produce negative earnings growth for S&P earnings since 2009. A fact that investors should start to become more aware of as companies start to report next week. Look for cautious guidance to be a core part of these earnings calls.
Bernanke has been forced to go on the offensive as reaction to QE3 has been more negative than QE1 or QE2, especially overseas.
Only three months to the next drags from Obamacare start to take hold including higher taxes on dividends and capital gains for high income individuals which should provide another headwind to

stocks,

especially ones with high dividends.
The massive drought in the Midwest is having significant and unexpected impacts, which is lowering economic activity.
The Dow Jones Transports (NYSEARCA:IYT) vastly underperformed the overall market in the recently completed third quarter (See

chart

). A classic sign of an economic slowdown and a possible sign of a top in the market as well.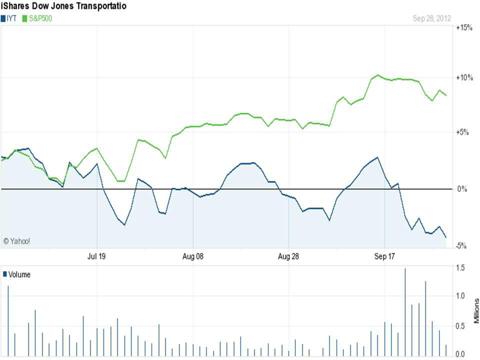 Disclosure: I have no positions in any stocks mentioned, and no plans to initiate any positions within the next 72 hours. I wrote this article myself, and it expresses my own opinions. I am not receiving compensation for it (other than from Seeking Alpha). I have no business relationship with any company whose stock is mentioned in this article.