For some odd reason, many investors seeking exposure to gold miners tend to gravitate to the world's largest gold miner Barrick Gold (NYSE:ABX), figuring they can't go wrong with the biggest player (that's what I constantly read on the web and see on TV). Unfortunately for them, Barrick's share performance has been terrible on both a year-to-date basis and on a peer comparison basis.
As the charts below illustrate, Barrick's shares underperformed its peers by a wide enough margin that investors in the company should consider selling out of the company and switching to a stronger performer to better capitalize on their bullish thesis on gold.
Both Gold Corp (NYSE:GG) and Randgold (NASDAQ:GOLD) outperformed Barrick and are up 14.2 and 1.8 percent, respectively, on a year-to-date basis. On the other hand, Barrick is down 10.9 percent on a year-to-date basis (Randgold underperformed Barrick early in the year due to the coup in Mali).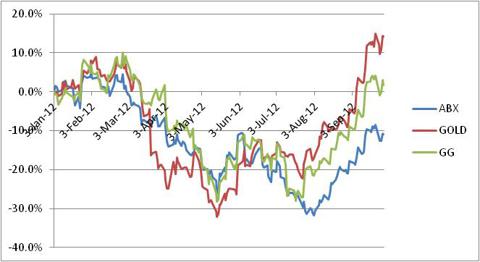 In addition, both Yamana Gold (NYSE:AUY) and New Gold (NYSEMKT:NGD) outperformed Barrick on down and up periods, even though Barrick is perceived to be an investment that can provide better downside protection from smaller players due to its size and geographical/portfolio diversification.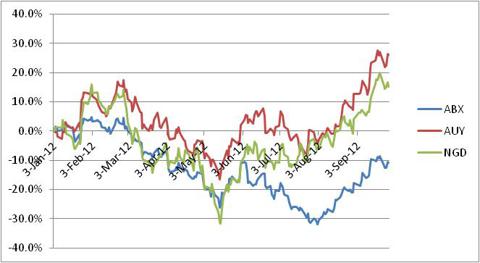 Lastly, if its diversification one is seeking, nothing can be more diversified than the Gold Miners Index (NYSEARCA:GDX) which had similar performance to Barrick earlier in the year on the downside, yet outperformed Barrick later in the year on the upside.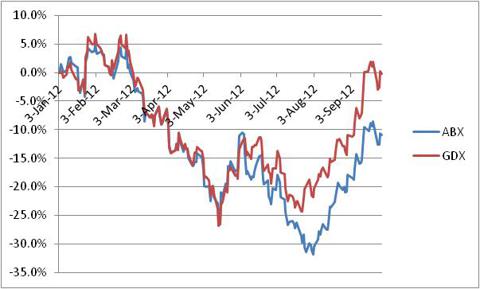 So whether you seek diversification, or a more concentrated play on the gold miners, Barrick's performance this year proved that you should put your money elsewhere.
Barrick's underperformance can be tied to its size (its difficult to grow from an 8 million oz producer meaningfully), but also the cost inflation plaguing the mining sector and its acquisition of copper producer Equinox at the top of the market.
There are a few steps that the company can take so it can become a worthy investment once again. First, it must divest underperforming assets like its Tanzanian mines. With costs expected to increase from $692/oz in 2011 to between $790-$860/oz in 2012, these mines meaningfully underperform other mines like Cortez and Goldstrike, which have estimated 2012 production costs of $300-$350/oz and $525-$575/oz, respectively.
Barrick should also increase its dividend on a regular basis. The world's largest gold miner currently provides a yield just shy of 2 percent. This dividend is hardly attractive and not likely to provide downside protection for the stock. A regular increase of the dividend, or a gold tracking dividend would open Barrick to investors seeking growing yield and income.
The market has shown it no longer rewards production growth for the sake of growth and that it has true distaste for large multibillion dollar investments. It's all about the margins and cash flows, and until Barrick shows investors it is done with the mega projects (and capex involved) and is going to return cash to its owners, its shares will continue to lag its peers.
| | |
| --- | --- |
| Ticker | YTD Return |
| ABX | -10.9% |
| AUY | 26.1% |
| NGD | 15.1% |
| GOLD | 14.2% |
| GG | 1.8% |
| GDX | -0.2% |
Disclosure: I have no positions in any stocks mentioned, and no plans to initiate any positions within the next 72 hours. I wrote this article myself, and it expresses my own opinions. I am not receiving compensation for it (other than from Seeking Alpha). I have no business relationship with any company whose stock is mentioned in this article.