After the close on Monday, Fifth & Pacific Companies, Inc (FNP) warned that earnings would not meet expectations due to weakness with the Juicy Couture brand. With the stock trading down nearly 12%, the market is missing the surging results at kate spade.
The company designs and markets a portfolio of retail-based, premium, global lifestyle brands including Juicy Couture, kate spade, and Lucky Brand. In addition, the Adelington Design Group markets private brand jewelry and the company licenses the Liz Claiborne New York brand. It also owns 18.75% of Mexx.
While the other divisions continue hitting on all cylinders, the Juicy Couture brand continues to struggle. Management had expected Juicy to turn around by the 2H of 2012, but the rewarding turnarounds at kate spade and Lucky Brand also took longer than originally expected.
Updated Q3 Guidance
The company provided the following updated guidance for Q3:
Revises forecasted 2012 adjusted EBITDA from a range of $125 to $140 million to $100 to $115 million, excluding unrealized foreign currency gains or losses
Expects Q3 adjusted EBITDA to be $17 to $20 million
Driven primarily by significant shortfalls in full price sell-through rates at Juicy Couture
kate spade and Lucky Brand forecasted to continue to outperform expectations
Net debt for Q3 2012 expected to be $390 to $400 million compared to $735 million in Q3 2011
Q3 comp sales: kate spade - 21%, Lucky Brand - 4%, Juicy Couture - (1%).
A big boost to the turnaround for the company will happen in 2013 as kate spade surges into the largest brand by revenue. As of the Q2 report, the three major brands were close to equal at just over $100M each.
As the below slide from the earnings presentation shows, kate spade is now the leading EBITDA generator: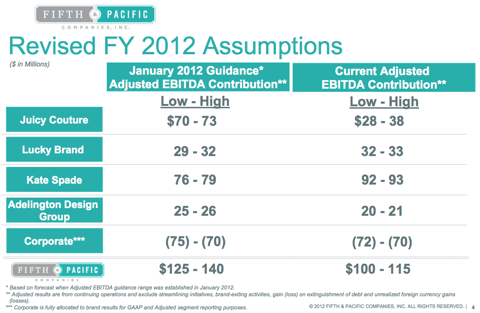 Click to enlarge
kate spade
While Juicy Couture continues holding back the stock, kate spade is really flourishing under the radar. The brand reported 21% comps in Q3 and now has 31% comps for 2012 YTD. The adjusted EBITDA for the division is forecasted around $92M, an increase of roughly $15M from the original forecast in January.
These comp sales are only matched by a few companies such as Michael Kors Holdings (NYSE:KORS). Comparatively speaking, Kors trades at a multiple of 5x current fiscal years revenue forecasts. At roughly 4x the revenue run rate of kate spade, the same multiple would suggest that kate could be worth somewhere around $2.5B.
Fifth & Pacific is expecting huge growth for this brand in 2013 and beyond with an aggressive square footage expansion plan. Previously, capital expenditures were held back due to the restructure of the collection of brands under the previous Liz Claiborne structure.
Conclusion
With the market value at $1.2B, the stock provides a compelling price for the kate spade brand alone. Not to mention, an investor gets the growing Lucky Brand for free and an option on the turnaround of Juicy Couture.
Investors should look into scooping up these shares before the market realizes the hidden values of the brands.
Disclosure: I am long FNP. I wrote this article myself, and it expresses my own opinions. I am not receiving compensation for it (other than from Seeking Alpha). I have no business relationship with any company whose stock is mentioned in this article.
Additional disclosure: Please consult your financial advisor before making any investment decisions.