Pfizer (NYSE:PFE) has long been a Wall Street favorite and it is a Dow 30 component. The future for PFE as is the future for all drug companies is dependent on the ability of the company to bring new patentable products into the product pipeline as some of their old patents expire. The market has predicted that they will be able to do that and after a better than expected earnings report the stock has seen a nice gain as is evidenced by this hourly trading chart provided by Barchart of the price action over the past month: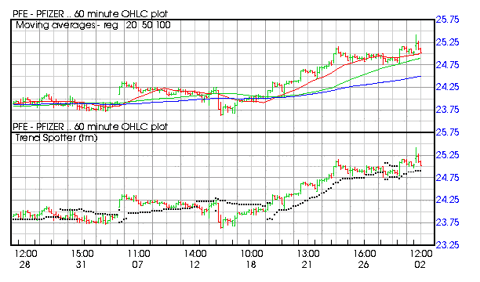 With 62% off all stocks trading above their 200 day moving averages it is important to see if the stock is beating the market. During the past 12 months the market as gauged by the Value Line Index is up 25% but the stock is up 42% for the same period: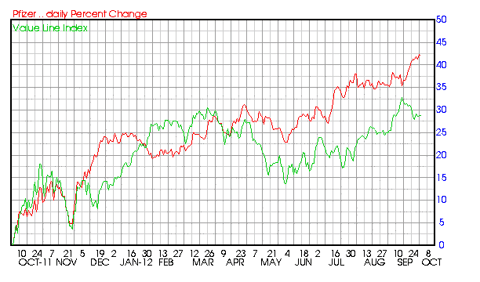 Pfizer Inc., a biopharmaceutical company, engages in the discovery, development, manufacture and sale of medicines for people and animals worldwide. It primarily offers pharmaceutical products in the therapeutic and disease areas of Alzheimer's disease, cardiovascular, erectile dysfunction, genitourinary, depressive disorder, pain, respiratory, and smoking cessation. The company also provides pharmaceutical products in the therapeutic and disease areas of anti-infectives, endocrine disorders, hemophilia, inflammation, multiple sclerosis, ophthalmology, pulmonary arterial hypertension, specialty neuroscience, and vaccines.
In addition, it offers pharmaceutical products for addressing oncology and oncology-related illnesses and other prescription pharmaceutical products. Further, the company provides vaccines, parasiticides, and anti-infectives to prevent and treat disease in livestock and companion animals, and non-prescription products in the areas of dietary supplements, pain management, respiratory, and personal care.
At the present it offers various infant and toddler nutritional products as well as formula for infants with special nutritional needs. The company sells its products to wholesalers, distributors, retailers, hospitals, clinics, government agencies, pharmacies, individual provider offices, veterinarians, livestock producers, and grocery and convenience stores. Pfizer Inc. was founded in 1849 and is headquartered in New York, New York.
Factors to consider:
Technical factors:
96% Barchart technical buy signal
Trend Spotter buy signal
Trading above its 20, 50 and 100 day moving averages
10 new highs and up 4.78% in the last month
Relative Strength Index is 67.24%
Barchart computes a technical support level at 24.65
Recently traded at 25.01 with a 50 day moving average of 24.07
Fundamental factors:
Widely followed on Wall Street where 16 brokerage firms have assigned 20 analysts to run the numbers
They project revenue will be down by 11.50% this year and another 2.20% next year
Earnings are estimated to be down 4.30% this year but back up by 5.00% next year and continue to increase by 2.16% annually for the next 5 years
The P/E ratio of 10.71 is less than the market P/E of 15.30
The dividend rate of 3.54% is about 70% of projected earnings and higher than the market dividend rate of 2.30%
The company has an A+ financial strength rating
During the near future the company is expected to sell its Nutrition division and spin off the Pet Health division which should generate a lot of cash they intend to use for a $5 billion stock buy back program
Lipitor patents have expired and patents on Viagra, Celebrex and Lyrica will also expire soon
The company has always been able to either develop or acquire new patented drugs to keep their income stream flowing
Investor sentiment:
If analysts projection are correct investors should see an annual total return in the 8% to 10% range over the next 5 years
Wall Street has

released

8 strong buy, 9 buy, 2 hold and 1 sell

recommendations

to clients
I look to the readers of Motley Fool to gauge individual

investor

thoughts and 6,070 readers gave the stock a 90% confidence vote to beat the market
Short interest has been increasing slightly from around 55 million shares at the end of June to about 59 million shares recently
Competition:
In the end the market has the final say and while Pfizer was up 42% in the last 12 months, Novartis (NYSE:NVS) was up 12%, Merck (NYSE:MRK) was up 44% and GlaxoSmithKline (NYSE:GSK) was up 14%:
Conclusion: Pfizer has always been a conservative total return stock for the long range investor. The stock is ideal for a holding in an IRA that uses a dividend reinvestment program. At the present time the stock has both support and momentum and I doubt if you should wait for a dip. No stock is a buy and hold forever so always monitor the moving averages and turtle channels for weakness in the price: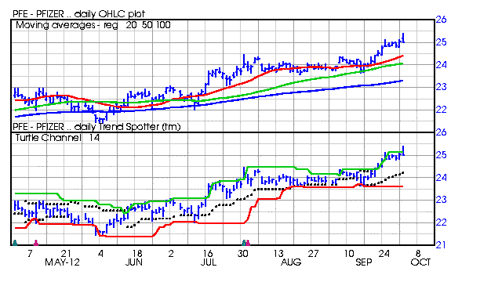 Disclosure: I have no positions in any stocks mentioned, and no plans to initiate any positions within the next 72 hours. I wrote this article myself, and it expresses my own opinions. I am not receiving compensation for it (other than from Seeking Alpha). I have no business relationship with any company whose stock is mentioned in this article.