Below we provide our trading range charts for ten major commodities. For each chart, the green shading represents between two standard deviations above and below the commodity's 50-day moving average. Moves to the top of or above the green zone are considered overbought, while moves to the bottom of or below the green zone are considered oversold.
The most significant move in the commodities sector recently has been gold. After a nice two-month rally, gold made a new six-month closing high yesterday. As shown in its chart, however, gold is still bumping up against a key resistance level around $1,800 that formed when the metal made highs in late 2011 and early 2012. If gold fails to break above this resistance over the next week or so, we'll likely see it pull back to the middle of its range.
Natural gas has also made a big move recently. After a nice early summer rally, nat gas struggled in August. It has come back to life over the past couple of weeks, however, and it's now as overbought as it has been at any point over the last year. At the same time, oil is closer to the bottom of its range than the top.
Finally, check out the chart pattern for wheat. After going parabolic in July, wheat has been consolidating slighly lower over the past two months. It looks like it's ready to make a big move soon.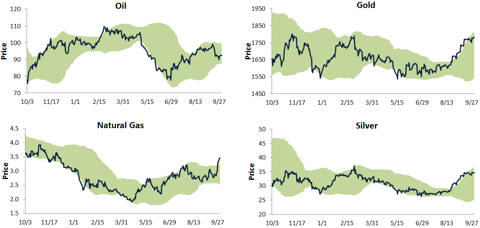 Click to enlarge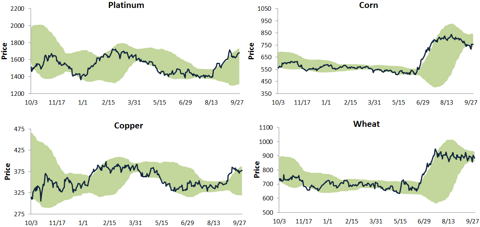 Click to enlarge

Click to enlarge