France Telecom (FTE), the largest telecom operator in France, has decided to change its dividend payout policy due to the tough economic conditions in debt-stricken Europe as well as the recent entry of low cost telecom operator, Lliad, in the market.
FTE boasts a very high dividend yield in the telecom industry in Europe, and is currently yielding close to 11.3%; however, lately, it has been under pressure to cut its dividend payout to preserve cash for future investment opportunities. Weaker consumer spending and fierce competition has started to show in the company's results, which has led to the recent statement by the company's chief executive officer that FTE's goal is to create a more realistic dividend policy, which is sustainable over a longer period of time. The company has historically paid a fixed dividend, twice a year. If we analyze the company's dividend payment history, it has been making payments of 1.4 Euros per share since FY2008. However, currently it seems like the company does not plan to pay a fixed, quarterly or semi-annual, payment. Rather, the payments it makes to its shareholders will depend on the operating cash flows it generates.
According to its latest dividend distribution policy, FTE will distribute 40%-to-45% of its operating cash flows as dividends. This came after the company announced in February this year that its payout will be in the range of 1.2-to-1.35 Euros per share, cutting it from 1.4 Euros per share, largely due to a projected decline in the operating cash flows. However, the company has recently confirmed its FY2012 guidance for operating cash flows to be close to 8 billion Euros, further reiterating its commitment to return to a net debt/EBITDA ratio of 2 in the medium term, in order to protect the group's financial health in all circumstances. Operating cash flows of 8 billion Euros for the full financial year imply that the company will end up paying dividends in the range of 3.2 billion Euros-to 3.6 billion Euros, which roughly translates to a dividend per share figure of 1.2-to-1.36 Euros, which, even though, is not a significant decline from the previous payout of 1.4 Euros, will still help the company reserve cash and compete with the low cost carrier, Lliad.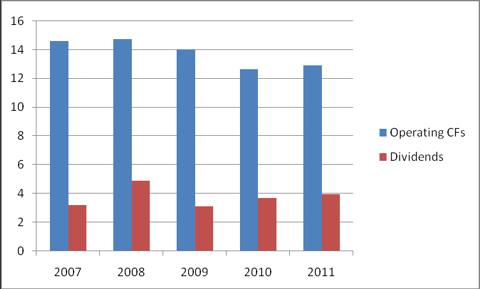 Click to enlarge
If we look at the company's cash flow generation ability, it is clear that FTE has generated steady cash flows over a number of years now. However, the recent drop in operating cash flows should not be ignored either.
After rising to almost 15 billion Euros in FY2008, they have dropped since, and in FY2011, operating cash flows were booked in at almost 13 billion Euros. The chart above shows that the company's dividend payments are well backed by its operating cash flows, and the company has historically produced cash flows well in excess of dividend payouts.
FTE announced its latest quarterly results on July 26, reporting a decline of 2% in its revenues. This comes as no surprise, as intense competition from Lliad is putting FTE's revenue stream under immense pressure. Under Lliad's free mobile service, it charges 20 Euros for a plan that covers unlimited texts, messages and calls as well as free calls to almost 50 countries. This is much cheaper than what FTE is offering for almost 50 Euros. In this context, the 2% revenue decline in France, the company's major revenue contributor, does not seem too significant. Moreover, there were some positives to come out from France, despite the deterioration in revenues. The company lost 155,000 mobile customers in the second quarter of the year, which is a significant improvement from Q2 2011, when the company lost 615,000 customers.
Even though the company's decision to lower its dividends has been taken negatively by the market; in the longer run, we believe the decision will put FTE in a better position to withstand the tough economic environment prevalent in the region as well as the pressures exerted by competition. The company recently paid a dividend per share of 0.58 Euros, and based on the current payout policy, it could be looking at paying 1.35 Euros per share for the full year, which still translates into a very high dividend yield of 11.3%. The company's dividends are well backed by its cash flows, and a further dividend cut is unlikely. However, operational pressures from Lliad remain a factor to consider.
Disclosure: I have no positions in any stocks mentioned, and no plans to initiate any positions within the next 72 hours.
Business relationship disclosure: The article has been written by Qineqt's Telecom Analyst. Qineqt is not receiving compensation for it (other than from Seeking Alpha). Qineqt has no business relationship with any company whose stock is mentioned in this article.