Southern Company (NYSE:SO) and Atlantic Power (NYSE:AT) offer vastly different business models and investment attributes. Southern Company focuses on regulated utility operations while Atlantic Power is a merchant electric power generator. SO is one of the largest utilities in the US with estimated 2012 revenues of $18.2 billion and a market capitalization of $40 billion versus AT's estimated 2012 revenues of $680 million and a market cap of $1.8 billion.
SO generates and distributes electricity to over 4.4 million customers in the Southeast US through its subsidiaries Georgia Power, Alabama Power, Gulf Power (serving the panhandle of Florida) and Mississippi Power. In addition, SO has power generating capacity of 43,500 megawatts and 27,000 miles of transmission lines. Southern Company is the second-largest power generator in the country.
Southern Company is one of the best managed regulated utilities. The balance sheet is strong and about 90% of revenues are from regulated operations. While SO offers merchant power services, the company utilizes long-term Power Purchase Agreements (PPA) with qualified buyers, reducing exposure to the ups and downs of the electric power markets. Power contracts are usually written as "cost plus" where the buyer assumes the risk of fuel cost variables.
Customer satisfaction across the company is quite good. According to the 2012 JD Powers Customer Satisfaction Survey for Electric Utilities, SO's subsidiaries scored as follows (scale 100 to 1,000): Alabama Power 652, South Region Mega Utility Average 643 (range 611-661), Georgia Power 639; Mississippi Power 642, South Region Mid-size Utility Average 636 (range 586-714), Gulf Power 616. This puts SO into the top quartile of all electric utilities. More information on the correlation of utility customer satisfaction and company profitability can be found in a previous article. State utility commissioners in Alabama have approved ROE requests as high as 14.1%.
SO is in the sweet spot for regulated utilities, offering investors "4+4+4." Based on its current stock price, Southern Company offers an industry average yield of 4.24%, a 5-year dividend growth rate of 4.48%, and a 5-year historic earnings growth rate of 4.05%. Current payout ratio is 76%, again about average for the industry. Trailing 12-month Return on Invested Capital is 6.14% with a 5-year average of 6.49%. Earnings per share in 2011 were $2.57, estimated 2012 eps is $2.65 and consensus 2013 eps is $2.82. Current pe ratio is a bit expensive for a regulated utility at 18 and 2013 forward pe is 16. Long-term eps growth rates are pegged at 5% to 7%.
Customer count annual growth rates of 1.7% between 1999 and 2009 drove electricity consumption up by around 2% annually. Since the onset of the recession, consumption has declined a bit. When the economy returns to a growth mode, consumption should continue its slow and steady climb. Customers are about evenly split between residential, commercial and industrial.
Southern Company has been moving away from coal as its primary fuel source. Year-to-date, natural gas is the firm's largest fuel source by generating capacity with 45%, coal 35%, nuclear 9% and alternative 6%. However, according to a report from the Energy Information Agency, EIA, the switch from coal to natural gas may have run its course industry wide. The primary driver has been cheaper costs from gas, but that advantage may dissipate. On a Btu basis, the EIA estimates for 2013 coal to cost utilities $2.38 per Mmbtu versus $3.20 for natural gas. The EIA suggests that the switch back to coal could be as fast as the recent switch to natural gas if coal maintains its cost advantage. For 2013, EIA estimates coal use could increase by 9% over 2012 while natural gas use could decline by 10%.
SO is one of the owners of the most recent nuclear plant construction project in the US, reactors 3 and 4 at their Vogtle plant in Georgia. With a current construction budget of $6.2 billion, the recent request for inclusion of $87 million in budget overruns has been getting some investor press. However, the entire construction budget is below the original approved certificate of $6.4 billion. Completion is anticipated in 2016 and 2017.
Capital expenditures for 2012 to 2014 have been announced at roughly $16.3 billion. Financing is expected to be as follows: 2012 $4.2 billion debt, $317 million equity (completed); 2013 $4.1 billion debt, $0 equity; 2014 $3.0 billion debt, $700 million equity. Within the industry, SO offers one of the best financing profiles based on interest rates paid and debt maturity. Usually, the subsidiaries are the holders of debt rather than the parent holding company. This allows for interest charges to be more easily included in their various state-regulated rate structures. Below is a comparison of interest rates and duration for SO and its competitors, taken from their most recent investor's presentation: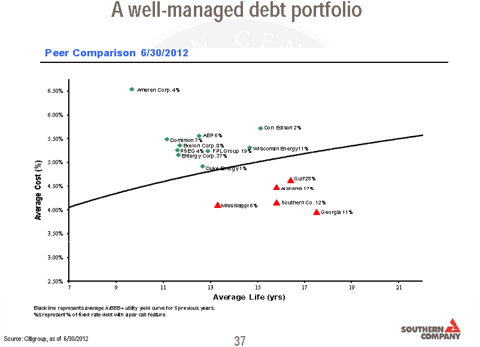 At the other end of the spectrum is small-cap merchant power producer Atlantic Power. Headquartered in Boston, MA, AT is incorporated in British Columbia and trades on the Toronto exchange with a secondary listing on the NYSE. This may cause some confusion among investors as the dividends are subject to the Canadian 15% tax withholdings and share prices are subject to currency fluctuations between the Canadian Loonie and the US Dollar.
Founded in 2004, AT has been growing by acquisition with the latest merger with Capital Power Income almost doubling revenues. Atlantic Power has interest in 32 generating facilities, a biomass plant under construction in Georgia, and an 83-mile FERC-regulated transmission line in California. In addition, AT owns a position in privately-held Rollcast Energy, a biomass facility developer and operator.
Atlantic Power currently generates about 2,300 megawatts, tiny compared to Southern Company. AT is mainly natural gas fuel-based, with natural gas making up 76% of generating capacity, biomass 9%, hydro 6%, coal 5%, and wind 2%. By location, generating plants are widely diversified with the US Southeast comprising 24% of their asset base, US Central 23%, US Northeast 22%, Canada 15%, and the US West and Southwest 8% each.
Atlantic Power is slowly turning its P&L into more Profit and less Loss. While the company has not yet reached profitability, EPS are improving with 2014 anticipated to be its first profitable year. However, EBITDA has been growing from $94 million in 2009 to an anticipated $365 million next year, and operating cash flow has grown from $50 million to $192 million, respectively.
The average PPA has a life expectancy of about 11 years. However, the company is in the process of renegotiating expiring PPAs for two plants in Florida, Lake and Auburndale natural gas plants. There is the possibility of final 2013 contract negotiations will result in a 60% reduction in distributions to AT from these facilities, which may prompt management to either sell the plants or bring in third-party partial owners.
With the merger with Capital Power came an increase in the dividend to match the distribution of CP. However, dividend growth will be very much muted going forward as the current payout ratio exceeds 100% of earnings and about 100% of operating cash flow. There are 113 million shares outstanding, net debt is $1.8 billion, and Return on Invested Capital stands at about 12%. The current yield is 7.8%.
While neither Southern Company nor Atlantic Power offer much capital gains potential over the short-term, both should adequately reward current investors over the longer-term - SO from a total return basis of 4% cash return and 4% share price growth and AT from a current yield basis of almost 8%. Both are generally considered as a "Hold" by most broker firms.
Below is a 5-year stock chart comparing SO and AT to the S&P broad-based large-cap utility ETF, XLU: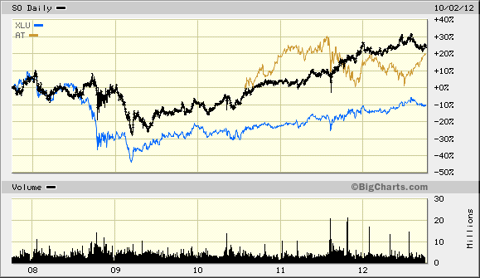 Southern Company offers excellent quality of management and stability of business. Atlantic Power offers a high yield supported by a growing business. Either stock could be bought today based on these expectations.
Authors Note: Please review important disclaimer in Mr. Parepoynt's profile.
Disclosure: I am long AT. I wrote this article myself, and it expresses my own opinions. I am not receiving compensation for it (other than from Seeking Alpha). I have no business relationship with any company whose stock is mentioned in this article.