General Electric (NYSE:GE) has been kind to investors for the past year, rising over 50% from a low under $15 to current levels just under $23. In fact, it has risen 10% in just the past month alone. The company should see increasing earnings over the next several years as it has cleaned up the balance sheet, and it pays a respectable but not spectacular 3% dividend.
General Electric did announce the sale of $7 billion in bonds as part of a debt refinance deal yesterday, but this seems very routine given the fact that debt is very cheap right now. This company is probably not the sexiest investment to add to or track in your portfolio, but I see no need to exit until the current trend shows signs of reversal.
Click to enlarge images.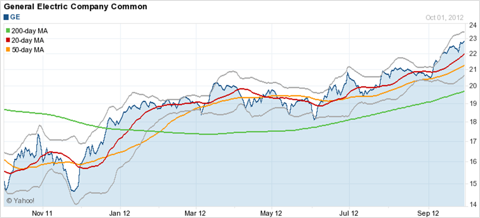 Analysis
General Electric provides products and services ranging from aircraft engines, power generation, water processing, and household appliances to medical imaging, business and consumer financing and industrial products.
There was a significant round of volatility between October and December 2011, and since then the stock has settled into a much smoother general uptrend with the 20-, 50-, and 200-day moving averages falling nicely in line since July 2012. In all honesty, I did not really expect the stock to climb past the $22 range for some time to come, so I am setting my stops accordingly should this trend go south in the near future.

The analysts generally place 12-month targets on the stock slightly above current levels, although there may be room for this to adjust upward in the coming months as projected earnings will likely continued to grow at a steady and controlled pace. The mean target is just about $1 above current share prices, which indicates only a 4.3% anticipated growth in the coming year compared with what we have seen the past 12 months.

The TTM P/E currently stands at 18.4, although I think there is room to adjust that number downward in the coming months given the economic uncertainty of our current environment. Applying P/E ratios of the TTM 18.4, 17, and 15 we can arrive at some future potential prices to determine the feasibility of investing in this stock. As you can see in this table, even if the future P/E were to drop as low as 15, projected earnings should keep the stock well above the $20 point into the future. In fact, the P/E would have to drop to under 13 in 2012 or under 12 in 2013 to result in a stock price of under $20.
The long-term growth forecast is projected at 12.3%, which if applied to current prices would result in projections for 12, 24, and 36 months closer to the theoretical forward P/E of 15.
Indications are that General Electric has significantly increased spending on R&D, restructured the organization and operations of its GE Capital division, and focused on improving efficiency across the company as a whole. It seems reasonable to expect General Electric to show growth rates exceeding that of its competitors over the next 36 months.
Ideas
The most straightforward method of betting on this trend will be to go long the stock. I will not personally be adding to my own long position at this time unless we see a drop below $20. However, I think there is some upside from current levels for investors who do not already have an established position.
Those with an established long position can consider using covered calls as an additional means of generating income beyond the 3% dividend yield. However, the premiums received right now are not exceptionally high. This indicates that most people believe the stock will trend generally sideways in the short term. For example, the January 2013 calls at $24 are selling for 39 cents. By the time you factor in commission, you need to be selling a significant number of contracts or else make this deal repeatedly over a significant time period to make any appreciable money.
An alternate method for those with no established position or wishing to add a leveraged bullish position is a longer-term bull spread. One possible option is a January 2014 using strike prices of $20 and $25. By purchasing the $20 call for $3.72 and selling the $25 call for $1.08, you only lay out $264 to control the stock for 15 months. Of course, in this situation your maximum profit is limited to the difference between what you paid and the spread, or $236. Alternately, you could lose your entire investment if the stock does fall below $20 and remains there.
Conclusion
The numbers bear out that General Electric is a relatively safe place to consider placing some money. I am usually wary of adding a straight long position when a stock has already been on a nice sustained run, but examining projected earnings shows that is still more room for some price growth. The looming economic uncertainty concerning the federal budget could cause issues for the market overall in the next six to 12 months, but beyond that things should continue to smooth out as General Electric is in a solid financial position. The dividend is something to consider, but even though I believe it is safe, a 3% dividend would not normally entice me on its own.
Disclosure: I am long GE. I wrote this article myself, and it expresses my own opinions. I am not receiving compensation for it (other than from Seeking Alpha). I have no business relationship with any company whose stock is mentioned in this article.