Market Recap
Despite the market learning that Spain was nearing a request for a bailout, the market was not able to hold on to early gains. The news became less bullish after Germany commented that they would like for Spain to delay any request for a bailout. At the same time, volumes are still thin, and the market is being moved without much conviction. Auto/Truck Sales came out as the only major data point today, and they were flat for Ford (NYSE:F) and General Motors (NYSE:GM). Chrysler, however, saw strong sales. The news was neither a catalyst nor a reason to selloff. Overall, the market is in a "wait and see" mode. Earnings are around the corner, and the market seems to be playing it cautious into Q3 reports. Additionally, while Europe has been better as of late, fear still exists there. We expect with more data to be out tomorrow, the market will have a more sensible move.
Here are some stocks we like moving through the week and beyond:
Stocks To Trade
Today, we are looking at an earnings trade in Wells Fargo (NYSE:WFC), longs in Wyndham Worldwide (NYSE:WYN) and Intuit (NASDAQ:INTU), and shorts in Ford and Activision Blizzard (NASDAQ:ATVI).
For an earnings trade, we like the looks of Wells Fargo. We believe that Q3 earnings will be strong for insurers and financial companies with lower exposure to trading markets. WFC is expected to see EPS increase from 0.72 to 0.87 or 20% as well as see sales increase just under 10%, which is fairly strong for the financial industry. The company looks like it has put in a bottom here at $34 and is bouncing off the 50-day MA. We look for that level to remain strong moving forward and for the stock to trade up into earnings. To play WFC, we like going long on the stock with a 33/32 bull put spread hedge for Oct20.
Trade: WFC, Long and WFC, Oct20, 33/32 Bull Put Spread
Max Gain: 11% on spread.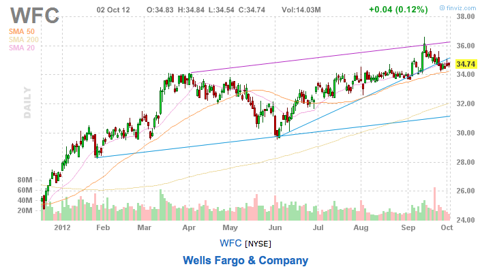 Click to enlarge
For longs, we like the looks of Wyndham Worldwide and Intuit. Both stocks look ready and primed for breakouts. Wyndham has been strong in a great upward trend for the entire year. The stock has fantastic support below it with its 50-day MA, and it has not broken the $50 line in months. The stock just formed a bull flag and bounced off the 20-day MA. We believe the stock should retest $55 before earnings and will act as a catalyst. The company is expecting to see about 18% growth in earnings and 4.5% growth in sales. Trends in Chinese gambling seem to be stabilizing as well, which is another catalyst. Look to buy on a break of today's HOD for a trend to $55.
Additionally, we like the looks of INTU. The stock has been Buy-rated all year for us, but it has had trouble breaking out at $60. The stock is currently moving to test it again, and it now has a very bullish Barron's article as ammunition. Further, INTU has not broken an upward moving triangle in months. We like the 57.50/55 bull put spread to payoff on a breakout above $60 as well as hold strong if $60 is not broken.
Stock Trade: Long, WYN
Breakout Point: $53.75
Options Trade: INTU, Oct20, 57.50/55 Bull Put Spread
Max Gain: 11%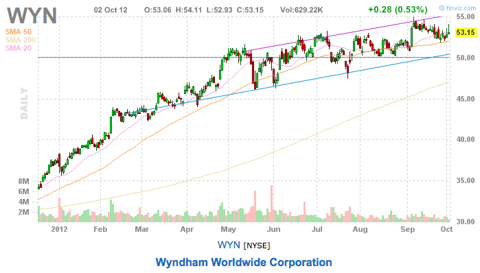 Click to enlarge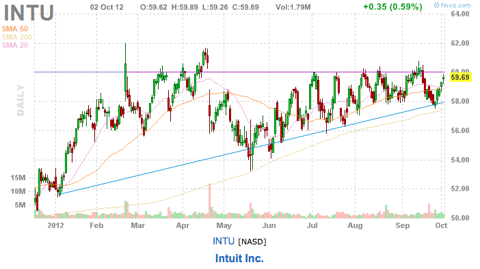 Click to enlarge
For shorts, we like the looks of Ford and Activision Blizzard. Ford, right now, appears to have broken recent support and today's announcement of flat sales was not well received. Now, the stock has its 50-day MA holding it up at 9.60. If that level breaks, F could see a pretty strong correction.
Long-term we like F, we believe there is a lot of value there. Yet, American carmakers are some of the first to get hit on market declines, and if that is about to occur, Ford could be in trouble. ATVI has been extremely weak as of late due to a major sell-off into the company's latest release of World of Warcraft. Expectations do not seem strong for the company's main line, and the video game industry has been hurting as consumers have shifted to cheaper games on phones and tablets. We do not believe ATVI can rebound until earnings show that Mists of Pandaria was actually not the bust that many are commenting it is.
Stock Trade: F, Short
Breakout point: Failure of 50-day MA
Options Trade: ATVI, Nov17, 12/13 Bear Call Spread
Max Gain: 20%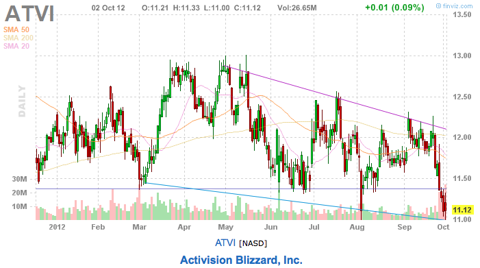 Click to enlarge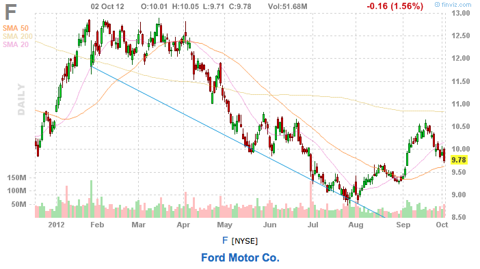 Click to enlarge
Tomorrow's Outlook:
The market does have some important economic data tomorrow that should help give some more direction with ADP Employment Change expected to give a signal to what Friday's NFP may bring to the market. Additionally, we will get ISM Services released as well that should be a nice complement to the ISM Index. Additionally, we get Crude Inventories. Employment numbers are very important as the last round was weak, and a rebound could go a long way to the market rising further. All in all, though, until we get some volume into the market, things are going to remain fairly flat.
Our Moves/Holdings:
We have the following positions:
In our Short-Term Equity Portfolio we are long Panera Bread (NASDAQ:PNRA), Genesee-Wyoming (NYSE:GWR) and Freeport-McMoRan (NYSE:FCX). We are short the SPDR S&P (NYSEARCA:SPY).
In our Options Portfolio, we are long Intuit, Williams-Sonoma (NYSE:WSM), Apple (NASDAQ:AAPL). We are short iShares Russell (NYSEARCA:IWM).
In our Earnings Alpha Portfolio, we are long Travelers (NYSE:TRV), Goldman Sachs (NYSE:GS), Alexion (NASDAQ:ALXN), Costco (NASDAQ:COST), Polaris (NYSE:PII), Crocs (NASDAQ:CROX). We are short Buffalo Wild Wings (NASDAQ:BWLD) and SPDR S&P.
In our Goldman Sachs Up/Down Paper Portfolio, we are long Apple, Manitowoc (NYSE:MTW), and Netsuite (NYSE:N).
Chart courtesy of finviz.com.
Disclosure: I have no positions in any stocks mentioned, and no plans to initiate any positions within the next 72 hours.
Business relationship disclosure: The Oxen Group is a team of analysts. This article was written by David Ristau, one of our writers. We did not receive compensation for this article (other than from Seeking Alpha), and we have no business relationship with any company whose stock is mentioned in this article.