General Electric (NYSE:GE) has been one of the most maligned stocks in the market over the last decade. GE was primarily a financial company over the last decade, and the stock dropped over 80% when the financial markets collapsed and the recession resumed.
GE is now a new company that has refocused the business on its industrial divisions. GE gets over 70% from its industrial divisions, and the company has had eight consecutive quarters of strong revenue growth and a dividend that has been raised by double digits on average since 2009.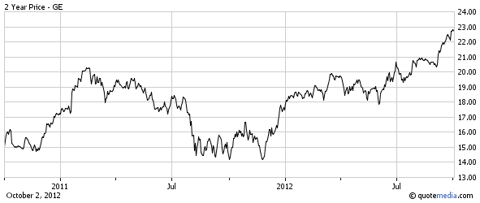 GE has reported double digit growth in its transportation, health care, infrastructure, and energy divisions. The company's aviation, aerospace, and defense industries have been strong as well. GE's operating margins and return on equity of nearly 12% is also well above the S&P 500 average for industrial companies of 8-9%.
GE recently raised the company's guidance from 5% to 10% for 2013. The company also raised its dividend by 13% just last year, and management remains plans to reduce the share count to pre-recession levels as well. GE's payout ratio is a conservative 55%, and the company has been able to raise capital at very cheap rates after spinning off much of GE capital over the last several years. GE's management continues to focus on shareholder returns after years of disappointments as well, and the company recently issued nearly $7 billion in debt.
If GE continues to grow its earnings by 8-10%, and the company raises its payout ratio to 60%, the buyback plan should add significant shareholder value. GE's significant free cash flow, lower borrowing costs, and significant cash balance, should also enable the company to increase dividend payments faster than organic growth. If GE continues to buyback shares and the company's growth rate accelerates even modestly, the dividend should increase by double digits. GE raised the dividend by 13% last year after the company reported 6% organic growth, and management's recent guidance suggests that growth will double this year.
GE trades at 20x trailing earnings and 13x forward earnings estimates, but estimates are going up, and the company continues to buy back shares and focus on shareholder returns. GE struggled to refocus the business over the last decade, and the company is now positioned in longer-term businesses that should enable management to raise the payout ratio as the economy improves. GE is heavily diversified and well-positioned in nearly every emerging market, and the company should be able to deliver strong income and total returns.
Disclosure: I have no positions in any stocks mentioned, and no plans to initiate any positions within the next 72 hours. I wrote this article myself, and it expresses my own opinions. I am not receiving compensation for it (other than from Seeking Alpha). I have no business relationship with any company whose stock is mentioned in this article.