Despite the fact that Annaly Capital Management, Inc. (NYSE:NLY) cut its dividend by 9% beginning its Q3 dividend distribution, it is still providing a solid 12% dividend yield to income-oriented investors. We are not surprised to see mREITs cutting per share dividend distributions to investors due to the narrowing spreads that they are realizing on mortgage portfolios.
Annaly's quarterly dividend reached its peak of $.75/share in Q4 2009 and thereafter steadily declined to $.65/share in 2011. Since then, it has accelerated its decline and is now at $.50/share. We don't own Annaly and we prefer Gary Kain's mREITs (American Capital Mortgage Investment: MTGE and American Capital Agency Corp.: AGNC).
However, we found Annaly's most recent earnings call to be useful and while Annaly isn't as strong a performer as American Capital Agency, at least it isn't Bimini Capital Management (OTCQB:BMNM). One of the things we like best about NLY is the fact that it is the largest mREIT in the business and it has assumed the role of senior statesman for the mREIT industry. To use a sports analogy, while American Capital Agency is the Wayne Gretzky of the mREIT industry and while American Capital Mortgage is the Mario Lemieux of the business, Annaly Capital Management is the Kevin Lowe (a defensive-oriented defenseman and former supporting cast teammate of Wayne Gretzky) of the sector.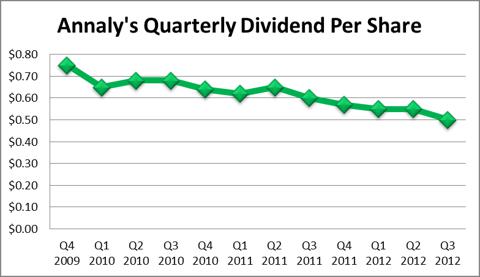 Source: Annaly's Dividend History
It was not surprising that Annaly cut its per share dividend, even though it represented the fifth time in the last six quarters that Annaly cut its dividend. We were not concerned that Annaly reduced its dividends because we are more than aware that the mREIT industry is facing significant headwinds due to the Federal Reserve's Quantitative Easing and zero-interest-rate Policy.
Annaly's per share spread income declined rapidly from Q2 2011 to Q4 2011, but has leveled in H1 2012. We are not as critical about this dividend cut as one would expect because we are aware of the macroeconomic environment Annaly is facing, plus we expect Annaly's spread income per share to steadily drift downwards due to the continued low interest rate environment.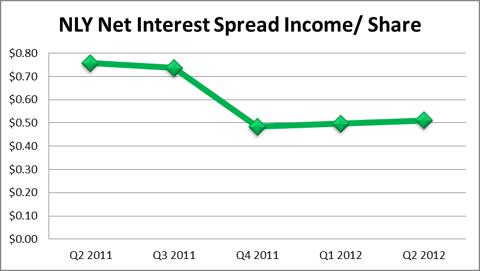 Source: MRQ Earnings Release for Annaly
We were hoping that the Federal Reserve would have refrained from additional monetary easing actions. We understand that political partisanship and the desire of the political incumbents to avoid taking any controversial votes that may jeopardize their chances of being re-elected is preventing fiscal and macroeconomic policy solutions from passing Congress and being signed by the President.
We understand that the Federal Reserve felt pressured into monetary easing, though we know we could have resisted that pressure. With the Fed launching QE3 and making it open-ended, we expect interest rate spreads to continue to compress and this will eventually lead to more frequent dividend cuts from mREITs. Investors are approaching mREIT investments with the same perspective that we have in that the flattening yield curve is making it impossible to generate a respectable investment yield and are willing to ratchet their yield expectations down to about 10-12% versus the 13-15% previously enjoyed.
Investors are clueing into the fact that mREITs will not generate significant per share dividend growth. We were surprised that Western Asset Mortgage Corporation was able to generate a recent dividend increase, however we also note that it has only been in operation since May 15.
We also believe that the reason why investors continue to bid up mREITs even though the mREITs are seeing increased market price premiums to book values is because investors are attracted to the high current dividend yields and mainly want to make sure that the dividends are not drastically cut. Because Annaly has already cut its dividend five times due to the flattening yield curve, we are not expecting it to engage in any more significant reductions in the future. We were surprised at the poor level of comprehensive income generated by the company in Q4 2011 though
In conclusion, we like American Capital Agency and American Capital Mortgage better than Annaly. Of these three companies, we like American Capital Mortgage the best, then American Capital Agency and finally Annaly. We like the Gary Kain managed American Capital Agency and American Capital Mortgage because we have previously discussed how those companies have achieved lower weighted average CPR rate for its RMBS securities than Annaly.
Of course, this cuts both ways. If investors were facing an interest rate environment like the 1980-1982 period in which interest rates were high, volatile and experiencing upward climbs at different times, then Annaly's portfolio would probably outperform Gary Kain's portfolios at American Capital Agency and American Capital Mortgage. This would be the case because the firm with the highest CPR rates would be getting its money back faster and able to reinvest in the newly issued higher rate securities.
In this environment, the biggest risk for mREITs is that mortgage borrowers will be able to refinance their mortgages, which results in rapid prepayments of higher yielding securities and having to reinvest in new lower-rate securities. While we like AGNC and MTGE better than Annaly, we believe that Annaly is a good mREIT for investors new to the sector because it has a low premium to book value and it utilizes a low level of leverage in financing its operations relative to other mREITs.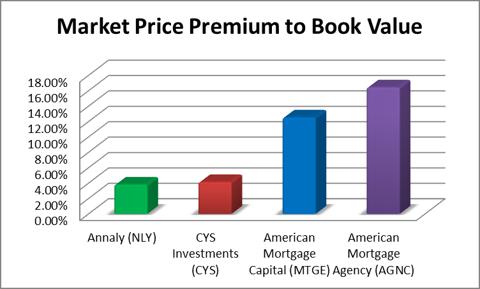 Sources: Morningstar Direct, NLY Q2 8-K and Saibus Research estimates
Disclosure: I am long MTGE. I wrote this article myself, and it expresses my own opinions. I am not receiving compensation for it (other than from Seeking Alpha). I have no business relationship with any company whose stock is mentioned in this article.
Additional disclosure: This article was written by an analyst at Saibus Research. Saibus Research has not received compensation directly or indirectly for expressing the recommendation in this article. We have no business relationship with any company whose stock is mentioned in this article. Under no circumstances must this report be considered an offer to buy, sell, subscribe for or trade securities or other instruments.