The stock market is simply a perfect expression of all of the buying/selling activity of all of the people in the world. To take a line from the movie Men In Black, "A person is smart. People are dumb, panicky dangerous animals and you know it."
So, while the stock market ..e.g., price per share) may be perfect, it is also, well, dumb, panicky, and dangerous – that is, irrational.
My point is that if the stock market were always a function of perfect balance and rationality, well, then stocks would never be overpriced or underpriced and there would be no reason to think that you can find stocks that are undervalued or vice versa.
Since the market is typically the expression of this irrational reality, to identify the best buying opportunities, you have to look and think somewhat irrationally. For example, we have all heard the quote from the world's most famous investor: "Be greedy when others are fearful and fearful when others are greedy." From an investing standpoint, a smart investing person will abide by such irrational thoughts and look for contrarian plays or frankly investments that just do not seem to make sense when compared to the broader picture that is presented in the media.
So, that leads us to the next question: How can you identify and profit from these swings? Well, if you look to sound logic, such as basic economics and statistics, you will not find that trigger. You have to look for irrational signs and indicators to help guide your investment decisions. Not to toot my own horn, but a couple of months ago in an article, I suggested that this big oil run has had its day and prices would fall. Granted, I didn't time it perfectly, but it was awfully close. I got lit up because of my irrational analysis, but frankly, in world that is an expression of irrationality, you have to think that way. After the fact, the logic and numbers will often support the events that have since unfolded – but that is after the fact, and often too late.
My next irrational observation relates to the so called Recession. Personally, I am not really feeling the impacts of this recession. I feel very fortunate and blessed, but have planned accordingly to not only get through, but thrive in this environment. Yes, I am paying more for gas, food, and other items and people are certainly tighter with their money. Things are certainly not great – there are many people that are hurting financially and that is starting to impact the broader economy.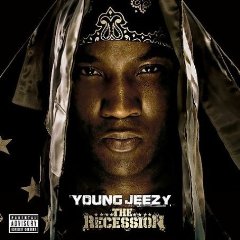 On September 2, 2008, Young Jeezy, a very successful rap artist (and business person, may I add) is releasing an album called "The Recession." I have sampled some of the lyrics and the message is clear – we are in a recession and things are impossibly tough.
Yes, things are certainly tough, but when a record label is capitalizing on this fear to sell albums (which people will buy regardless of their financial situation), it made me sit back and think if we have bottomed out from a stock market standpoint.
Historically, the best investors in the world will tell you that great opportunities rarely come around, but when they do, they happen when nobody is looking. Take stocks like Bank of America (NYSE: BAC) or Pfizer, Inc. (NYSE: PFE). BAC has had its share of fall-out from the credit crisis and mortgage fall-out and the stock reached down to $18.50 just a few weeks ago. It is up almost 70% from those levels. PFE, which has long been the favorite target of pharmaceutical bashers is up more than 15% from a multi-year low that took place in late June, 2008.
I have been a buyer of PFE since it was at $24. Yes, I have been getting laughed at the past 18 months since I started building a position for the long haul, but I also picked up quite a few shares in the $17.50 range. With the stock now at $19.75, I am not hearing those laughs as much – at least not on the shares I bought at $17.50. I never pulled the trigger on BAC and hindsight is 20/20, but when one of the more sophisticated bankers I have personally met told me he was 'scared' to buy BAC at $19, that should have indicated to me to think irrationally and take a position.
I am not suggesting that PFE and BAC (and many of the other beat-up solid companies that have taken hits) will continue their upward trend during the short-term. The easy money may have already been made, but on the heels of a record label using "The Recession" to sell albums, I am willing to take a stab and say that many of these big names are not going much further. From a long-term standpoint, note some of the opportunities out there.
For instance, take General Electric (NYSE: GE). GE is yielding 4.2% at these levels and is financially healthy on all levels. Over the next 23 years, if you believe GE will stay in business (very likely) and not reduce their dividend (unlikely – if anything, it will be raised), shares you buy today will basically be paid for with dividends from the company. For those looking to have a nice retirement nest-egg and if you can wait a quarter of a century, assuming you never buy another share of GE after today, if you hold for 23 years, your stock will be 100% financed by dividends from the company. For PFE, stock is free in 15 years – for BAC, 12 ½ years (or 8 if you bought at $20).
Granted, this is a simplistic assumption and does not account for many variables, such as dividend policy, price per share appreciation, etc., but I am trying to bring some sound logic to an irrational situation.
Those are some specific examples, but the bigger picture is using irrational actions by others to determine where the market is heading. Young Jeezy will certainly sell a ton of copies of his new album – I myself may even pick up the CD or download the tracks. I am willing to bet he would have sold many copies regardless of what the album was called. For instance, the album would likely be very successful if it was entitled "Put On", one of the big tracks from the album. However, I am willing to go out on a limb and suggest that if the album was called "The Economy is Awesome", it would still sell, but noticeably fewer copies than it being called "The Recession."
Certainly, complaining and discussing the "Recession" speaks to many people right now. I see it and feel it and it is no fun. But, when the world is talking about how bad things are and how things might get worse before they get better, I am thinking that maybe all of this news is already priced into the stock market. The irrational behavior of people as a whole creates value-drive, contrarian opportunities from panicky, dangerous selling. On the flip side, when things turn and everything is great, well, that same panicky, dangerous thinking will translate into blind buying, which will provide a great time to exit some of the positions.
I do not have the magic answer or exact timing regarding this, but neither do the smartest economists and analysts. But, while everyone is buying up "The Recession" and focusing on how bad things are economically, I'll be building positions in some of the beat-up names that I follow very closely. It's not an exact science, but watching the record companies take advantage of the irrational thinking this recession is causing by releasing an album with the same name, well, there you go. Gordon Gekko said that money is never made or lost – it is simply transferred from one perception to another.
And we all know – or at least heard – that the general investing public buys at the top and sells at the bottom. Can you think of a better way to indicate a bottom than a record album aiming to find buyers using "The Recession" as its theme and catchphrase? It certainly will get people paying attention and sell a ton of albums.
More importantly, to me, this suggests that the people in general are irrationally fearful of a recession and that may indicate that the big selling is over. Maybe the buying does not come back yet or extend much more from the lows, but it is the best cue I have when trying to rationally figure out the irrational world that is the stock market.
Disclosure: Author holds a long position in PFE