Shares of Frontier Communications (NYSE:FTR) have recovered 54% from its 52-week low of $3.06 reached in May. At $4.72 per share, the stock offers a significant dividend yield of 8.3%, and as such the stock has attracted a lot of investors' attentions. However, I remain neutral on the stock even given the strong recovery momentum and the lofty dividend yield. My view is based on the following reasons:
1. The stock appears somewhat expensive on the company's relative financial performance (see table below). Compared with a peer group consisting of Frontier's competitors such as CenturyLink (NYSE:CTL) and Windstream (NASDAQ:WIN), Frontier's revenue and EBITDA growth estimates are substantially lower. Analysts in average predict the firm's revenue and EBITDA to decline by 2-year rates of 4.7% and 3.3% over the current and next fiscal years, compared to the peers' average growth of 4.9% and 7.5%. However, Frontier's EPS is forecasted to grow strongly at a 2-year CAGR of 33.3% and EBITDA margin to expand by 1.4% over the same period. On the profitability side, the company has higher LTM gross, EBIT, and EBITDA margins, and its net income margin is only slightly below the average. But Frontier's ROE and ROIC are lower than the peer averages. In addition, Frontier assumes an in-line leverage as reflected by the debt to capitalization and debt to EBITDA ratios which are similar to the peer averages. In terms of liquidity, the company has a superior free cash flow margin at 11.2%, significantly higher than the group average of just 3.3%. The firm's interest coverage ratio is below the par, but both the current and quick ratios are close to the averages, reflecting a fairly healthy balance sheet.
click to enlarge images

Overall, Frontier has a significant weakness in its growth prospects, and even though the business enjoys a higher profitability, the stock valuations should not deviate largely from the peer average level. Nonetheless, Frontier's current valuations at 5.2x LTM EV/EBITDA and 47.2x P/E represent an average premium of 26% over the peer-average EV/EBITDA and P/E multiples (see table above), indicating a somewhat stretched price.
2. Accounting for Frontier's earnings growth potential, the stock is trading at a lofty PEG of 4.3x, substantially over the peer average of only 1.0x (see table above).
3. Despite the lofty dividend yield at 8.3%, the dividend per share is in declining trend and Frontier appears to have a tight financial resource to maintain the current dividend level. According to the chart below, LTM dividend per share has been squeezed to $0.58 in Q2 2012 from $1.00 in Q4 2009, reflecting a non-stable dividend policy. In addition, over the recent years, Frontier's annual free cash flow has been only marginally higher than the annual dividend paid (see chart below), implying a thin margin of safety for the current dividend level. Moreover, the firm's LTM dividend payout ratio has jumped significantly from 150% in 2007 to 533% at present, and is currently being the highest among the peer group which has an average payout ratio at 185% (see chart below).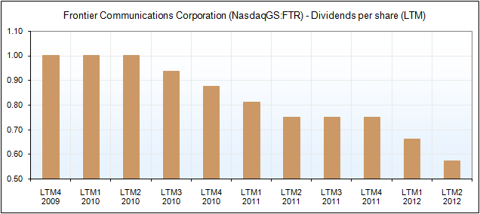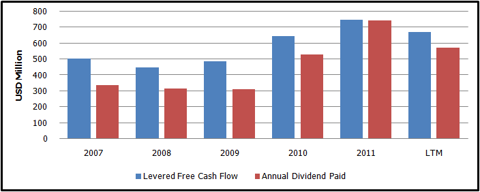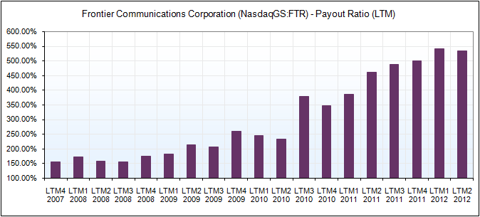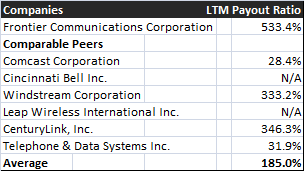 4. Over the past year, Frontier's NTM P/E multiple and the same ratio for S&P 500 have gradually converged (see chart below), suggesting that the stock has likely become cheaper over the period. However, given the firm's growth issue, I am still not convinced to be a buyer at this valuation level as the investment's margin of safety remains low.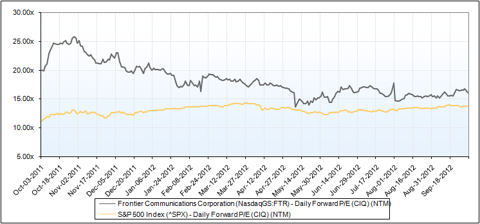 Bottom line, both Frontier's valuation and dividend level is vulnerable to the potential top line contraction, and as such I would not recommend acquiring the shares at the current price until there is a pullback and/or a visibility into the improvement of revenue growth emerges.
Comparable analysis table is created by author, all other charts are sourced from Capital IQ, and all financial data is sourced from Capital IQ and Morningstar.
Disclosure: I have no positions in any stocks mentioned, and no plans to initiate any positions within the next 72 hours. I wrote this article myself, and it expresses my own opinions. I am not receiving compensation for it (other than from Seeking Alpha). I have no business relationship with any company whose stock is mentioned in this article.