Calendar bull call spreads offer an attractive alternative to regular bull call spreads as well as buying stock in many instances. Many professionals often use these somewhat complex positions for a less risky way to play a stock's gradual rebound over a given time.
As covered in my recent article, bull call spreads offer reduced risk by enabling forgiveness of less than perfect timing. They also offer significant upside potential considering the reduced capital exposure they require, compared to owning stock or just buying a call option. These call spreads involve getting long a call option, while selling a higher strike call of the same expiration date. This lowers the net cost of the position and therefore boosts its leverage to some degree. Now we will expand on this logic and take it up a notch by using a bull calendar call spread instead.
In short, bull calendar call spreads differ from regular bull call spreads mainly because instead of using two different strikes from the same expiration date, calendar spreads use two strikes from different expiration dates. Some calendar call spreads offer a potential for profit if the stock is range bound or unchanged up until the short call's expiration date, which in this example, will expire before the long call.
Before we get intimate with the trade, let's discuss the stock. A stock which I feel is at or close to bottoming, and may stay range bound for some time before rebounding, is Waste Management (NYSE:WM).
Technicals: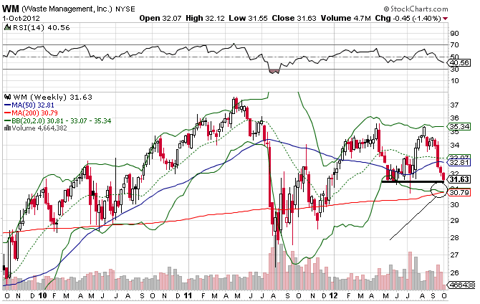 Click to enlarge
WM is at the bottom of recent support in the low 31's, where it sports a 4.4% yield. If this area fails, the 200-day moving average around 30.79/share will be the next major level of support. At this proposed level, shares would also be buoyed by a 4.6% yield, perhaps further ensuring this level as a bottom.
Downgrade Offers Opportunity:
JPMorgan Chase & Co. (NYSE:JPM) downgraded the stock on September 19th, and issued a price target of $34/share. Since then, the stock has fallen swiftly by 7%, perhaps indicating an over reaction to the downgrade. To illustrate the opportunity at hand, JPM's price target of 34/share is 7.5% higher than the current price of $31.63/share, offering considerable profits at this point. In addition, WM's tantalizing yield of 4.43% offers an attractive incentive for yield hungry investors to buy the stock.
Fundamentals Staying the Course:
WM is not a flashy stock by any means, and investors know a grand-slam is probably not in the cards. But, compared to competitors such as Stericycle (NASDAQ:SRCL), or Republic Services Group (NYSE:RSG), WM is the clear leader in the North American trash management market, with ZERO exposure to Europe. WM also has a great set of top notch assets, that provide extremely high barriers to entry by new companies. In addition, WM's revenue has been steadily increasing since 2010, despite difficult market conditions. Also, some forecasts call for over 5% EPS growth through 2013. In addition, the x-dividend date is in December, offering a catalyst for the stock to rally, especially if the dividend is increased.
The Trade:
Enact a calendar call spread to play a bounce back in shares through the remainder of 2012. Current stock price 31.65/share
Buy the Jan 18 2013 30 Strike Call for 2.10 in premium
Sell the Nov 16 2012 32 Strike Call for .65 in premium
Net Cost: $145/ spread
Why this instead of a bull call spread? This calendar bull call spread will provide enhanced results if the shares stall out and become moderately range bound over the next 2 months. If shares do recover to the upside, of course this would be perfectly fine.
Possible Scenarios at November Expiration:
1) Shares Bounce:
If shares rebound from here, your maximum reward is 55$ or 37%. This would take place roughly at 32.65/share or higher, depending on the date.
2) Share price is unchanged:
This would be a great outcome for us. If shares stall and stay below $32/share by Nov 16th, the 32 strike call we sold for $65 would expire worthless. Our long 30 strike we bought for $210 would be worth slightly less depending on share price, but the $65 would compensate for this loss, if any. With shares the $31.45-$31.99 range, we'd be in great shape. At this level, our long call would still be in the black or close to it, and we would collect the entire $65 from our short position, resulting in a net gain overall.
The most beneficial result of this outcome is we would get to decide how to conclude this trade. One choice would be to be to sell an additional higher strike call enacting a regular bull call spread, since our original short call just expired worthless. This additional short call would further reduce our cost of our still open Jan 30 strike long call, while still permitting some profit potential for another 2 months. A second choice would be to just leave our remaining January call alone in an attempt to capture unlimited upside.
WM's approaching x-dividend date due in December, or another catalyst would provide justification for extending the trade. The situation would definitely have to be evaluated then and only then, in order to make the best choice. In fact, there would be several other ways to conclude this trade as well, but these 2 are the most common.
So again, if shares of WM are roughly unchanged or range bound by November expiration, our short call would expire netting us a gain. This is what differentiates a calendar bull call spread from a straight forward bull call spread. Perhaps a quick visual of the position on Nov 16th expiration will help: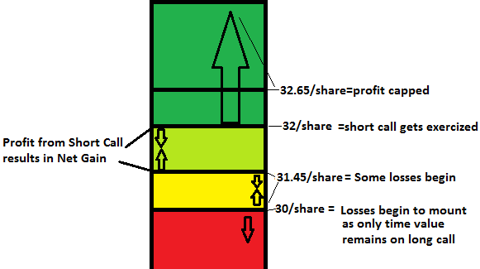 Click to enlarge
3) Shares sink through the 200 Day MA:
We could buy back the 32 strike call we sold on the cheap or let it expire worthless, and hope shares recover to around the 31/share level by January expiration so we could break even our long 30 strike call, resulting in a small net gain overall.
Utilizing Time Decay:
It is important to note the primary advantage of this calendar spread is the 32 strike Nov call we are short will start to deteriorate faster than the 30 strike Jan, since it expires sooner. Because of this, staying attentive close to the Nov 16th expiration is critical, as there could be opportune moments to buy back this short call on the cheap, especially if shares are trading around the strike price of 32/share.
Summary:
This calendar bull call spread will be best utilized if you expect WM shares to bounce higher over $32/share, or stay in a modest range between the 32 level and the 200 day MA over the next couple months. If shares were to close in this range by Nov expiration, the rest of the trade would be a promising one, as selling an additional call to create a bull call spread through January expiration could be an advantageous continuation trade.
Disclosure: I have no positions in any stocks mentioned, but may initiate a long position in WM, JPM over the next 72 hours. I wrote this article myself, and it expresses my own opinions. I am not receiving compensation for it (other than from Seeking Alpha). I have no business relationship with any company whose stock is mentioned in this article.
Additional disclosure: I have owned long positions in WM and JPM within the last year. I may initiate the trade mentioned, or a similar one, within the next 72 hours. This article is not to be taken as investment advice. Invest at your own risk.