There sometimes is a great divide between a company (or a product/service) and a stock. Nowhere is that more evident sometimes than Facebook (NASDAQ:FB). Facebook users will tell you that on a daily basis, lots of people still use Facebook, despite a number of website changes, including Timeline, which many don't really like. Ask anyone under the age of 30 how many times they check Facebook, and you would think that it is the greatest thing since sliced bread. But no matter how many people use Facebook hourly, daily, weekly, monthly, whatever, Facebook still will have to prove it can monetize that user base.
Last week, Facebook announced a new thing called Gifts. You will now be able to order gifts through Facebook, a so called complement to Facebook's birthday reminders. Remember, Facebook acquired a social gifting app company called Karma back in May. This Gifts announcement should not have been a total surprise. Facebook is working on this with over 100 retailers apparently, including a large name such as Starbucks (NASDAQ:SBUX). That makes decent sense, because it would be fairly easy to send someone a small Starbucks gift card through Facebook. Sounds like something that could work.
So where is Facebook headed with this? Well, I think there is a going to be a two-front war. Anyone who has read my previous Facebook articles knows that I think the next logical move for Facebook is to enter the search space. With the search space being very profitable, and Facebook claiming it does a billion searches a day without trying, I think a move against Google (NASDAQ:GOOG) is possible, and coming.
At the same time, the Gifts move could easily be an attack against Amazon (NASDAQ:AMZN). Now, I'm not going to claim that Facebook is going to start selling as many items across a broad range of categories like Amazon does, but Facebook could sell some. Facebook probably won't go into a business line like Prime Instant Video or trying to sell content, but it could try to just sell regular stuff. At this point, I think Facebook is looking to generate more revenues, which might come at the cost of profits for the short term.
But that revenue generation is important for valuation purposes. The following table shows Facebook's revenue growth for this year and next, compared to Amazon and Google. It also shows the current price to sales ratio for each, based on the current market cap and current forecasts for revenues in the given year.

*Non-GAAP. Includes impact from Motorola Mobility acquisition.
So what's the point here? Well, for Facebook to get down to a price to sales valuation of 5.00, assuming the current amount of shares outstanding, Facebook would need to grow revenues by an average of 22% in 2014 and 2015, assuming it meets current expectations for 2012 and 2013. By that point, Google and Amazon may be trading at even lower valuations, and Facebook could still look expensive.
Now those that have my read my previous articles know that for my personal view of Facebook, I like to look at the 2013 analyst estimates. Currently, those estimates are at $6.31 billion for revenues and earnings per share of $0.62. Since I started tracking estimates, those are the lowest values I have seen for each. So far, either analysts haven't added anything to their numbers due to the Gifts announcement, or they don't think it will do much early on. Of course, it's also possible that a Gifts-type service was already priced into their 28% growth forecast.
In addition to revenue and earnings estimates being at their lowest point, the other thing that concerns me is that analysts continue to hack away at their price targets. The following chart below, which I've updated a few times now, shows the average price target history for Facebook. In just the past week alone, the average price target is down by nearly $1.25! At the pace we are going, the average price target will be under $30 by the end of this week, and I wouldn't be surprised if we are at $28 to $29 for the average target by the time Facebook reports its earnings.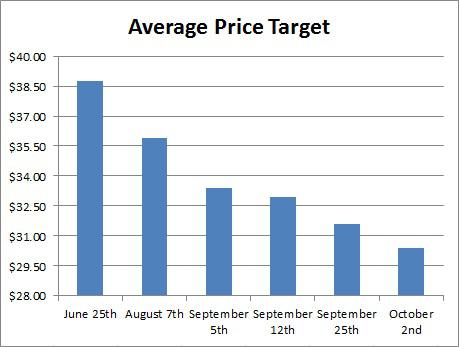 For investors, Facebook Gifts might be the first step in the new monetization process. I wouldn't be surprised if Facebook takes a shot at competing with both Amazon and Google going forward. I don't see Gifts as a long-term solution to Facebook's revenue generation problem, but it does appear to be a start. The problem for now is that analyst estimates and price targets continue to come down by the week. Facebook still carries a very lofty valuation, and until they prove that they can grow revenues (and potentially earnings) at a brisk pace, you are probably looking at the multiple contracting from here. I'm not as bearish as Barron's is currently, but I still don't think Facebook is worth more than $16 to $17 at present.
Disclosure: I have no positions in any stocks mentioned, and no plans to initiate any positions within the next 72 hours. I wrote this article myself, and it expresses my own opinions. I am not receiving compensation for it (other than from Seeking Alpha). I have no business relationship with any company whose stock is mentioned in this article.