Renewable oils company Solazyme (SZYM) gained an intellectual property edge on October 2 as the green tech company won the approval of three additional patents by the US Patent and Trademark Office. One patent helps to solidify Solazyme's heterotrophic use of a particular strain of microalgae while the other two patents retain protective rights over Solazyme's skin & personal care product lines. These three patents are shown below.
| Patent Name | Patent Number | Patent Link |
| --- | --- | --- |
| Microalgae-derived compositions for improving the health and appearance of skin | 8,277,849 | Patent Link |
| Heterotrophic cultivation of hydrocarbon-producing microalgae | 8,278,090 | Patent Link |
| Method of making soaps from oil-bearing microbial biomass and oils | 8,278,261 | Patent Link |
Solazyme's skin and personal care division remains one of the least talked about areas within the investment community to date, and yet thus far it has single-handedly accounted for all of the company's product revenues while bearing the largest range of the expected profit margins. So valuable was the company's cosmetic line, Algenist, that the company retained it in-house even as it pursued joint venture partnerships in its other industries of nutritionals, chemicals, and fuels.
Through a patent now approved, Solazyme gains protection for its discovery of Alguronic Acid - the primary ingredient that has fueled the success of Algenist. Selling as a luxury skin care product line, Algenist stands well poised to directly benefit from an increasing demand within the skin care business. As mentioned by Seeking Alpha contributor Charles Moscoe in an article, the skin care business has indeed been booming.
Evidence of this increase in demand can be found in the success of cosmetic peer Estee Lauder (EL), whose associated companies account for many of the well-known luxury cosmetic brands of the industry. The ability of Estee Lauder to improve its gross margins remains highly indicative of the expanding demand for its products. Subsequently, Estee Lauder's margin improvement over the past few years has come with a coinciding rise in the company's share price. This can be witnessed in the graphic below.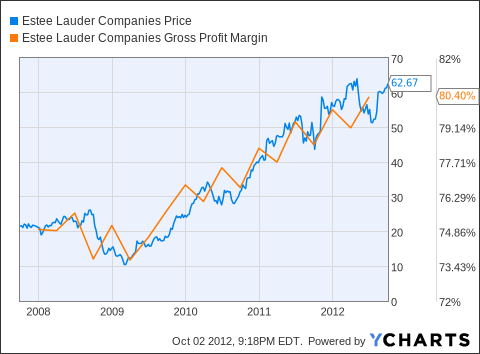 The same consumer demand for high-end skin care products hasn't seemed to skip Solazyme according to the company's latest report. Thus far in the first half of 2012, Algenist sales have surpassed the entire sales for the year of 2011. In doing so, the current trend supports a growth rate on track for triple digit figures. Yet more importantly, it confirms the ability of Solazyme to bring a product line from development to commercialization. Better still, it confirms the reliability of the company's margin estimates. In the last quarter alone, Solazyme retained gross margins of 67.3% for its product revenues - a figure well in line with the guidance thus far provided as seen in the chart below. The implications of this fact should resound in confidence for the estimates seen in the company's other divisions.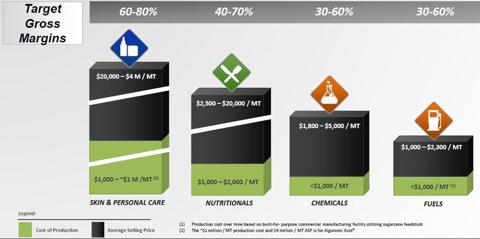 Today's additional approval for the patent protecting Solazyme's unique soap-making ability also adds a new dynamic to the development of the company. With the lucrative palm oil market causing increased environmental strain, Solazyme's process creates a sustainable alternative source to palm oil. Evidence of the heavy corporate interest in this area can be seen in the commercial development agreement signed between Solazyme and Unilever (UL). As a giant in the personal care product space, Unilever's well-known brands of soap include largely circulated names such as Lux and Dove. With Solazyme now given patent protection for its process, it may be more reasonable to expect future agreements and partnerships to proceed as Solazyme brings more value to the negotiation table with prospective partners like Unilever.
Altogether, the company's patent wins on Tuesday further strengthen the ability of the company to leverage its position as a new industry competitor entering into a commercialization phase. With manufacturing capacity now under construction, investors who only see the poor showing of $39 million in revenues for 2011 fail to understand that the company has accomplished this impressive feat without even having a commercial production facility of its own. Instead, investors who see this company ought to embrace the inherent value of the intellectual property being harvested by Solazyme in this very unique field of expertise. Armed with technology to create a sustainable source of oils apart from petroleum, animal fats, and vegetable oil, Solazyme retains intellectual property that provides a hidden value seemingly neglected by the market overall.
Disclosure: I am long SZYM. I wrote this article myself, and it expresses my own opinions. I am not receiving compensation for it (other than from Seeking Alpha). I have no business relationship with any company whose stock is mentioned in this article.