INTRODUCTION
R.R. Donnelley & Sons (NASDAQ:RRD) has a yield approaching 10% at the time of this writing. We'll look at the following in an attempt to answer the question "High-Yield Opportunity Or Value Trap?"
Major headwinds that could continue to negatively impact results
Measuring how management is navigating the risks.
Valuation given past and projected results
Conclusion
RISK
Below are two major concerns creating headwinds for RRD from the 10-K filing.
Global market and economic conditions, as well as the effects of these conditions on our customers' businesses, have adversely affected the Company and those effects could continue.
The substitution of electronic delivery for printed materials may continue adversely to affect our businesses.
Although both are having an impact, we think item one has wrought havoc on the stock price while item 2 is manageable over time. The financial crisis has hit this industry hard. The following comparison of five-year cumulative total return among RRD, S&P 500 Index and peer group (source 10-K) correspond to the start and continued effects of the financial meltdown.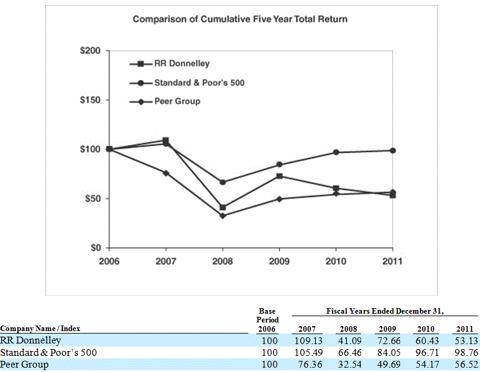 Click to enlarge
Pressuring the stock is a lack of visibility when a sustained global economic recovery will take hold. Until then, RRD could experience strong headwinds and a possible dividend cut as discussed here.
The effects of the digital concerns are magnified due to the economic uncertainty. Print is not going away, and the company's size and diversity will allow it to manage and adapt to digital changes over time.
RRD's challenge going forward is managing the economic climate until a solid recovery is in place.
MANAGING THE RISK
The CEO discussed RRD's strategy to mitigate these headwinds in the February conference call:
The pillars of our strategy are as follows: One, we will share -- we will win share by aggressively pursuing all appropriate print opportunities across a diverse range of vertical segments and by using the comprehensive range of our integrated offering as a key value-added differentiator; two, we leverage our unmatched operating expertise, procurement scale and customer relationships; three, we build on our relationships with customers internationally to sell more services that can diversify and increase our revenue base; four, we internally develop and acquire technologies that serve important communication and supply chain needs for our customers and that continue to diversify our product and service mix as we serve a growing portion of our customers' communication and supply chain needs; and finally, we drive free cash flow and margin through continuing aggressive cost compression.
While this sounds impressive, can we measure the results? Two metrics that indicate how RRD is managing the uncertainty are revenues per diluted share and operating income per diluted share. The per-share metrics take into account any dilutive effect of acquisitions.
Revenues per Diluted Share: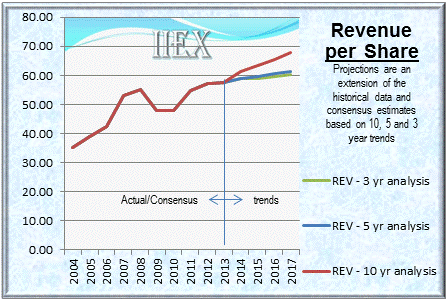 RRD was hit hard during the first few years of the financial crisis, but the revenue per share has recovered. A red flag would be the trends turning negative which is not the case as of this writing.
Operating Income per Diluted Share (excludes restructuring and impairment charges):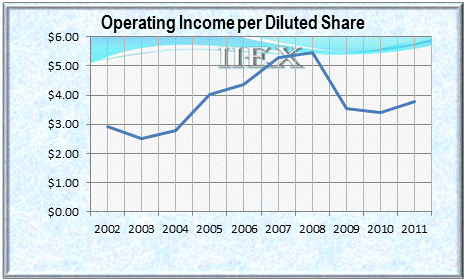 This graph gives perspective to the major headwind facing the company. It's no coincidence the downdraft in operating income corresponds to the global financial crisis. The strategy outlined by the CEO (above) seems to be taking hold. Operating income is starting to trend up. What is lacking is visibility, i.e., the direction and speed of a global economic recovery or lack thereof.
Reported operating income for the first half was $1.83. The company noted in the 10-Q it expects higher net cash inflows from operations in the second half of 2012 due to normal operating cycles of the Company's business which should extend the positive trend through 2012.
FINANCIALS & VALUATION:
We'll examine trends based on management's financial track record to highlight longer-term trends. The annual data used in this article can be found here.
EPS TRENDS: The following graph for EPS and cash trends are arrived at by calculating the statistics for a trend line using the "least squares" method. This determines the line that best fits the historical data and consensus estimates.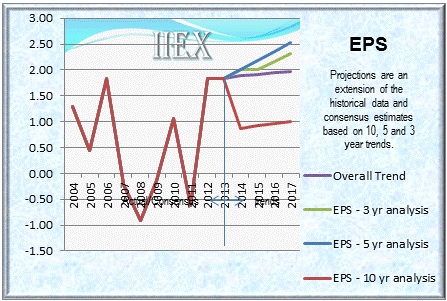 The above represents the following trends:
| | |
| --- | --- |
| Analysis Period | EPS Growth Trend |
| 3 year | 3.02% |
| 5 year | 6.51% |
| 10 year | -5.40 |
| Model trend | 1.38% |
CASH TRENDS: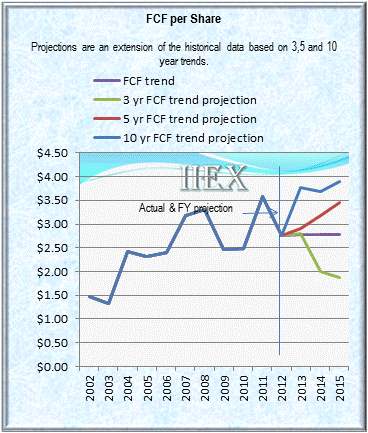 The above represents the following trends:
| | |
| --- | --- |
| Analysis Period | FCF Growth Trend |
| 3 year | -12% |
| 5 year | 6.7% |
| 10 year | 5.7% |
| Model trend | 0.0% |
2009 was adjusted for large one-time gains in income taxes payable, accrued liabilities among other items that contribute to "net cash provided by operating activities of continuing operations."
VALUATION: The following fair value analysis is based on management's longer term financial performance as measured by the previous data. Fair values are based, in part, on the following: Discounted cash flow, a modified Graham's intrinsic value formula and a P/E analysis. The valuation model consists of two parts.
The discounted cash flow and the modified Graham's intrinsic value are blended to arrive at a fair value.
A P/E analysis based on historical adjusted values.
Fair value used is the minimum value of the two parts.
Part 1: Discounted cash flow and the modified Graham's intrinsic value.
An estimated long-term EPS growth rate of 1.38% and long-term cash per share growth rate of 0% were calculated from the data described above. Analysts are projecting a five-year EPS growth rate of 1.8% as of this writing. (Source: Nasdaq.com)
Running these projections through our pricing model, excluding the P/E analysis, produces a fair value of $12.7. Needless to say, the result is sensitive to changes in the growth rates as illustrated below.

A longer-term negative cash growth rate would lead to the elimination of the dividend and a collapse of the stock price.
Part 2: P/E Analysis
The model looks at current and past periods to calculate a limiting P/E value. The company has a history of reporting negative EPS numbers with one exception since 2007. Analysts and guidance from management use non-GAAP metrics. Using this metric produces a maximum allowable P/E of 13 yielding a fair value of $17.7. The P/E is not the controlling factor in this case.
Final fair value is the minimum of the two methods or $12.7.
CONCLUSION
Is RRD an opportunity or value trap? Based on the low growth rates used in this article, it seems to be an oversold stock. That said, the economic risk is substantial. Although management is doing a respectable job of managing the current headwinds they may not be able to overcome another downturn in global economic conditions, i.e., free cash flow could take a hit which could be devastating for the dividend and stock price.
Is the risk worth the high yield? The current free cash flow payout ratio is 38%, a reasonable ratio. The answer hinges on how stable free cash flow is going forward.
Feel free to comment and share your opinion in the comment section.
Disclosure: I am long RRD. I wrote this article myself, and it expresses my own opinions. I am not receiving compensation for it (other than from Seeking Alpha). I have no business relationship with any company whose stock is mentioned in this article.