With stellar second quarter 2012 results, a raised guidance for the fiscal year and an impressive dividend yield of 4.0%, Ventas Inc. (NYSE:VTR) has upped the ante for investors seeking both growth and income. Earnings for this Zacks #2 Rank (Buy) healthcare REIT (real estate investment trust) are expected to grow 10.3% in 2012 and 6.3% in 2013.
Strong Second Quarter
Ventas reported strong second quarter results on July 26, with a 71.5% year-over-year growth in total revenues to $616.4 million. The revenue growth was primarily a result of accretive acquisitions, such as Nationwide Health Properties Inc., Atria Senior Living Group, Inc. and Cogdell Spencer, along with rental increases from the company's triple lease portfolio.
Second quarter 2012 recurring FFO of 95 cents per share compared favorably with the year-ago FFO of 80 cents and exceeded the Zacks Consensus Estimate by nearly 3.3%. Total net operating income (NOI) before management fees for same-store communities increased 2.0% sequentially to $107.9 million. Same-store occupancy increased 80 basis points to 89.2 %.
Outlook Raised
Based on superior second quarter results, management raised the recurring FFO guidance for 2012 to between $3.70 and $3.74 per share from the earlier range of $3.63 to $3.69. The guidance includes the impact of approximately $300 million worth of additional acquisitions.
The Zacks Consensus Estimate for 2012 of $3.72 is at the midpoint of the company's guidance range, implying year-over-year growth of 10.3%. For 2013, the Zacks Consensus Estimate of $3.95 represents growth of 6.3%.
Ventas is scheduled to report again on October 26. The Zacks Consensus Estimate for the quarter is currently at 93 cents per share.
Dividend Payout
Ventas paid a dividend of 62 cents per share in the third quarter of 2012. The quarterly dividend represents a 38.1% increase from the payout in the year-ago quarter. The current dividend payment affirms a superb yield of 4.0%.
Attractive Valuation
Shares of Ventas look attractive on a price-to-earnings (P/E) and price-to-sales (P/S) basis. The company currently trades at a forward P/E of 16.63x, versus the peer group average of 18.57x. On a P/S basis, shares trade at 7.85x, versus 8.49x for the peer group average. Its PEG ratio is 2.03 based on a 5-year FFO growth rate of 8.2%.
Since December 20, 2011, shares of Ventas have consistently fared better than the simple moving average for 200 days or SMA (200). The year-to-date return for the stock is fairly decent at 14.8% compared to an S&P 500 tally of 13.1%.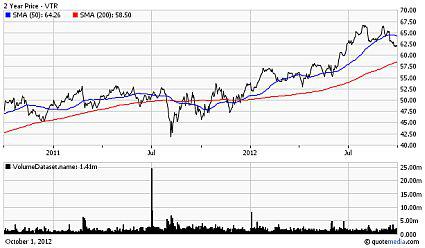 Healthcare is one of the more recession-proof real estate sectors and has continually fared better than others during the commercial real estate downturn. In addition, demand for assisted and independent living facilities is set to increase in the coming years as U.S. demographics are highly skewed towards an aging Baby Boomer generation. With a considerable presence in these property types, rising earnings estimates, modest growth projections and a healthy dividend yield, Ventas offers an enticing upside potential going forward.
Based in Chicago, Illinois, Ventas has one of the largest and most diversified portfolios in the healthcare sector with exposure to all types of facilities. Ventas is primarily engaged in the business of financing, owning and leasing healthcare related and senior housing facilities. Its portfolio includes 1,400 healthcare-related facilities that are strategically located in 47 states (including the District of Columbia) and two Canadian provinces. The company currently has a market cap of $18.3 billion.