Merck & Co. Inc. (NYSE:MRK) is a US drug company that operates internationally. It pays a good dividend of 3.69%. It is a big, stable company with a market cap of $138.48B. It has a quite reasonable Total Debt/Total Capital ratio of 24.76% in the most recent quarter. It has a TTM Gross Profit Margin of 76.28% and a Net Profit Margin of 14.17%. All three of these are substantially better than MRK's industry averages. This is just what you want in uncertain times. MRK has some patents expiring, most notably Singulair. This asthma medicine saw an 87% decline in prescriptions in August 2012 as its patent expired. However, these sales are being replaced by some that are growing such as Januvia and Janumet which are both used to treat type 2 diabetes. These grew their sales 31% in 1H 2012 to a total for the two of $2.8B. Other growing drugs included: Isentress (HIV) +20% to $0.7B, Gardasil (Human Papillomavirus) +25% to $0.6B, and Zostavax (Herpes Zoster) +54% to $0.2B. The transfer to Johnson & Johnson (NYSE:JNJ) in July 2011 of exclusive marketing rights for Remicade and Simponi in Canada, Central and South America, the Middle East, Africa, and Asia Pacific hurt sales results year over year in Q2; still the remaining sales for these two rose +9% to $1.2B in 1H 2012.
MRK has a fantastic pipeline of new drugs, which should soon add demonstrably to its sales. MRK expects to file NDAs or provide more data in response to a complete response letter for the following drugs in 2012: ATOZET, BRIDION, Suvrorexant, and Vintafolide. Suvrorexant is the most promising of these with about a $2B market (18 million US patients). It is a treatment for insomnia, which is supposed to provide strong sleep maintenance and minimal residual effects. In 2013 the list of submissions includes: AIT Grass (allergy), AIT Ragweed (allergy), ELONVA, Odanacatib, TREDAPTIVE, V503, and Vorapaxar. The most promising o these are Odanacatib and TREDAPTIVE. Odanacatib will be used to treat osteoporosis. This affects about 200 million women worldwide. Approximately 20% are currently receiving treatment. Of those about 25% cannot tolerate bisphosphonates, which is a major alternate treatment. The NDA for this is expected to be submitted in H1 2013. TREDAPTIVE is a cardiovascular disease management drug. This is a large market. 1% of the US share alone represents more than $400 million. Results of tests seem excellent.
The future looks very bright, and the above are just the tip of the iceberg. The list of Phase III drugs under development is in the table below.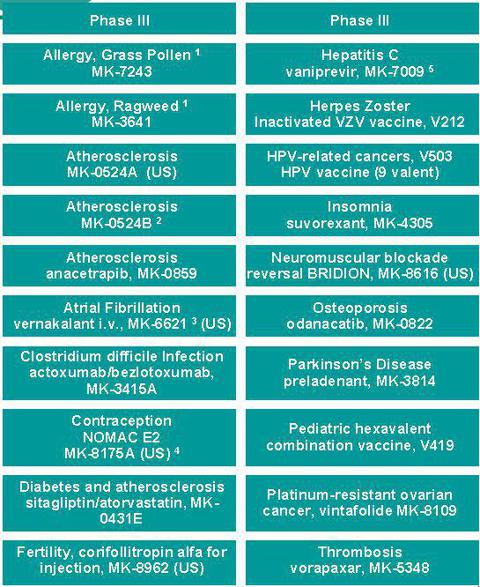 Click to enlarge
As for Q2 2012 earnings, GAAP earnings were down at $0.58/share versus $0.65/share in Q2 2011. However, non-GAAP earnings were much better at $1.05/share versus $0.95/share in Q2 2011. Earnings for Q3 and Q4 should be a little iffy with the major drop off of Singulair sales (-87%) in August 2012 as its patent expired. On the good side the transfer of marketing rights for Remicade/Simponi occurred in July 2011. Hence MRK's overall sales for Q3 2012 should be less affected in comparison to Q3 2011. In fact, you should see growth in Remicade/Simponi sales. The average analysts' next five years EPS estimate per annum is +4.24%. This is good growth for a company the size of MRK. In 1H 2012 total US sales were up 10% to $8.8B. Emerging market sales were up +14% to $3.6B. Japanese sales were up +6% to $2.5B. Only the EU and Canada sector saw declining sales of -1% to $5.6B. Given the situation in Europe, this last was an excellent result. In fact overall you would have to say the results were excellent.
The chart (from Morgan Stanley) below of the 1H 2012 emerging markets sales growth for Merck and major competitors shows just how much of a leader Merck is. The competitors in the chart below are: Bristol Myers (NYSE:BMY), Pfizer (NYSE:PFE), Sanofi (NYSE:SNY), Roche (OTCQX:RHHBY), GlaxoSmithKline (NYSE:GSK), Novartis (NYSE:NVS), AstraZeneca (NYSE:AZN), and Eli Lilly (NYSE:LLY). Leading in a major new market is an excellent omen for MRK's future.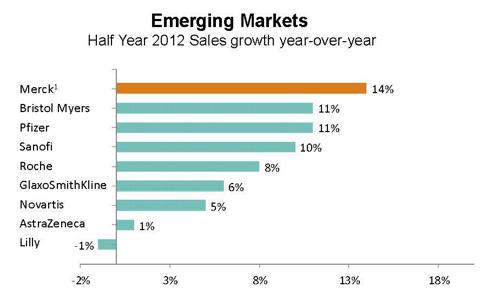 Click to enlarge
The two year chart of MRK provides some technical direction for the trade.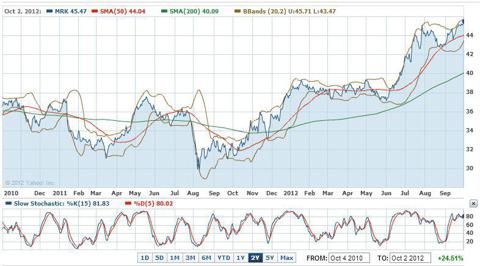 Click to enlarge
The slow stochastic sub chart shows that MRK is overbought. The main chart shows that MRK is in a strong uptrend. I posit that people like to believe in new biotech drugs, and MRK has a lot of them in its near-term pipeline. It trades at a PE of 20.76 and an FPE of 12.22. These seem reasonable. It carries a mean analysts' recommendation of 2.2, and a CAPS rating of four stars. It is a buy. However, investors should keep in mind that the overall market is overbought. It is due for a retracement. The US may go off the fiscal cliff, or it may come close enough that significant damage will be done. It is a virtual surety that spending will be cut to some degree. Taxes may go up dramatically on stocks. These things could lead to a US equities sell off soon, despite the Fed and its QE3 program. Averaging in is a good strategy. I would be sure not to buy too heavily before the damage of the fiscal cliff reveals itself.
Note: Some of the above fundamental fiscal data is from Yahoo Finance and TD Ameritrade.
Good Luck Trading.
Disclosure: I have no positions in any stocks mentioned, but may initiate a long position in MRK over the next 72 hours. I wrote this article myself, and it expresses my own opinions. I am not receiving compensation for it (other than from Seeking Alpha). I have no business relationship with any company whose stock is mentioned in this article.