Quick Summary
Intel (NASDAQ:INTC) has solid fundamentals and passes all quality checks with flying colors. Valuation ratios are at all-time lows and fair value calculations show that the company to be valued in the $34 - $37 range.
With its dividend yield just under 4%, Intel looks to be a great buy for dividend investors.
Investment Overview
To start, here's a dashboard overview from the OSV Stock Analysis Spreadsheet for you to look.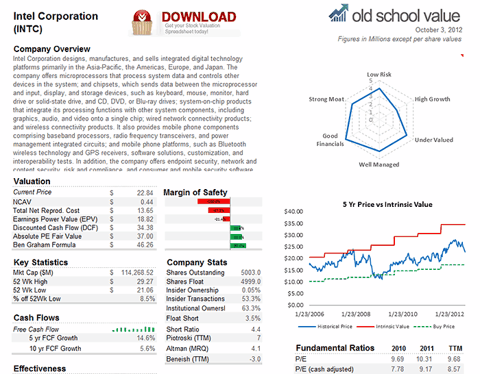 Click here to download this free 12 page analysis report in PDF.
Fundamental Numbers
Intel is currently trading at a historically low multiple despite showing excellent business returns, margins, and fundamentals overall.
Let's go through some fundamental numbers and discussions.
Gross margins are staying above 60%. They peaked in 2010 at 65% and have dropped slightly to 64% in the TTM.
Thankfully, this has not come at the expense of reducing needed development as R&D is still at a healthy 15.5%. Competitors such as AMD have much higher R&D expenditures at 22% because they have to compete with the market leader. Intel being able to spend less on R&D and still has returns on equity in excess of 25% TTM is quite a feat and shows that Intel has a durable competitive advantage over its competitors.
Despite the growth in revenue, margins, earnings, reduction in shares, and strengthened balance sheet, Intel is trading at all-time lows by valuation metrics.
Very Low Multiples in a Quality Business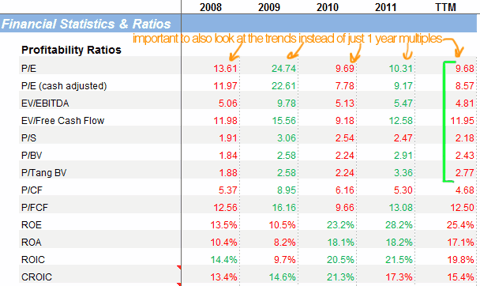 Take a look at these low valuation multiples:
P/E of 9.7
Cash adjusted P/E of 8.6
EV/EBITDA of 4.7
EV/FCF of 11.8
These ratios show how effective management has been in generating returns from its assets.
TTM ROE: 25.4%
TTM ROA: 17%
TTM ROIC: 25.4%
TTM CROIC: 19.7%
ROIC and CROIC are more advanced metrics which stand for "Return on Invested Capital" and "Cash Return on Invested Capital" but are similar to ROE. ROIC and CROIC discussions can take a while, so I'll point you to a previous article I wrote on ROE, ROIC and CROIC.
Just know that these numbers are fantastic and management has been using company money very well.
For every $1 it invests, Intel is generating > 20c profit.
Quality Checks
Although there are many things to check in any analysis, checking the quality of its earnings and business is very important and can be done quite quickly and accurately.
With the stock analysis spreadsheet, I've gone through some earnings quality and business quality checks, which show that Intel is operating at a very high quality.
Accruals: Companies can use accruals like a cookie jar where a company "borrows" earnings from the future to make earnings look good today.
Intel passes this test as its accruals are very balanced and consistent. No indication of aggressive or controversial accounting here.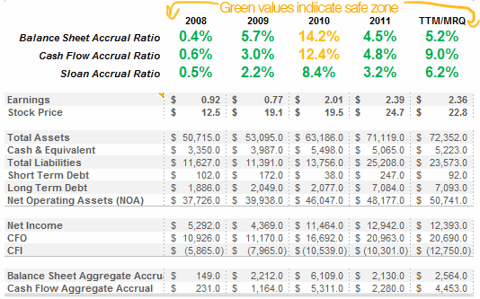 Trends in Revenue, Accounts Receivables and SG&A: Companies that have aggressive revenue recognition policies can be detected by simply comparing the trends in revenue, accounts receivables and SG&A.
Looking at Intel, the year over year increase between revenue, AR and SG&A are all correlated. Intel certainly is not trying to stuff the channel to generate revenue and earnings.
Business Quality Scores: The Piotroski F score, Altman Z score and Beneish score are all designed to rate the business based on accounting indicators.
The image below shows all green for each of the scores indicating that Intel is healthy and not at risk or manipulating earnings and accounting.

So What's it Worth?
There are many ways to value a company, but for a solid company like Intel, comparing a couple of different valuation methods should give a good indication of the intrinsic value range.
Discounted Cash Flow
Using the OSV DCF model, the assumptions are as follows:
Growth rate of 10%
Discount rate of 9%
Beginning FCF of $10,000m
This gives an intrinsic value of $34 per share.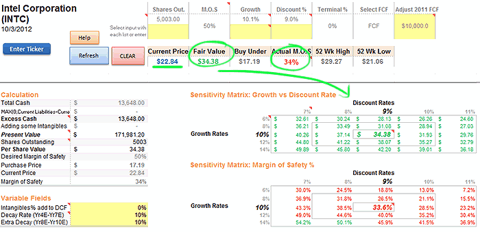 Adjusted P/E Valuation
A different approach is to use the P/E and make adjustments by giving it points or subtracting points based on the quality of the business, financial status and earnings predictability.
Intel scores above average for both its business and earnings predictability and scores a 20/20 for its balance sheet.
The current P/E is 9.7 but adjusting the P/E to reflect the business, its fair value P/E comes out to 15.7.
A fair value of 15.7 equates to a per share value of $37.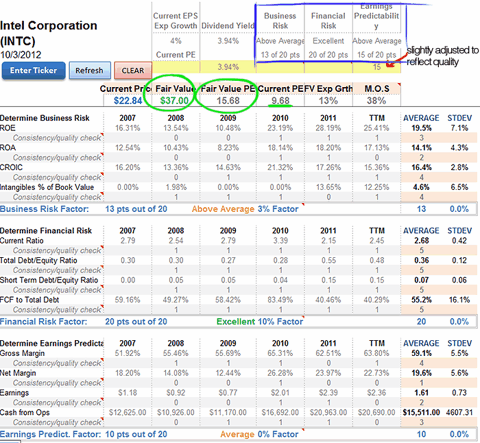 Summing Up
With a dividend yield just shy of 4% and the quality of the business, Intel will be a great addition if you are a dividend investor. Even if you are after capital appreciation, the current low valuations make for a tempting entry point.
People will be wondering why I don't own or intend to buy Intel at such attractive valuations, but this is just because of the make up of my portfolio and the fact that I am already fully invested at the moment. I normally invest in small caps, and Intel does not fit well with my overall portfolio strategy.
Disclosure: I have no positions in any stocks mentioned, and no plans to initiate any positions within the next 72 hours. I wrote this article myself, and it expresses my own opinions. I am not receiving compensation for it (other than from Seeking Alpha). I have no business relationship with any company whose stock is mentioned in this article.