The fertilizer sector still appears ready for a breakout year in 2013, as strong crop demand merges with weak production due to the severe drought in the U.S and various other weather issues around the world. About a month ago, this article focused on the potential at Mosaic (NYSE:MOS) as the company reported strong demand in Q4. Since that report, many competitors have curtailed production and cancelled expansion projects due to a weak demand environment.
The company is one of the world's leading producers and marketers of concentrated phosphate and potash crop nutrients.
While Mosaic was very bullish on that earnings call in a similar tone as competitor Potash (NYSE:POT) (see article here), the actual Q1 report released yesterday disappointed analysts. The company reported $1.01 per share versus analyst estimates at $1.15. The stock dropped 4% on the day, yet investors should've been aware of the potential weakness with all the weak demand notices during the quarter.
Q1 2013 Highlights
The company reported the following highlights for Q1 2013:
Reported first quarter fiscal 2013 net earnings of $429 million, compared to $526 million a year ago.
Earnings per diluted share were $1.01 in the quarter compared to $1.17 last year.
Net sales in the first quarter of fiscal 2013 were $2.5 billion, down from $3.1B in the same period last year driven by lower phosphate volumes and prices.
Generated $339 million in cash from operations, leaving the net cash balance at $2.6 billion.
The most important note for Mosaic is that while the company gets over 60% of revenue from phosphates, the gross margin for the potash segment is actually significantly higher. In the last quarter, the company had $459M in gross margin from potash compared to only $288M from phosphates.
The company actually reported higher year-over-year operating earnings from the potash segment. The real problems were in the phosphates division that saw a $122M drop in gross margins from last year.
As with Potash, any impact to Canpotex, the potash international marketing company, that reduces the selling prices of potash would have a major impact on margins and hence profits.
Market Conditions
Similar to last quarter, Mosaic discussed a market where various external and sentiment factors were holding back short-term fertilizer demand. Long-term though the company maintained a very bullish stance on the demand for more food in the world.
The company is forecasting that it will take two years of trend yields to get food stocks back to secure levels. Unfortunately, low sentiment levels causing dealers to keep fertilizer inventory levels at historic lows impact the short-term demand and prices for fertilizers.
The forecast for strong nutrient demand next year remains intact with phosphate shipments to increase to record levels between 64M to 66M tones in 2013.
The global potash shipments are expected to jump to 60M tones in 2013. If anything, it seems as if these projections from the summer could be exceeded if pent up demand from 2012 flows over to more sales in 2013.
Regardless, the company has some good points about an unsustainable situation with nutrient deficiencies in key farm states and low global grain and oilseed levels. At the same time, the arable land is not increasing and in fact tends to decline as humans turn farmland into subdivisions and parking lots for retail outlets.
Stock
The stock has been on a roller coaster since last October, bouncing up and down between $45 and $60 three times. After attempting to break above $60 during the first week of September, the stock now appears headed to retesting the recent lows.
1 Year Chart - Mosaic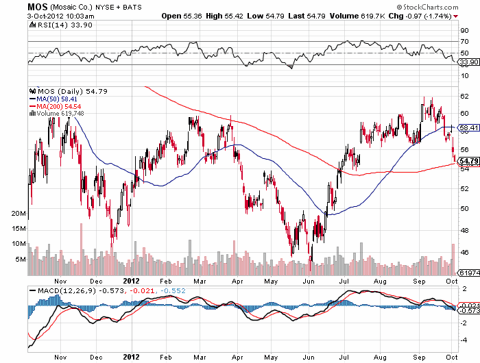 Valuation
The stock trades at a decent valuation, though that always depends on the actual results of FY 2013. Analysts expected earnings around $5.05 for the FY ending next May before Q1 missed estimates. These estimates are already down from an expectation of $6.21 at this time last year.
The guidance suggests that potash demand in Q2 will be sequentially weaker which could place pressure on earnings. Remember the largest percentage of profits comes from that material. Phosphates are expected to rebound sharply with tight inventories so that should help offset lower potash earnings.
The significant drop in expectations highlights the risks even when management expects tailwinds in the market. It might happen next year or farmers around the world could delay spending on nutrients even further.
Conclusion
The long-term thesis on fertilizer stocks hasn't changed that much in the past few months. The real question remains when will the expected tailwinds actually kick into gear.
Mosaic has a key advantage over the sector, with a pristine balance sheet that includes a rare net cash balance. This advantage could allow the company to snap up a weak potash competitor or expand into a new area.
Since the market is so difficult to predict at times, this might be the rare case where a fundamental investor relies on the charts. Since the technical breakout above $60 failed, long-term bulls might be better served waiting for a re-test of the $45 level. When the tailwinds begin, investors can be assured that the stock price will let them know in advance.
Disclosure: I have no positions in any stocks mentioned, and no plans to initiate any positions within the next 72 hours. I wrote this article myself, and it expresses my own opinions. I am not receiving compensation for it (other than from Seeking Alpha). I have no business relationship with any company whose stock is mentioned in this article.
Additional disclosure: Please consult your financial advisor before making any investment decisions.