This is a very difficult market to trade. The rally feels as if it's fading, but it is hard to short stocks as any dip is being bought by underperforming money managers. Cash is trash and yield is hard to find at a reasonable price.
One of the strategies that I am employing to put my cash to work is a slightly out-of-the-money bull market put spread to generate premium and/or get lower entry points on stocks I think have value. I particularly like using this strategy for stocks with liquid options markets, cheap valuations, and that look like they have technical support at current levels. One stock that meets these criteria perfectly is Microsoft (NASDAQ:MSFT), which seems range-bound recently between $29 and $32 a share. I am opening my trading today by selling the April 29 puts and buying the April 26 puts for a positive spread of $1.
If Microsoft stays above $29 when the option expires on April 20, my play will have an effective return of over 60% on my collateral posted (365/199 days until expiration * $1/$3 collateral required).
My maximum loss is $2, and I would not mind getting an entry point of $28 on Mister Softee given its valuation, dividend yield, and upcoming product launches.
Here are four reasons why Microsoft is likely to be above $29 a share when my options expire in April:
Even though Windows 8 is getting mediocre reviews, the launch should still buoy revenues over the next year. Analysts are still positive on the stock, with a median price target of $36 from the collective 33 analysts who cover the stock.
The company has one of the four AAA-rated balance sheets in the S&P, and pays a 3.1% dividend yield that should put floor under the stock in this low-yield environment. It has raised its dividend payout at better than a 14% annual clip over the past five years.
The stock is s selling near the bottom of its five-year valuation based on P/E, P/S, P/B, and P/CF.
The stock has good medium-term technical support at just under the current price level (see chart).
Click to enlarge image.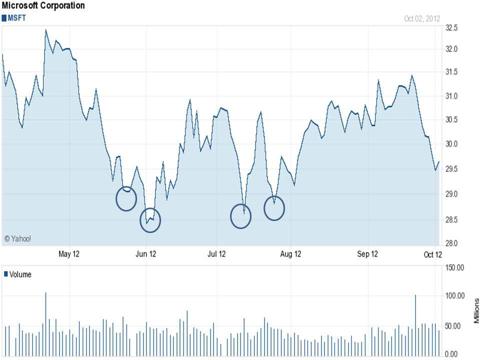 Disclosure: I am long MSFT. I wrote this article myself, and it expresses my own opinions. I am not receiving compensation for it (other than from Seeking Alpha). I have no business relationship with any company whose stock is mentioned in this article.