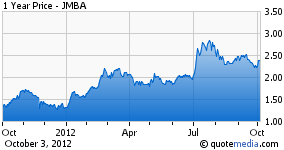 Jamba (NASDAQ:JMBA) Inc. operates in the $3.4 billion juice business, and has seen 7 consecutive quarters of same store sales gains. CEO White has been praised for his successful turnaround measures. While Jamba faces competitive pressure from the likes of Starbucks (NASDAQ:SBUX), we think that the stock has plenty of upside potential because of an established name in the Health Food Industry, acquisitions like Talbot Teas, the growth in franchises and the CPG business, which will drive top line growth. We recommend a long position in JMBA.
Q2 performance
2Q 2012 marks the company's seventh quarter with same store sales gains. There was a 5.1% gain for company-owned stores, whereas, system-wide same store sales were up 5.7% as traffic continued to increase, much like the store-level margins. Same store sales in Q2 last year were up 4.3% for company-owned stores, whereas, system-wide sales were up 2.9%. Franchises, which will drive the company's growth in the coming years, showed a same store sales increase of 6.4% compared to 1.4% in Q2 last year. Total revenues were up 12.2% compared to a decline of 20.5% last year due to a shift from company-operated stores to franchises.
Diluted EPS for Q2 2012 remained the same as last year i.e. $0.05, due to investment in growth initiatives and semi-annual incentive compensations based on performance.
The company guided to gain in company-operated same store sales by 4%-6% with an adjusted operating margin of 20%-23%. SBUX has an operating margin (trailing twelve months) of 13%.
Expansion and Growth:
The company continues to expand at a modest pace by franchising. In the last quarter, the company opened 13 new stores (7 in the U.S., 4 in Canada and one each in Philippines and South Korea). In Q1 2012, the company had added 10 new stores (4 in the U.S. and 6 internationally). The company guided to 40-50 new U.S. stores and 15 international stores for 2012. In 2011, Jamba Inc. announced that it would open 320 international franchises over the next 10 years. The company also keeps adding to its line of products as well as juice blends.
The company's acquisition of Talbot Teas at the end of last year was in line with the company's vision of becoming a healthy lifestyle brand, and this acquisition will add to the company's top line growth starting this fall, when it will be available at Jamba Juice stores. With this addition, winter sales can be up more than what analysts are expecting (5.6% growth over last year). The Q4 EPS estimate is currently -$0.10.
The company is growing its CPG platform by selling through retailers as well, and has guided to $3 million CPG licensing revenues. The Talbot Tea acquisition was an attempt to grow CPG revenues, which we think was a good move. The company acquired the intellectual property from Nestle for Jamba All-Natural Energy Drinks, so that the company has more control of its CPG initiatives. CEO White said that he expects it to be a billion dollar business in 3 to 5 years' time.
Competition
Starbucks bought Evolution Fresh for $30 million in November to get a slice of the premium juice industry ($1.6 billion premium juice market). Starbucks planned to open 4 retail outlets this year, 2 of which have already been opened. The juices are pricier, but are available at Starbucks' own retail stores and at some grocery stores like Kroger (NYSE:KR) and Whole Foods (NASDAQ:WFM). According to the Q2 earnings transcript of Starbucks, the response to the first of the new Evolution Fresh stores has been positive, and they expect it to be a billion dollar brand. SBUX still has a long way to go till it attains Jamba Juice's scale. This would involve capital spending for store expansion and getting accepted by consumers. JMBA currently has 753 U.S. stores, and according to CEO White, "We have a 750-unit advantage". The CEO also said that it takes time in building a brand.
Valuation:
The stock is up 82% YTD. The recent 10% gain in stock price has been due to the news that Lloyd Khaner of Khaner Capital has picked Jamba, citing the fact that it is a good turnaround story with low Debt to Capital, and the person at the helm of the company, CEO James White, has turnaround experience. Khaner also mentioned the improving returns on invested capital as being suggestive of a successful turnaround. He said that Jamba Inc. is a lot more than just smoothie stores, as they offer food and snacks as well. JMBA is a 3 year turnaround, according to Khaner, who estimates an EPS of $0.5 in 2015 and a multiple of 15x ($7 price per share)
The company has a Forward P/E of 23x, same as Starbucks' forward P/E of 23x. The EV/EBITDA multiple is 11x compared to SBUX's 16x.
Analysts expect a 20% per annum increase in earnings over the next 5 years. By applying this 20% growth rate on 2013 consensus EPS of $0.10/share, the 2014 EPS would be $0.12/share. At a Forward P/E of 23x, the price comes out to be $3. That reflects a 30% upside. The consensus price target is also $3.
We think that the trend towards healthier lifestyle products would benefit Jamba and put it in a better stead than Mc Donalds and SBUX. Franchises and CPG are set to drive future growth. Investors should be mindful of the revenue growth trend going forward and the moves of competitors.
Disclosure: I have no positions in any stocks mentioned, and no plans to initiate any positions within the next 72 hours.
Business relationship disclosure: The article has been written by Qineqt's Retail Analyst. Qineqt is not receiving compensation for it (other than from Seeking Alpha). Qineqt has no business relationship with any company whose stock is mentioned in this article.