Unfortunately for the individual investor and time-strapped financial advisor, most dividend analysis that we've seen out there is backward-looking, meaning it rests on what the company has done in the past (how long it has raised its dividend, etc.). We're looking to change that view. In this article, let's evaluate the investment merits of Boeing (NYSE:BA) as well as its dividend under a new framework, the Valuentum Dividend Cushion.
Investment Considerations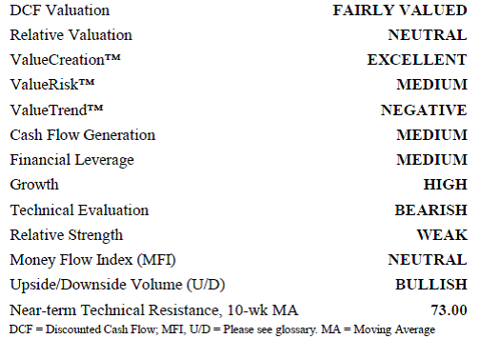 Latest Earnings Performance
Boeing reported strong second-quarter results that showed the commercial aerospace delivery upswing remains in the early innings. Though orders may not be as robust as previous years, we believe this is more a function of the airframe manufacturers being "sold out" in the near term and available delivery slots being so far in the future that airlines and leasing firms aren't exactly hurried. We've long maintained the commercial aerospace cycle will be robust in both magnitude and duration, and Boeing's report today supports this view.
Consolidated revenue grew 21% in the second quarter as commercial airplane deliveries jumped 27% from the same period a year ago. The global aerospace giant delivered 150 commercial aircraft in the quarter versus 118 in the year-ago period. So far through 2012, commercial aircraft deliveries have increased nearly 30%, to 287 planes. Such considerable strength drove revenue in its commercial airplane segment 34% higher in the quarter. And unlike other defense contractors-Northrop Grumman (NYSE:NOC) and General Dynamics (NYSE:GD)-that continue to face top-line pressure, Boeing's defense revenue jumped nearly 7% in the period thanks to strength in military aircraft and global services and support, the latter we think is a tremendous long-term opportunity for the company. Still, we're not expecting much from Boeing's defense business in coming years due to domestic government spending cuts and shifting priorities within the defense budget itself.
On the other hand, Boeing's commercial aerospace backlog remains strong at about 4,000 planes (nearly 7 times annual production) valued at $302 billion. We think this huge tally of unfulfilled orders provides the firm and its supply chain partners with tremendous visibility heading into any slowdown in the US and China and a prolonged recession in Europe.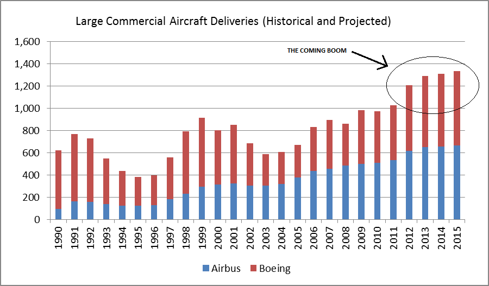 Source: Valuentum Securities, Inc.
Boeing topped off the nice quarter by raising its revenue and earnings per share guidance for 2012 to the range of $79.5 billion to $81.5 billion (was $78 billion to $80 billion) and to the range of $4.40 to $4.60 per share (was $4.15 to $4.35 per share), respectively. Though we like Boeing, aerospace suppliers such as Precision Castparts (NYSE:PCP), Astronics (NASDAQ:ATRO), and EDAC Tech (NASDAQ:EDAC) offer investors the best valuation upside potential within the aerospace sector, in our view. Click here to learn why we expect EDAC to almost double from current prices.
Boeing's Return on Invested Capital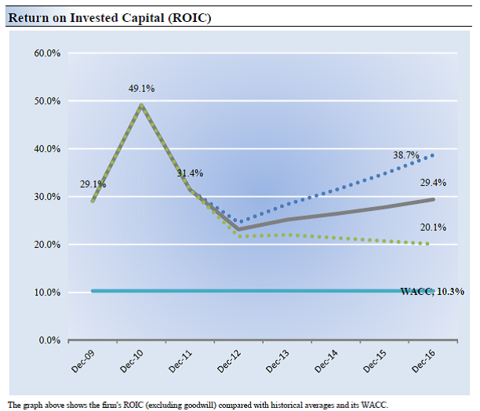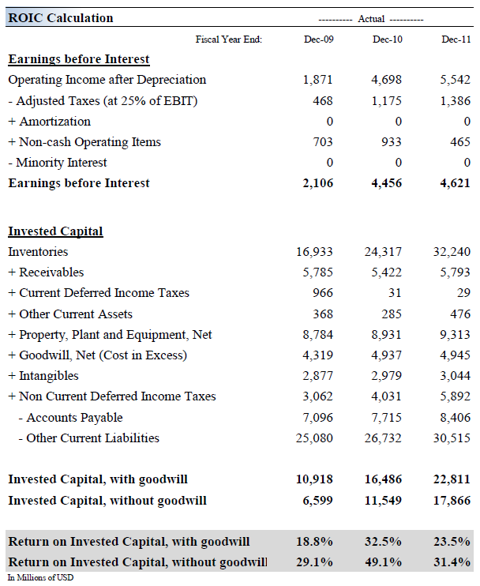 Boeing's Dividend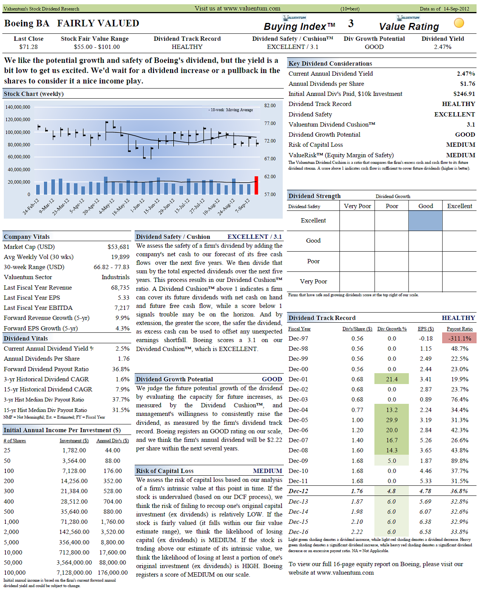 Boeing's dividend yield is about average, offering roughly a 2.5% annual payout at recent price levels. We think the safety of Boeing's dividend is excellent (please see our definitions at the bottom of this article). We measure the safety of the dividend in a unique but very straightforward fashion. As many know, earnings can fluctuate in any given year, so using the payout ratio in any given year has some limitations. Plus, companies can often encounter unforeseen charges (read hiccups in operations), which makes earnings an even less-than-predictable measure of the safety of the dividend in any given year. We know that companies won't cut the dividend just because earnings have declined or they had a restructuring charge that put them in the red for the quarter (year). As such, we think that assessing the cash flows of a business allows us to determine whether it has the capacity to continue paying these cash outlays well into the future.
That has led us to develop the forward-looking Valuentum Dividend Cushion™. The measure is a ratio that sums the existing cash a company has on hand plus its expected future free cash flows over the next five years and divides that sum by future expected dividends over the same time period. Basically, if the score is above 1, the company has the capacity to pay out its expected future dividends. As income investors, however, we'd like to see a score much larger than 1 for a couple reasons: 1) the higher the ratio, the more "cushion" the company has against unexpected earnings shortfalls, and 2) the higher the ratio, the greater capacity a dividend-payer has in boosting the dividend in the future.
For Boeing, this score is 3.1, revealing that on its current path the firm can cover its future dividends with net cash on hand and future free cash flow. The beauty of the Dividend Cushion is that it can be compared apples-to-apples across companies.Also, for firms that have a score below 1 or that have a negative score, the risk of a dividend cut in the future is certainly elevated. In fact, the Valuentum Dividend Cushion caught all dividend cuts in our non-financial coverage universe, except for one, which subsequently raised its dividend above pre-cut levels (meaning it shouldn't have cut it in the first place). We use our dividend cushion as a key decision component in choosing companies for addition to the portfolio of our Dividend Growth Newsletter (please see our links on the left sidebar for more information).
Now on to the potential growth of Boeing's dividend. As we mentioned above, we think the larger the "cushion" the larger capacity it has to raise the dividend. However, such dividend growth analysis is not complete until after considering management's willingness to increase the dividend. As such, we evaluate the company's historical dividend track record. If there have been no dividend cuts in 10 years, the company has a nice growth rate, and a nice dividend cushion, its future potential dividend growth would be excellent, which is not the case for Boeing. We rate the firm's future potential dividend growth as good (roughly 6% per annum). Boeing would have received an excellent growth assessment if future expected dividend expansion was in the high-single to low-double-digit range.
And because capital preservation is also an important consideration, we assess the risk associated with the potential for capital loss (offering investors a complete picture). In Boeing's case, we think the shares are fairly valued, so the risk of capital loss medium. For a read on how we calculate the intrinsic value of Boeing and other firms in our coverage universe, please click here. If we thought the shares were undervalued, the risk of capital loss would be low. All things considered, we'd wait for a dividend increase or a pullback in the shares to consider it a nice income play.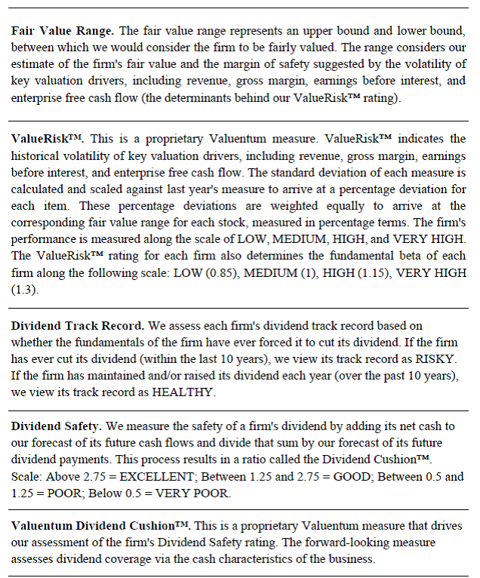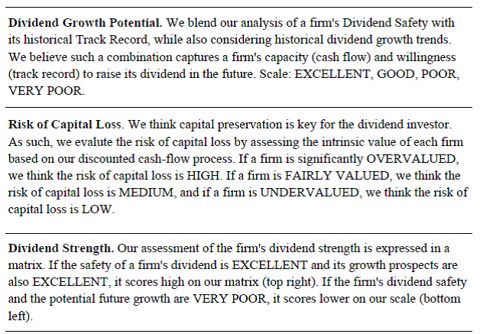 Disclosure: I have no positions in any stocks mentioned, and no plans to initiate any positions within the next 72 hours. I wrote this article myself, and it expresses my own opinions. I am not receiving compensation for it (other than from Seeking Alpha). I have no business relationship with any company whose stock is mentioned in this article.
Additional disclosure: Some of the firms mentioned in this article are included in our actively-managed portfolios.